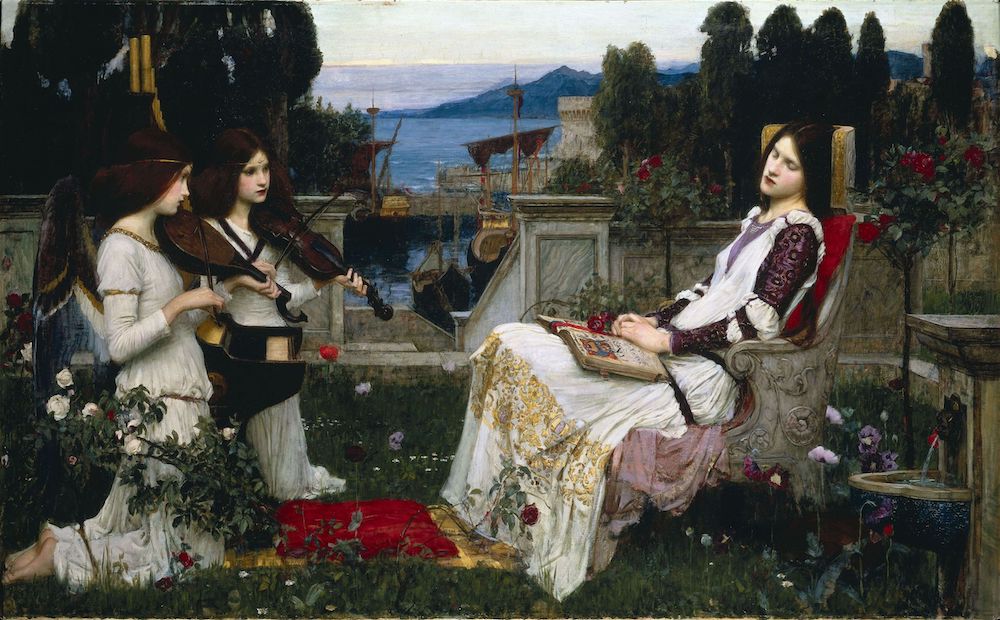 St Cecilia by John William Waterhouse, 1849-1917. 1895. Oil on canvas. H 46 x W 77in./117 x 196 cm. Source: Wikimedia Commons, where it is described as being at the Legion of Honor, San Francisco, and as being in the public domain (however, note that, on the museum's own site, it is described as belonging to a private collection). From Renaissance times, St Cecilia was seen as the patron saint of musicians, and her usual attribute, the pipe organ, can be see between the two youthful-looking angels, its pipes rising above their heads, towards the left. She herself sleeps with a beautifully illuminated book, probably a psalter, on her lap, as the angels kneel in front of her, gazing at her as they play their own stringed instruments.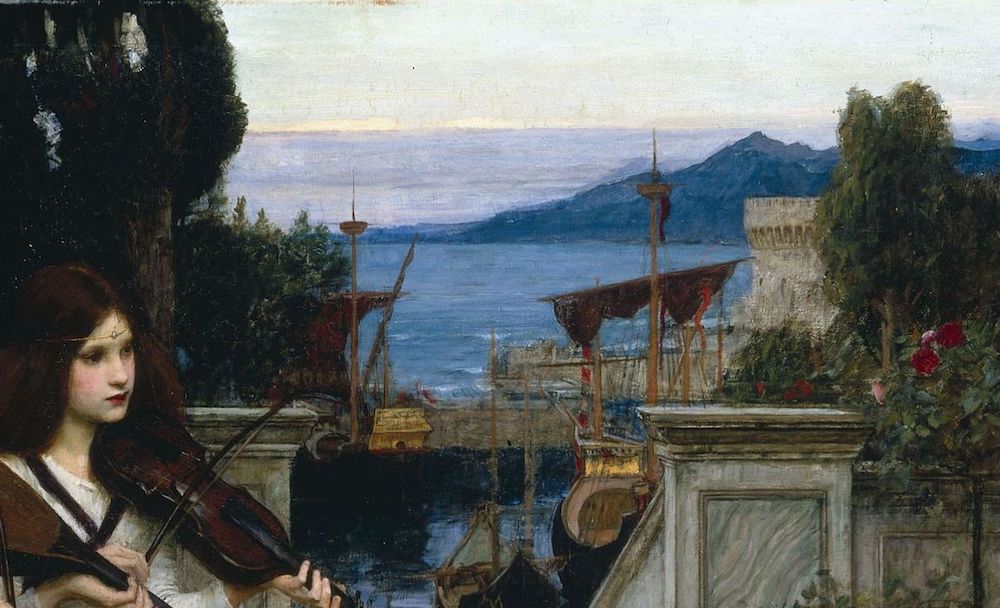 According to Anthony Hobson, Waterhouse's subject here was inspired by the stanza in Tennyson's "The Palace of Art" in which the saint, one of the early martyrs, is watched by an angel as she sleeps "in a clear-wall'd city on the sea." Hobson sees Waterhouse as blending the medieval and the classical in the painting, and as paying homage to Leighton as well as Tennyson — noting the way in which the artist draws our eyes "from the level terrace between the massed trees and across the harbour to the high horizon," in classical rather than Pre-Raphaelite style (56-57). Still, the very fine details of the saint's dress (the patterning of its sleeves and the embroidered band on the skirt), the raised floral devices on the side of the chair, the mauve poppies, the red and white roses, daisies etc., even the angel's variegated wing, are all Pre-Raphaelite in their precision. St Cecilia was a favourite subject for stained-glass artists, but in church windows she is usually seen playing a small instrument, rather than sleeping near a freestanding organ. — Jacqueline Banerjee
Related Material
Bibliography
Hobson, Anthony. The Art and Life of J. W. Waterhouse, R.A.. Oxford: Phaidon/Christie's, 1989.
"Of the Palace of Art." Legion of Honor. Web 23 August 2021.
---
Created 22 August 2021