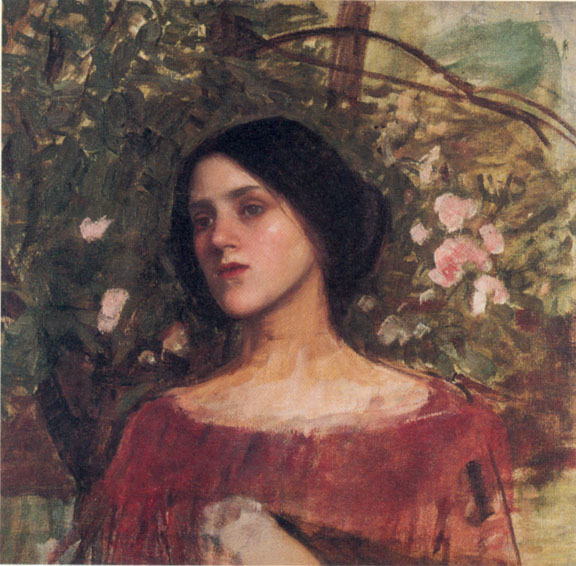 The Rose Bower by John William Waterhouse, 1849-1917. Oil on canvas; 20 x 18 inches, 51 x 46 cm.
Commentary by Hilary Morgan
This picture, simple as it is, represents Waterhouse's vision of female beauty. Anthony Hobson writes: 'His models provide a theme of interest in themselves .... the paintings show how as the years went by he continually sought his ideal vision of womanhood, rather than some character type adapted to each new subject. The remarkable thing is that he found her and remained faithful to her in his art, reflecting the distant ideal of Medieval Courtly love in the warmed mirrors of Italian passion and Greek sensuality' (Hobson, 1980). A work such as this also reveals Waterhouse's painterly technique. The background indicates how he stated the main lines of the composition boldly with the brush, without the aid of preliminary drawing. He then built up the surface of his painting to the degree of modelling and finish revealed in the girl's head.
References
Hobson, Anthony. The Art and Life of J. W. Waterhouse, R.A., p. 191, pl. 132, catalogue no. 182.
Morgan, Hilary and Nahum, Peter. Burne-Jones, The Pre-Raphaelites and Their Century. London: Peter Nahum, 1989. Catalogue number 162.
Peter Nahum Ltd, London has most generously given its permission to use in the Victorian Web information, images, and text from its catalogues, and this generosity has led to the creation of hundreds of the site's most valuable documents on painting, drawing, and sculpture. The copyright on text and images from their catalogues remains, of course, with Peter Nahum Ltd.
Readers should consult the website of Peter Nahum at the Leicester Galleries to obtain information about recent exhibitions and to order their catalogues. [GPL]
---
Last modified 1 August 2006