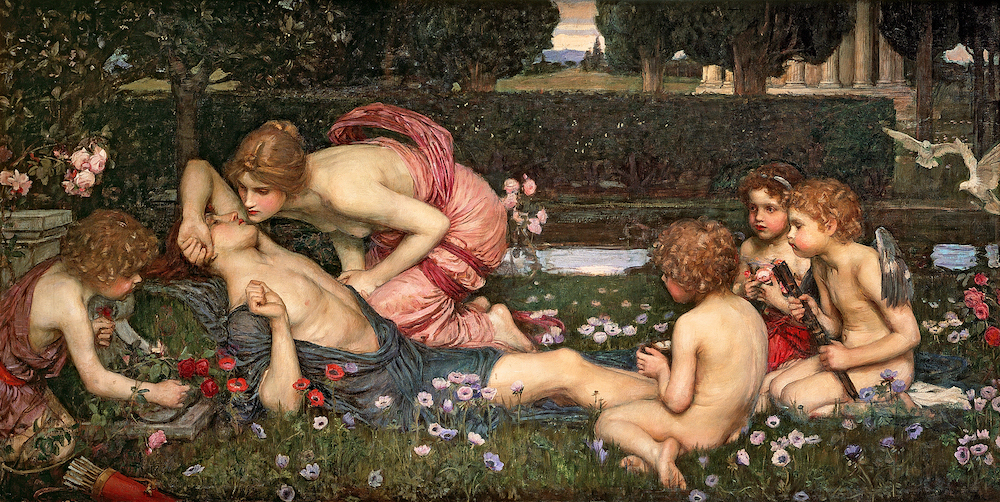 The Awakening of Adonis by John William Waterhouse, 1849-1917. 1900. Oil on canvas. Venus awakens the handsome Adonis in a scene of pastoral beauty. Anthony Hobson finds the little putti "charming enough in themselves," but "superfluous to the action," and presumes from the several preparatory sketches that Waterhouse found some "difficulty in finalizing the composition" (70). Still, it is impossible to resist its appeal. The quiverful of arrows on the left, half hidden in the foreground, suggests that the little figure here is Cupid, but the red anemones he plucks inject a note of foreboding: they foreshadow the blood that will be spilled when Adonis, as huntsman, is fatally attacked by a wild boar. Indeed, anemone flowers are said to have sprung from Adonis's blood.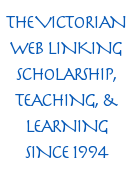 Details and Related Material
Main colour image downloaded by Jacqueline Banerjee from WikiArt Visual Art Encyclopedia, where it is marked as being in the Public Domain; close-ups cropped from this as well. Engraved version, linked above, taken from The Studio of 1900 by George P. Landow, who also supplied the caption and formatted the piece. Commentary added later by Banerjee.
Bibliography
Baldry, A. L. "The Art of 1900." The Studio. 20 (1900): 35.
Hobson, Anthony. The Art and Life of J. W. Waterhouse, R.A.. Oxford: Phaidon/Christie's, 1989.
---
Last modified 1 August 2006