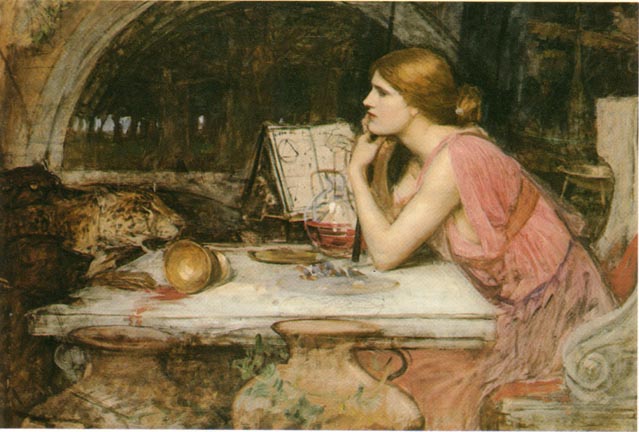 Circe by John William Waterhouse, 1849-1917. Oil on canvas; inscribed on the reverse of the canvas "Circe." 29 x 43 1/2 inches.
Provenance: The artist's sale, Christie's, 23rd July, 1926, lot 19 (46 gns to Sampson); Christie's, 14th April, 1967, lot 54 (to Saunders); The Hon. Christopher Lennox-Boyd.
Commentary by Christopher Newall
Circe was the daughter of Helios the sun-god and was an immensely powerful witch who lived on the Island of Aeaea. She was described by various classical writers, most notably Homer who called her a goddess. In all the legends she is described transforming her enemies, or those who refused her love, into animals, birds or monsters. Homer described how many of Circe's victims, turned into wolves or lions, prowled about the stone-built house in which she lived and where she worked on a huge loom. These animals were never dangerous, but rather fawned on all visitors. When Odysseus came to Aeaea his men were immediately turned into swine, Fortunately Odysseus had learnt from Hermes how to overcome Circe's magic by making her swear, while under the influence of a herbal drug, not to harm him. Odysseus spent a year with Circe and was her lover. She returned his men to him and when he left her she advised him on the next stage of his journey into the realm of Hades where he was to consult the spirits of the dead.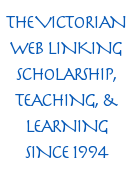 Various versions of this subject exist; an alternative title of The Sorceress has been given to them on occasions, but the attributes of Circe, her accompanying wild beasts (here leopards but in another version bears), and her loom, seen on the right-hand side of the picture, make the mythological subject of the painting clear. Burne-Jones had previously treated the subject of Circe.
Rob Cartwright has stated that Waterhouse worked on this painting from 1911-1915, and during this period experimented by including different animals (verbal information).
[One may also compare Waterhouse's Circe Offering the Cup to Ulysses. GPL]
References
Hobson, Anthony. The Art and Life of J. W. Waterhouse, R.A., p. 191, pl. 132, catalogue no. 182.
Newall, Christopher. A Celebration of British and European Painting of the 19th and 20th Centuries. London: Peter Nahum, nd [1999?]. Pp. 48-49.
Peter Nahum Ltd, London has most generously given its permission to use in the Victorian Web information, images, and text from its catalogues, and this generosity has led to the creation of hundreds of the site's most valuable documents on painting, drawing, and sculpture. The copyright on text and images from their catalogues remains, of course, with Peter Nahum Ltd.
Readers should consult the website of Peter Nahum at the Leicester Galleries to obtain information about recent exhibitions and to order their catalogues. [GPL]
---
Last modified 1 August 2006