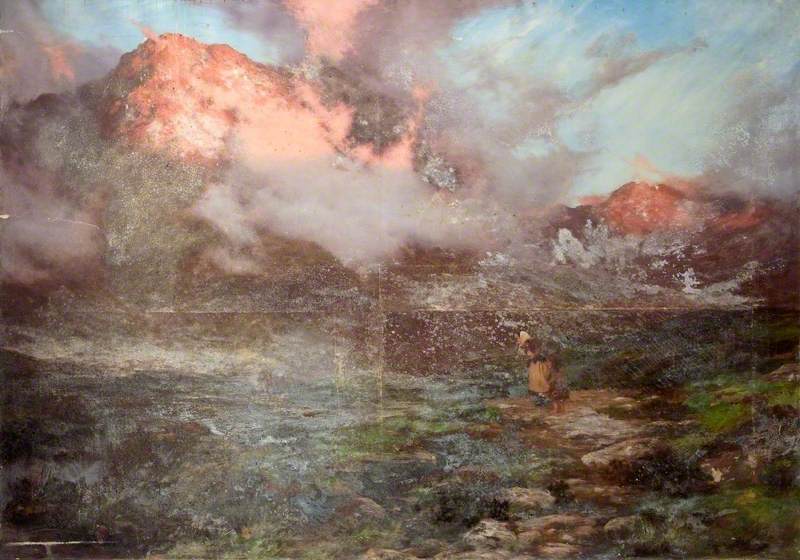 Departing Day, by Peter Graham, R.A., R.S.A. (1838–1921). 1890. Oil on canvas. H 126 x W 178.5 cm. Collection: Russell-Cotes Art Gallery & Museum, Bournemouth. Accession number: BOTG 00915. Purchased from George Knight by Messrs. Agnew and Son, 1931. Image kindly released by the gallery under the Creative Commons CC-BY-NC-ND (Creative Commons Attribution-NonCommercial-NoDerivatives) licence. [Click on the image to enlarge it.]
The scene is almost apocalyptic, with irregular patches of the day's blue sky abutting the fiery red of sunset and drifts of cloud around the sides of the mountains. According to W. Matthews Gilbert, the tiny figures on the shelving rocks towards the right are peat-gatherers (20), almost indistinguishable from nature itself in this extraordinary tumult.
The painting was exhibited at the Royal Academy with the motto: "The mist-robed mountain-tops,/ Crowned with the glory of the setting sun," and reactions were mixed. According to the Saturday Review, for instance, it was "too large, and rather gaudy and sloppy" (534). But W. Matthews Gilbert was nearer the mark when he praised Graham for injecting "new life into landscape Art" and setting "the public a-talking about it" (12). — Jacqueline Banerjee.
Bibliography
Barron, James. Northern Highlands in the Nineteenth Century; Newspaper Index and Annals. Inverness: Robert Carruthers & Son, 1913. Internet Archive. Contributed by the University of Guelph, Toronto. Web. 16 March 2019.
Gilbert, W. Matthews. The Life and Work of Peter Graham, R.A.. London: The Art Journal office, 1899 [a very limited view is available in Google Books].
The Saturday Review of Politics, Literature, Science and Art, Volume 69 (1890): 533-34 [a very limited view is available in Google Books].
---
Created 16 March 2019