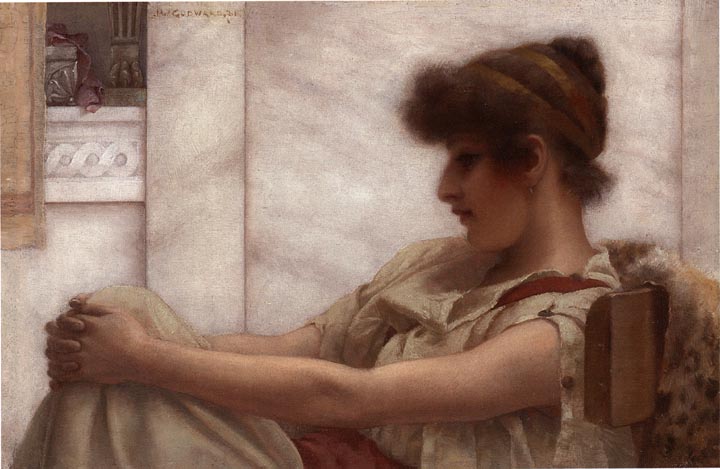 John William Godward (1861-1922). Reverie. Signed and dated 1888. Oil on panel. 6 1/4 x 9 1/4 inches. The Maas Gallery, London.
"This is an early work from a model Godward used more than once. Godward was in his element painting fabrics and marble, and of course women in togas. These were in vogue well into the twentieth century, but after th First World War his neo-classical subject matter fell out of favour. Nonetheless he steadfastly continued, distancing himself from the reality if war and the relentless march of modernism in his fantasy of a perfectly beautiful ancient world. Before his death in 1922 he is said to have written that "the world is not big enough both for him and a Picasso." — Rupert Maas, p. 9.
References
The Maas Gallery. Exhibition catalogue. London, 2007. No. 6.
The Maas Gallery, London has most generously given its permission to use in the Victorian Web information, images, and text from its catalogues. The copyright on text and images from their catalogues remains, of course, with the Maas Gallery. Readers should consult the gallery website to obtain information about recent exhibitions and to order their catalogues. [GPL]
---
Last modified 19 June 2007