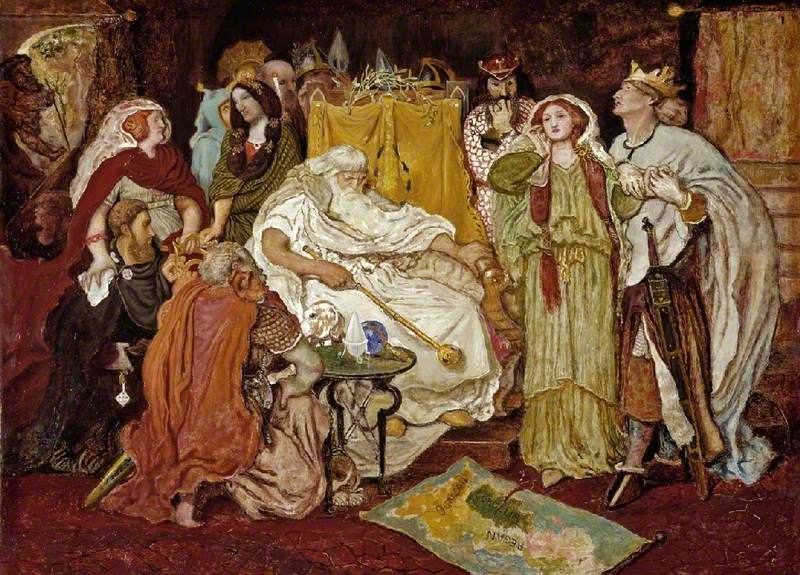 Cordelia's Portion. Ford Madox Brown (1821-1893). 1867-75. Oil on canvas, 55.9 cm x 77.2 cm. Fitzwilliam Museum, Cambridge, accession no. PD.9-1950 (bequeathed by Thomas Henry Riches, 1935, with a life-interest to his widow, who died 1950). Source: Art UK, available for re-use under the terms of the Creative Commons Attribution-NonCommercial-NoDerivatives licence. Commentary and formatting by Jacqueline Banerjee. [Click on the image for a larger picture.]
This richly detailed painting, with its full range of earthy, natural colours, expresses every aspect of the opening scene of King Lear, a play to which this artist returned again and again for his subject (see Thirlwell 30). Here is the king himself, slumped on his throne yet paradoxically with his left arm stretched out almost rigidly as he grasps that side of his throne. He is fiercely disappointed by his youngest daughter's refusal to flatter him. Cordelia, on the right, knows exactly what she has done but does not intend to go back on it, and is still angry with her sisters, while the King of France clasps her arm to his chest, revering her in an ecstasy of love. Her other suitor, the Duke of Burgundy, frowns and chews on his fingers as his prize (Cordelia's dowry more than Cordelia herself) is taken away from him. On the left are the poisonous sisters, already cooking up their plan, both of them, and their husbands, with their hands on the crown. Gloucester and the Fool peep from either side of the particularly sly-looking Regan, Gloucester more concerned for the King, and the Fool noting the glance that is passing between the sisters. Even the dog behind the table looks cowed. Something momentous is happening here.
All sorts of tiny details play their own parts: the mistletoe behind the throne is an ironic reminder that Lear had expected to receive fond embraces from all three daughters; the torn map on the floor shows that his plan for the inheritance has gone badly wrong; the small figure of someone in the upper left, looking over his shoulder, has been identified by Ford Madox Ford as the banished Duke of Kent (223); another dog's paws are just visible under the table (later, Kent will accuse Regan of treating him worse than she would treat her father's dog), and so on. As for the costumes, Ford writes, they belong to
the undefined, semi-mythical period, in which ... Madox Brown delighted to place his characters. Lear might be a Druid; France, one of the Carlovingian kings; Cordelia, a slightly Byzantine mediaeval figure. The palace is an old Roman villa. [223]
And as for the painting's relation to its own times, Julian Treuherz sums it up well, saying that "Brown combined the harmony and beauty of the aesthetic movement with the expressive content of the narrative painter" (218).
Bibliography
Ford, Ford Madox. Ford Madox Brown: A Record of His Life and Work. London: Longmans, 1896. Internet Archive. Web. 20 July 2017.
Thirlwell, Angela. "From Paint to Print: Grandfather's Legacy." Ford Madox Brown and Visual Culture. Ed. Laura Colombino. Amsterdam and London, Rodopi, 2009. 29-38.
Treuherz, Julian, with contributions by Kenneth Bendiner and Angela Thirlwell. Ford Madox Brown: Pre-Raphaelite Pioneer. London: Philip Wilson, 2011.
---
Created 20 July 2017