The Last of England by Ford Madox Brown, 1855. Oil on panel, 32 ½ x 29 ½inches (82.5 x 75 cm). Collection of Birmingham Museum and Art Gallery, accession no. 1891P24. Click on the image for a larger picture. Kindly made available for reuse under the terms of the Creative Commons CC-BY-NC-ND (3.0 Unported) licence.
Ford Madox Brown has painted a young couple on board a ship, emigrating along with others, during the peak of the emigration movement in the 1840s and early 1850s. The woman has an infant wrapped in her grey hooded cape, and holds the baby's hand as the ship embarks on the long voyage. She grasps her husband's hand too, while that rests on the baby's little foot in its patterned sock. It is a poignant scene especially as the woman looks so sad, and the man so grim. Other passengers, glimpsed behind this family unit, seem to come from a lower class, and are certainly less sensitive and refined. They seem not to care about leaving England. On the contrary, one man, apparently engaged in horseplay, shakes his fist at it. Another smokes a long-stemmed pipe, while a little girl munches an apple. In front of the main figures hang vegetables, provisions for the long voyage, and a little boat at the rear contains further supplies.
All such details were explained by Brown as if he was recording the feelings and behaviour of real people in a real situation:
The educated are bound to their country by closer ties than the illiterate, whose chief consideration is food and physical comfort. I have therefore, in order to present the parting scene in its fullest tragic development, singled out a couple from the middle classes, high enough, through education and refinement, to appreciate all they are now giving up, and yet dignified enough in means to have to put up with the discomforts and humiliations incident to a vessel "all one class." The husband broods bitterly over blighted hopes, and severance from all he has been striving for. The young wife's grief is of a less cantankerous sort, probably confined to the sorrow of parting with a few friends of early years. The circle of her love moves with her.
The husband is shielding his wife from the sea spray with an umbrella. Next them, in the background, an honest family of the greengrocer kind, father (mother lost), eldest daughter and younger children, make the best of things with tobacco-pipe and apples, &c., &c. Still further back, a reprobate shakes his fist with curses at the land of his birth, as though that were answerable for his want of success; his old mother reproves him for his foul-mouthed profanity, while a boon companion, with flushed countenance, and got up in nautical togs for the voyage, signifies drunken approbation. The cabbages slung round the stern of the vessel indicate, to the practised eye, a lengthy voyage; but for this their introduction would be objectless. A cabin-boy, too used to "laving his native land" to see occasion for much sentiment in it, is selecting vegetables for the dinner out of a boatful. (qtd. in Ford 100).
Brown also explained the tactics he used to get this sense of lived experience:
To insure the peculiar look of light all round which objects have on a dull day at sea, it was painted for the most part in the open air on dull days, and, when the flesh was being painted, on cold days. Absolutely without regard to the art of any period or country, I have tried to render this scene as it would appear. The minuteness of detail which would be visible under such conditions of broad daylight I have thought necessary to imitate as bringing the pathos of the subject more home to the beholder. [qtd. in Ford 101]
However, as so often in his work, there is relief from the predominant atmosphere not only in the earthier details (vegetables, fist-shaking) but also in the woman's fluttering ribbons, for which he used that brilliant shade of magenta that he once said, in a parlour game, was his favourite colour (see Thirlwell 24, 29-30).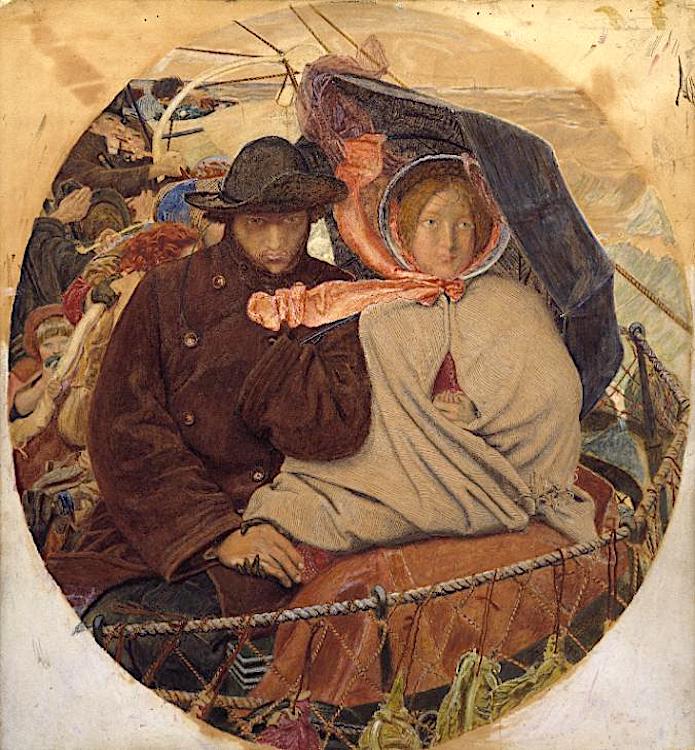 Left: The original painting at the Tate. Right: Watercolour replica at Tate Britain (Support: 356 x 330 mm), kindly made available for reuse under the terms of the Creative Commons CC-BY-NC-ND (3.0 Unported) licence. [Click on images to enlarge them.]
Although Brown himself never set out to emigrate, as Thomas Woolner had done only recently, he is known to have seriously considered it (Treuherz 184), and there is an element of personal feeling here: "His picture of the Last of England represents exactly his earlier face, where it looks out at us from the ship's stern disappointed and half resentful," writes his grandson Ford Madox Ford (69-70). By a happy irony, the picture expressing this glumness was the first "to which anything approaching general praise was accorded" (Ford 101). Brown produced a watercolour replica of the painting in 1864-46, on which his daughter Catherine is thought to have done some of the preliminary work, for one of the patrons of the Pre-Raphaelites, George Rae of Birkenhead (see Tate commentary). The colours are less vivid.
Links to Details of the Painting and Related Material
[You may use these images without prior permission for any scholarly or educational purpose as long as you (1) credit the source and (2) link your document to this URL in a web document or cite the Victorian Web in a print document. ]
Bibliography
Ford, Ford Madox. Ford Madox Brown: A Record of His Life and Work. London: Longmans, 1896. Internet Archive. Web. 4 May 2012.
"Ford Madox Brown, The Last of England, 1864-6." Tate . Web. 29 August 2019.
Thirlwell, Angela. "The Game of Life: Ford Madox Brown — A Character Study." Ford Madox Brown: Pre-Raphaelite Pioneer, by Julian Treuherz, with contributions by Kenneth Bendiner and Angela Thirlwell. London: Philip Wilson, 2011. 23-35.
Treuherz, Julian, with contributions by Kenneth Bendiner and Angela Thirlwell. Ford Madox Brown: Pre-Raphaelite Pioneer. London: Philip Wilson, 2011.
---
Last modified 12 November 2021