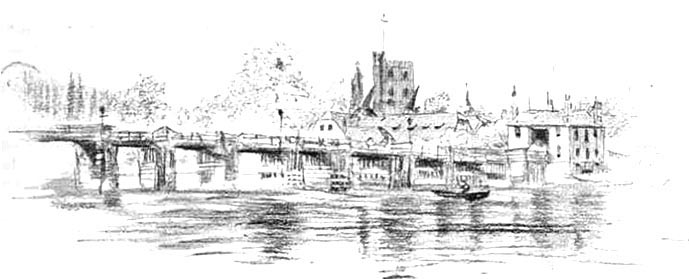 Old Putney Bridge and Fulham Church by Sir Samuel Luke Fildes, R. A. (1844-1927). 1870. Pencil on paper. Source: Thomson, p. 25.
This scene, depicted on the monthly wrappers of Dickens's first successful monthly serialisation, The Pickwick Papers, appears in the background of one of the last illustrations produced for Dickens, "Up the River," the eleventh of Fildes plates for The Mystery of Edwin Drood. From December 1869 through June 1870, Dickens lived in town many weeks, staying just opposite Marble Arch, so that the seasoned novelist and his novice illustrator often met in the vicinity or in Hyde Park to discuss the pictures that would accompany the text [PVA].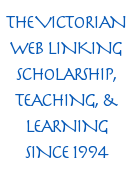 Bibliography
Thomson, David Croal. The Art Annual, 1895: The Life and Work of Luke Fildes, R. A. With numerous illustrations. London: The Art Journal Office (294, City Road, and 26, Ivy Lane), Christmas 1895.
Treuherz, Julian. "Luke Fildes: 'Dumb, Wet, Silent Horrors" in Hard Times: Social Realism in Victorian Art. ed. Julian Treuherz. London: Lund Humphries, 1987. Pp. 83-89.
---
Last modified 20 May 2007