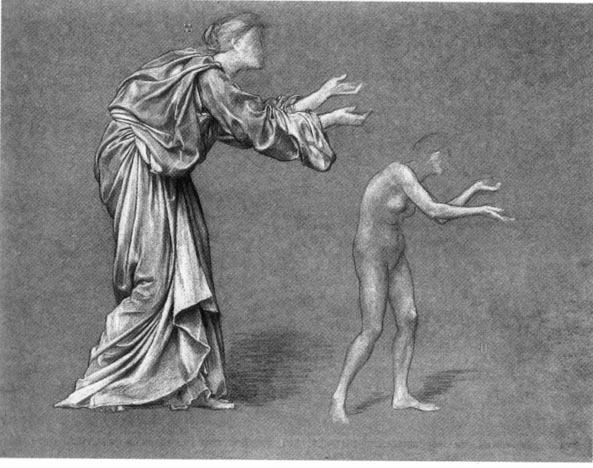 Study for the standing Female Supplicant receiving jewels from Saint Christina in "Saint Christina giving her Father's jewels to the Poor" by Evelyn de Morgan. 1904. Black and white chalks on grey paper 19 x 23 inches, 48 x 58.5 cm.
Commentary by Peter Nahum
This is a preparatory study, for the large oil she painted in Italy in 1904, and brought over from Florence just before the Great War, where it was sold for the benefit of the blinded soldiers, purchased by her sister and biographer, Mrs Stirling. The painting was destroyed by fire in 1990. A M W Stirling says: "The large picture of Saint Christina giving her Father's jewels to the Poor (12 ft x 7 1/2 ft) is an ambitious conception, the. grouping and the composition of which is very striking. The pale, ethereal saint, clad in white with a cincture of red, Is standing on the steps of her pagan father's Venetian Palace. In accordance with the legend respecting her, she is distributing to the poor jewels from the idols she has broken" (pp. 232, 311).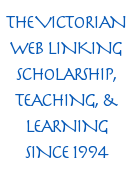 Bibliography
A Century of Master Drawings, Watercolours, & Works in Egg Tempera. London: Peter Nahum, nd. Catalogue number 32.
Stirling, A. M. W. William de Morgan ond his Wife. London: Thornton Butterworth, 1922.
Peter Nahum, London, has most generously given its permission to use in the Victorian Web information, images, and text from its catalogues, and this generosity has led to the creation of hundreds and hundreds of the site's most valuable documents on painting, drawing, and sculpture. The copyright on text and images from their catalogues remains, of course, with Peter Nahum. [GPL]
---
Last modified 27 June 2020