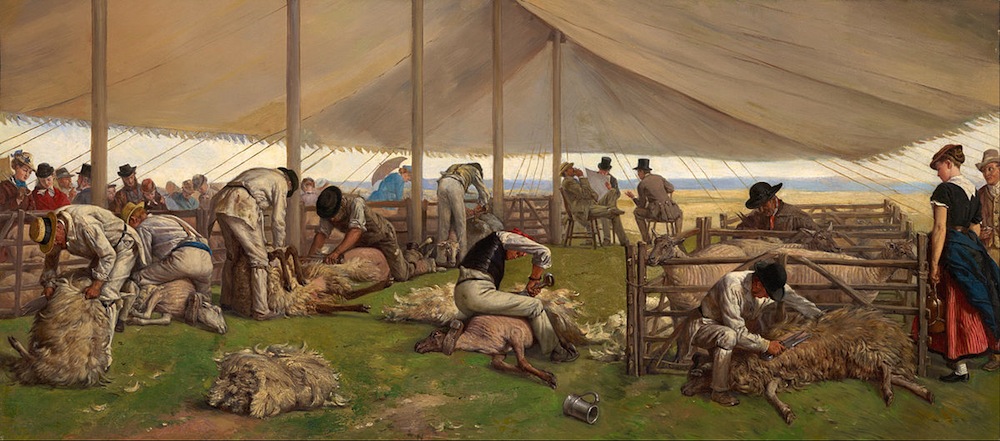 A Sheep-Shearing Match, by Eyre Crowe (1824-1910). 1875. Oil on canvas. 375 mm (14.76 in.) x 831 mm (32.72 in.). National Gallery of Victoria, via Google Art Project, where it is listed as being in the public domain, and therefore available for sharing and re-using. Image and text added by Jacqueline Banerjee. [Click on both the images to enlarge them.]
Not everyone took to this work when it was shown at the Royal Academy in 1875. The Athenaeum reviewer felt that it "was hardly worth the trouble evidently bestowed on it, though it is exceedingly clever in its way" (428). But it was praised in the Times as one of Crowe's recent "paintable subjects from actual life" which deserved gratitude (12).
According to the National Gallery of Victoria's own commentary, the painting shows the influence of Crowe's mentor, Paul Delaroche:
DeLaroche was renowned for large-scale history and narrative paintings which he rendered in a highly finished and detailed manner, in a style derived from neoclassicism..... Crowe painted with an intense realism and had a very fine technique, almost like that of a miniaturist. He also had remarkable powers of observation and related many subtle nuances of a scene, which give a seductive impression of credibility and authenticity; even during Crowe's lifetime, his paintings were likened to photographs.
However, this comparison misses the point. As in other paintings, Crowe presents the working men, who are intent on their tasks and skilful at them, with respect. Perhaps the three men seated at the back are the judges; other spectators show varying degrees of interest. But the shearers, of course, steal the show. This painting has a particularly gorgeous frame.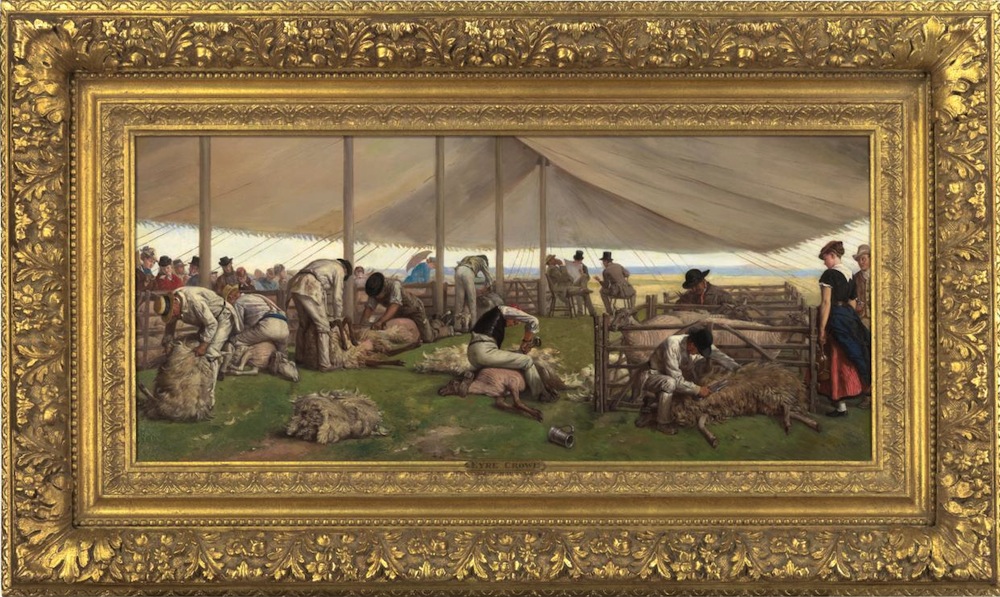 Related Material
Bibliography
Benson, Laurie. "Eyre Crowe's A Sheep Shearing Match." National Gallery of Victoria. Web. 20 February 2018.
The Builder, Vol. 33 (1875). Google Books (only snippet view, unfortunately). Web. 20 February 2018.
"Royal Academy Exhibition." Times. 15 May 1875: 12. The Times Digital Archive. Online ed. Web. 20 February 2018.
The painting in its nineteenth-century frame. National Gallery of Victoria. Web. 20 February 2018.
---
Created 20 February 2018