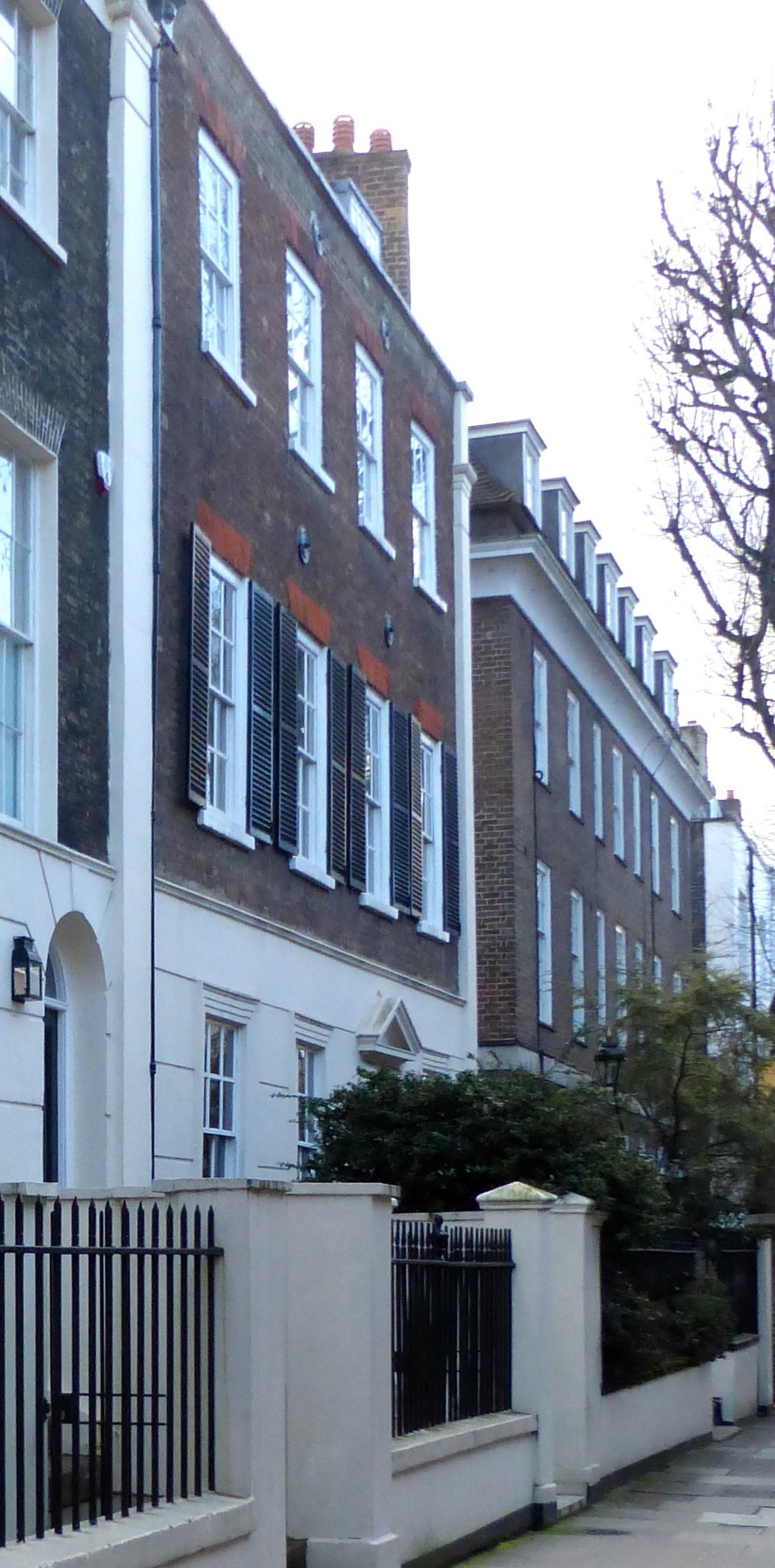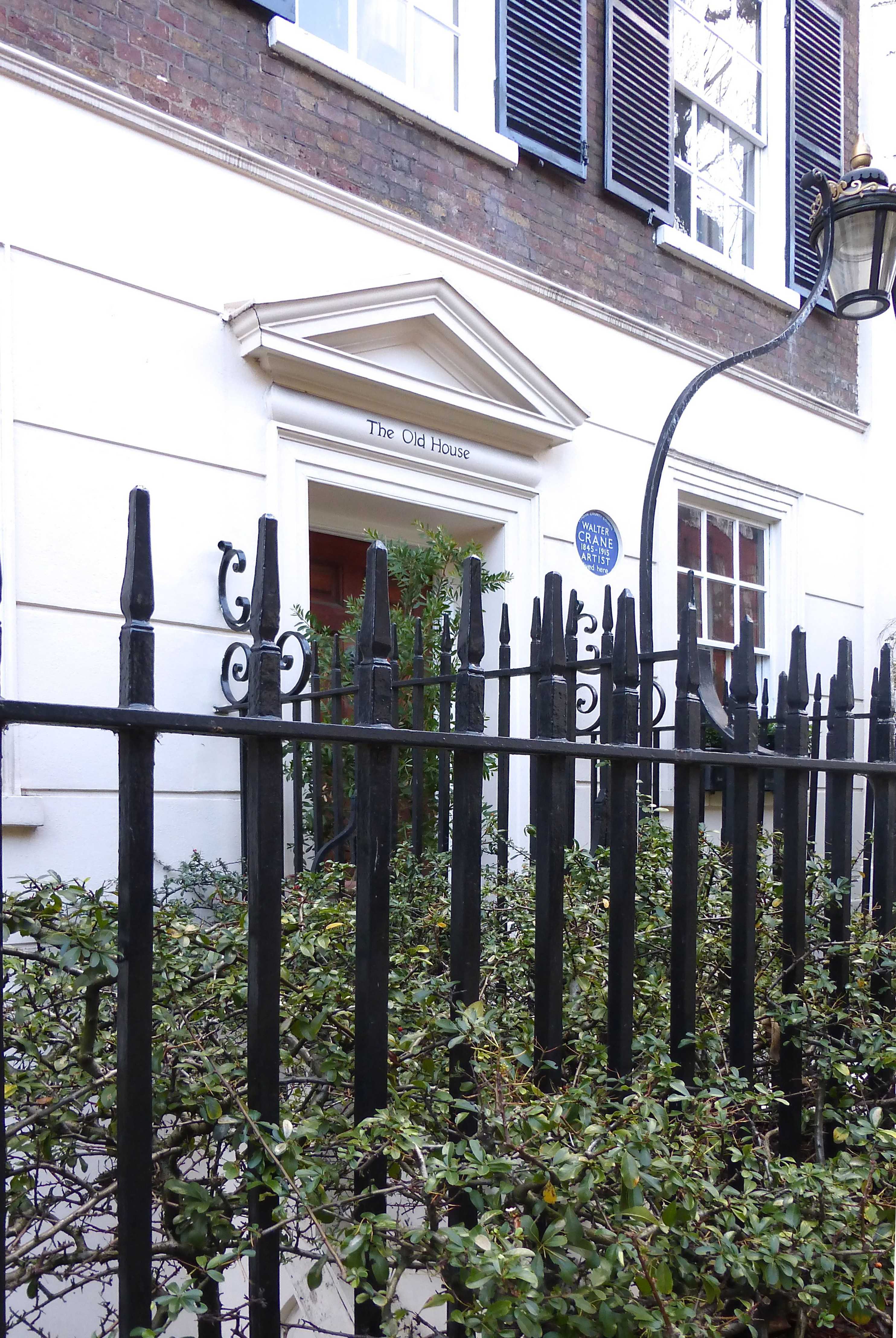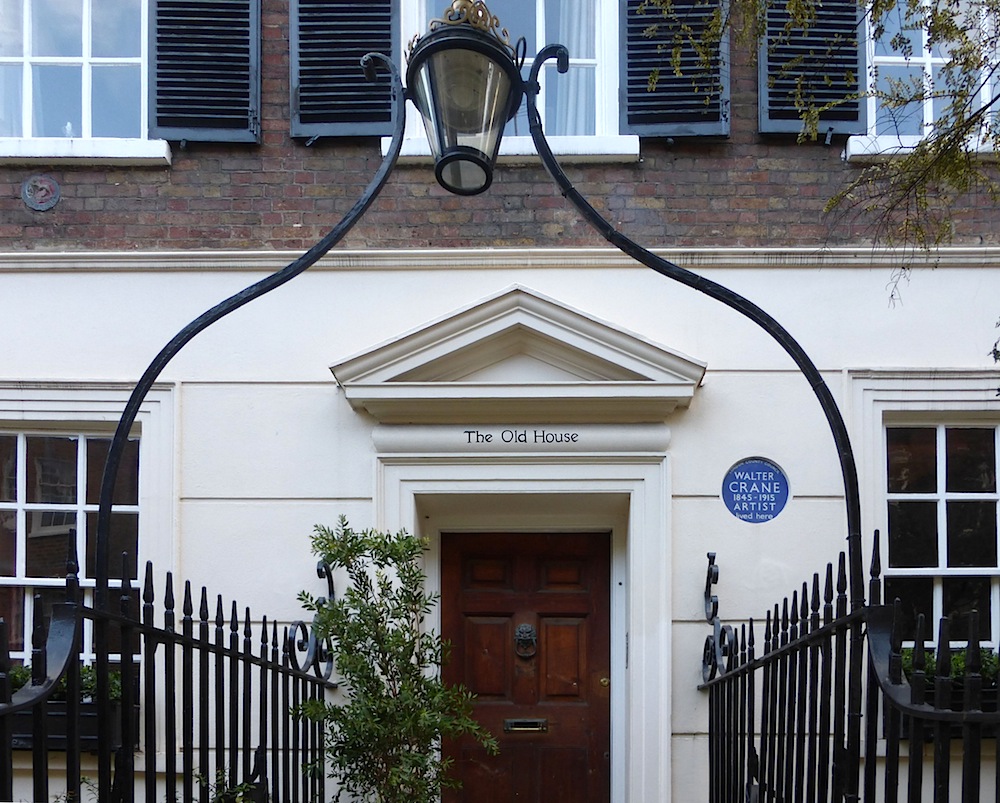 Left to right: (a) 13, Holland Street, from the east. (b) The house from closer up. (c) The entrance.
Walter Crane married his wife Mary Frances Andrews (c.1846-1914) in 1871, and after their return from a long stay in Italy the couple spent the best part of the next twenty years in Shepherd's Bush. When they decided to move to a more central location, house-hunting proved a chore: Crane described it as "the most fatiguing and least exhilarating form of sport" (410) and complained volubly about the misleading patter of estate agents, and all "the rows and streets of similar houses" (411). But at long last, he said,
Returning one day after a long and fruitless search, my wife and I happened to pass along Holland Street, Kensington, and noticed No. 13 was to let. The house had an eighteenth-century brick front, which was attractive, and on entering we found instead of the usual squeezy passage a square hall with a fireplace in it. There was a garden at the back towards St. Mary Abbots Church, and on a fine old leaden cistern there was the date 1764. The style of some of the mouldings and woodwork suggested an earlier date. The house being otherwise suitable as to size and convenience, we soon decided to make it our new home, and Michaelmas 1892 saw us installed, with all our worldly goods piled in hopeless confusion around us. [411]
They moved in, with their three surviving children, Beatrice, Lionel and Lancelot, in 1892. It was their permanent address for the rest of their lives.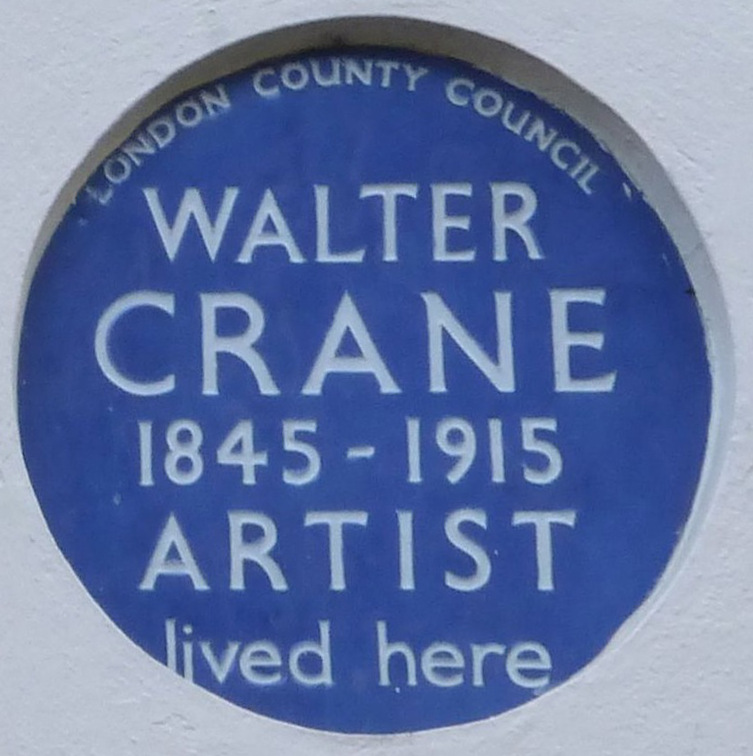 Here the family lived a distinctly bohemian life:
The house was full of pewter and china, carved figures, Indian idols, a live alligator, model ships, a marmoset that slept in the fireplace, Crane's unsold paintings, all higgledy-piggledy and gathering dust. Amid all this Crane played the part of the artist, a small, dapper man with carefully curled moustaches and a little beard, a flowing yellow silk tie, and a velvet coat. Colleagues were apt to laugh at him, and they mostly thought his earliest works, the Toy Books, were the best. But he was a lovable figure, and they indulged his staginess. Both he and Mary Crane loved dressing up and they threw enormous parties. For Lionel's twenty-first birthday they invited seven hundred people. Crane dressed up as a crane and Mary as an enormous sunflower. [Crawford]
Isobel Spencer gives a few more details of the costumes on this occasion, describing Crane's "beaked hat and triple-toed feet," saying too that the couple's New Year parties were "a major event in London's artistic social calendar" (9).
Crane's family life had been generally happy but, tragically, late in 1914 at the age of 68, his wife committed suicide. She had been on a rest cure in Kingsnorth, Kent, and her action was judged to have been caused by temporary insanity ("Death of Mrs Walter Crane"). Not yet seventy himself, Crane died within three months. Perhaps, as Spencer says, it was as well that he did not live long enough to know of his younger son Lancelot's death in the war (155).
Photographs and text by Jacqueline Banerjee. You may use these images without prior permission for any scholarly or educational purpose as long as you (1) credit the photographer and (2) link your document to this URL in a web document or cite the Victorian Web in a print one.
Sources
Crane, Walter. An Artist's Reminiscences. New York: Macmillan, 1907. Internet Archive. Contributed by Cornell University Library. Web. 1 February 2016.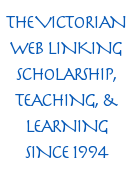 Crawford, Alan. "Crane, Walter (1845–1915), illustrator, designer, and painter." Oxford Dictionary of National Biography. Online ed. Web. 1 February 2016.
"Death of Mrs Walter Crane." Times. 21 December 1914: 5. Times Digital Archive. Web. 1 February 2016.
Spencer, Isobel. Walter Crane. London: Studio Vista, 1975.
"Walter Crane." Royal Borough of Kensington and Chelsea. Web. 1 February 2016.
---
Last modified 27 June 2020