[Click on thumbnails for larger images.]
The Artist's Parents: (Left) Thomas Burt and Mary Ann Burt
Maria Eliza Burt was an accomplished painter of
miniatures
who exhibited her small, finely-detailed portraits at the Royal Academy from 1873. Maria was born on 28th July 1841 in Eaton Socon, Bedfordshire, the daughter of Thomas Burt (1806-1875) and his wife Mary Ann (née Spencer) (1811-82). It was a large middle-class family of four girls and two boys, and they proudly claimed Huguenot descent and Henri IV of France as a long-distant ancestor (albeit via an illegitimate birth through the Ligorist line). Thomas came from Moulton in Suffolk and described himself variously as "Builder," "Farmer," "Auctioneer," and "Timber Merchant," but his early business ventures almost invariably failed. Later in life he took on engineering contracts with the burgeoning railway network and this seemed to prosper. But the family had to travel extensively, almost invariably by stage-coach, because of Thomas' work commitments. In 1874 Thomas and his youngest son Benjamin accepted an engineering contract in Sweden. Thomas died there of pneumonia the following year. He is buried at Oscarham.
Maria's mother' s family, the Spencers, also came from Moulton, where Maria' s maternal grandfather, Stephen, was a well-to-do farmer. The Spencer family, however, seemed to be totally without luck, for Stephen' s siblings all came to bad ends. James, it appears, was of miserly habits and died leaving money; Charles was a sailor and died in Sierra Leone of Yellow Fever; and Sarah married William Fletcher Stutter who failed in business and hanged himself in his barn at the age of 32!
Nevertheless, Maria grew into a self-possessed young lady with a strong interest in art. She was a pretty petite woman of 4' 11" (1.50 m) and prematurely grey. Her particular skill lay in the fine, detailed work that was required for the miniature portraits that were popular in the mid-Victorian era. She first exhibited at the Royal Academy in 1873, and it was clear that she had some talent.
It is probably that she was in her early twenties when she first met William Simpson, who by then had achieved a reputation as a war artist and traveller. Her Aunt, Kate Beale introduced him to her on his return from India in the 1860s. William and Maria had a common interest in art, and they got on very well together despite the fact that she was eighteen years his junior. But William' s travels were to keep them apart for many years, and he remained a staunch bachelor until he returned from his 1879 trip to India and Afghanistan. They married in 1881 and settled down to domestic bliss in a fine home at 19 Church Road Willesden after a honeymoon to Brighton and the Isle of Wight. Maria soon became pregnant, but the child was still-born. A second pregnancy followed soon after and a healthy daughter named Ann Penelope Simpson was born on 28 January 1884. Maria was forty-two years old. William Simpson was in his early sixties by this time, and he felt that he had one more major trip in him before settling down. In 1885 he joined the Afghan Boundary Commission to Persia and Afghanistan to travel and sketch the exotic places visited. This trip took about ten months, and his health was starting to suffer. On his return, however, he basked in his family life and took Maria and Ann on frequent outings and short trips from Willesden.
His daughter, Ann Penelope, later noted of those times:
My first memories are of the nice old garden of the house in Church Road, dog violets grew in the hedge and laburnum and lilac flowered — I have always loved lilac partly I think because of the perfectly beautiful tree that blossomed in our garden. I have never seen its equal anywhere, and in later years when we moved it to another garden at Hatch End it continued, in spite of the move, to flower freely and was just as healthy and joy-giving as it had been at first.
Nearly all the holidays that I remember as a child were spent at Rottingdean in Sussex, a few miles to the east of Brighton. We loved this tiny fishing village and used to go for long walks over the downs. I remember seeing the sheep herded in by the shepherd at night, hurdles were put around the little flocks to keep them safe.
A dear old Great Aunt Kate (Beale) was often an inmate of our house. She was the wife of John Burt , my Mother' s Uncle. . . . Aunt Kate was born on the Island of St Helena, her father was also a doctor and he was sent by the British Government to attend the health of Napoleon Buonaparte when he was in exile there.
William visited Berlin to sketch the funeral of Kaiser Wilhelm in 1888, and later took Maria and Ann with him to see the International Exhibition at Glasgow. But his health continued to deteriorate. He died at home in Willesden, north London, on 17th August 1899, with Maria and Ann at his side. He was 75 years of age. He had been preparing a series of sketches for a book on the involvement of the Royal Navy in the Crimean War entitled From the Fleet in the Fifties by Mrs Tom Kelly when he died. Mrs Kelly noted in her introduction: " My gratitude is also due . . . to the late Mr. William Simpson, whose last bit of exquisite work was the unfinished etching of Major Peel, upon which he was engaged a few hours before his earnest and kindly spirit passed away" (page xxvii).
William had been able to save some money during his long and productive career, and he left his little family an annuity that allowed them to live comfortably after his death. Maria had joined the newly-formed Society of Miniature Painters (later to become the Royal Miniature Society) in the late 1890s, and she continued to produce fine miniatures.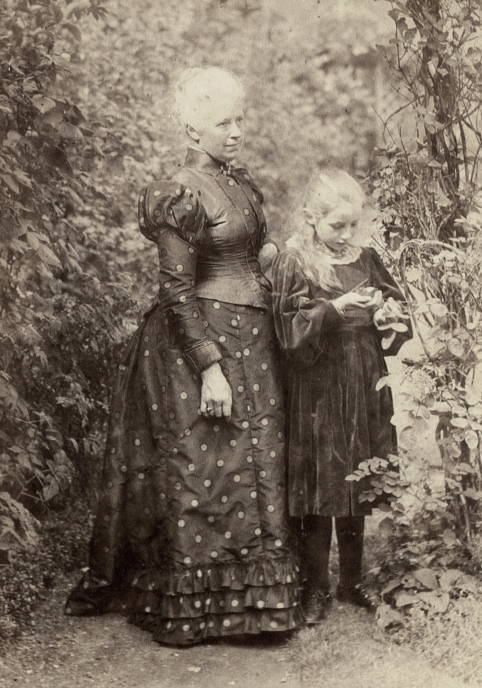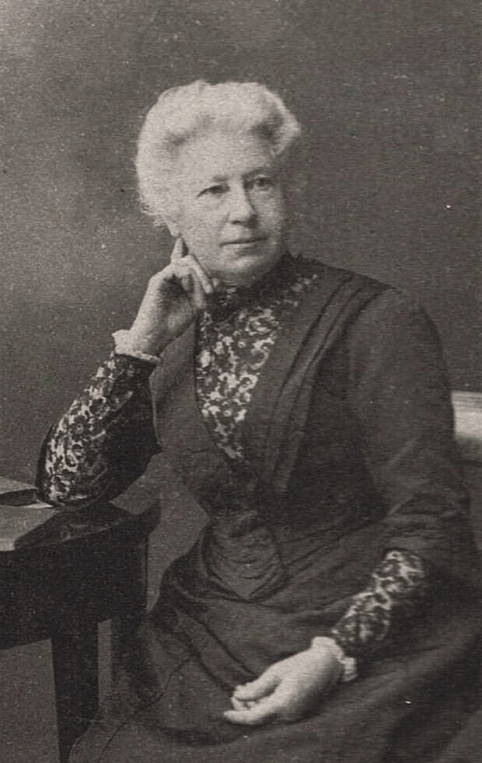 Three photographs of the artist around 1900. (Left) With her daughter Anne, 1892; right two: Maria Eliza Simpson in 1904 and the following year.
Ann Penelope later wrote (in the 1940s):
After my Father' s death, I was sent away to a Boarding School at Eastbourne. I was very unhappy there and homesick, and after two terms only, my Mother let me return home again. In the Summer of 1900 my Mother and I paid a visit to Scotland, and then up to the Orkney Islands where we stayed with Mr and Mrs Cursiter. Mr Cursiter was a great antiquarian and took great interest in archaeological remains etc.. We visited several of the Orkney Islands, they are very bleak, sparsely populated places. One night we all went to a ball given at an old Castle by a family named Graeme. The master of the house was piped into the ballroom by his two pipers, all the menfolk nearly wore kilts. I met there a Roman Catholic priest, a Father Macdonald, with whom I sat out several dances. He was a great character, full of fun and friendliness, and whenever he came up to London in later years, I used to meet him and go and have lunch with him. When I married he sent me a beautifully bound copy of Whittier's poems. We also visited a General Forburg, a friend of my Father's who had rented an old house there. On our way back we stayed in Edinburgh and Glasgow where we stayed with Mr and Mrs Edward Macbean and the Allans.
During these years from 1899 to 1901 the Boer War had been raging — and I well remember seeing the troops marching through London who were going out to South Africa, many of them to lay down their lives on the veld. I was very stirred by all this martial pomp and glory and had not the least idea that this war was a wholly wrong one for us and that it was waged largely because of the immense wealth South Africa held in gold and diamonds.
In January 1901 Queen Victoria died. Anna and I saw the funeral procession pass down Cambridge Terrace off the Edgeware Road, from the house of some Australian cousins who were visiting London at the time. The German Emperor, riding on a white charger, was a magnificent figure, the King of Portugal, and six other crowned heads were in the procession. Where are all these monarchies now? Nearly all swept away. The coffin was carried on a gun carriage which was drawn by the eight cream horses which had figured in so many triumphal processions during her life. In this year 1901 I had my first visit abroad. We went to Algiers to stay with Uncle James Burt. We left London for Paris on Feb 22nd and stayed at a pensione there for a few days. We saw some of the sights of Paris, the Louvre, the Madeleine, the Pantheon, the Luxembourg Palace. On March 7th we left the Gare de Lyon for Marseilles where we were to get our steamer for Algiers. This first visit to Algiers made a very strong impression upon me, for it was the first time that I had glimpsed the Gorgeous East.
In 1908 Maria also took Ann on a trip to Australia to visit relatives. Ann too painted in watercolours, but she was not in the same league as her parents. As was usually the case in those days, women of a certain class did not work, but dabbled in the finer things of life such as art and literature. Ann studied at the Royal Academy, and submitted a fine charcoal sketch of the Laocoon for her entrance examination. But her adventures in watercolour were always only for the edification of herself and her family; she never attempted to pursue a career in art.
In 1911, Ann (who was now 27) became engaged to be married to Walter Hubert Hewitt, and they decided to migrate to New Zealand. Walter sailed in 1911 and purchased a dairy farm near Dannevirke, Hawkes Bay. Ann followed him later that year with Maria (who was then 70) and a Russian girl named Anna Pakk whom her Uncle James Burt had adopted. James undertook engineering construction work in various places around the world, including near St Petersburg, where he was instrumental in draining some swamps in the 1880s. Whilst there he adopted Anna Pakk who had been born around 1882/3. He brought her back to England, and she and Ann Penelope Simpson, who was a year or two younger, became childhood friends and often visited each other. James was thrown from a horse and killed in Algiers on 24th February 1903. Being adopted and unmarried, Anna had few people to turn to, and so Maria took charge of her and eventually took her to New Zealand with her. They all lived for a while at Dannevirke but later Anna Pakk led a separate life.
Another passenger on the same ship to New Zealand was the wife of Robert Falcon Scott (image), who learned on this voyage of the death of her husband while returning from the South Pole. The ship arrived in Wellington in February 1912, and three days later (on 10th February 1912) Walter and Ann were married.
Ann and Walter Hewitt had two children (Elizabeth and David) in the next few years, and the family moved to Wellington in 1916. Walter enlisted in the New Zealand Army and was stationed at Trentham for a time before being sent to France in June 1918. Ann and Maria and the children stayed at Karaka Bay in a rented house they called " Alderholt" .
Whilst Walter was serving in France, Ann and Maria took their two young children to Australia to stay with cousins at Barraba, NSW. When the family heard that Walter was returning to New Zealand on the ceasing of hostilities, Ann and Maria took the children to Sydney to await a ship for Wellington. At this time there was a general strike in Australia and they were delayed in returning to New Zealand, so they rented a house at Mosman until the strike was over. The world-wide epidemic of Spanish &lrquo;flu had also hit Sydney at that time, and they all had to wear masks over their noses and mouths.
Soon after arriving back in Wellington and reuniting with Walter the family bought a house at Scorching Bay, and a third child, Neil, was born in 1920. The family then moved to Falkirk Street, Seatoun, and Maria bought a house not far away. She lived a sedate and genteel life there and had a housekeeper named Mrs Reardon.
Maria Eliza Simpson in old age in New Zealand
In 1924, however, the family bought a grand old home in Main Road, Karori (a northern suburb of Wellington), and Maria moved back in with them. The house had belonged to the parents of well-known writer Katherine Mansfield. It features in some of her stories. It was originally called " Chesneywolde" by the Beauchamps (Katherine Mansfield' s family), but the Hewitts renamed it " Alderholt" after their old family property in England. The marriage of Walter and Ann Hewitt was foundering by this stage, and Walter moved out in the early 1930s. They were to divorce a little later. Ann then sold Alderholt and all the antique furniture that she and her mother had brought out from England.
Maria Eliza Simpson, who had been living with the family for a few years by that stage, moved to a comfortable nursing home at Khandallah (near Wellington) where she died a few months later (in 1931) at the age of 90. She is buried in Karori cemetery.
Bibliography
Kelly, Mrs Tom. From the Fleet in the Fifties: A History of the Crimean War. London: Hurst and Blackett, 1902.
---
Last modified 2 May 2010