Courtesy Liss Fine Art and the Fine Art Society. Readers may wish to consult the Liss and FAS websites. [You may use this image without prior permission for any scholarly or educational purpose as long as you (1) credit Liss Fine Art and (2) link your document to this URL in a web document or cite it in a print one.]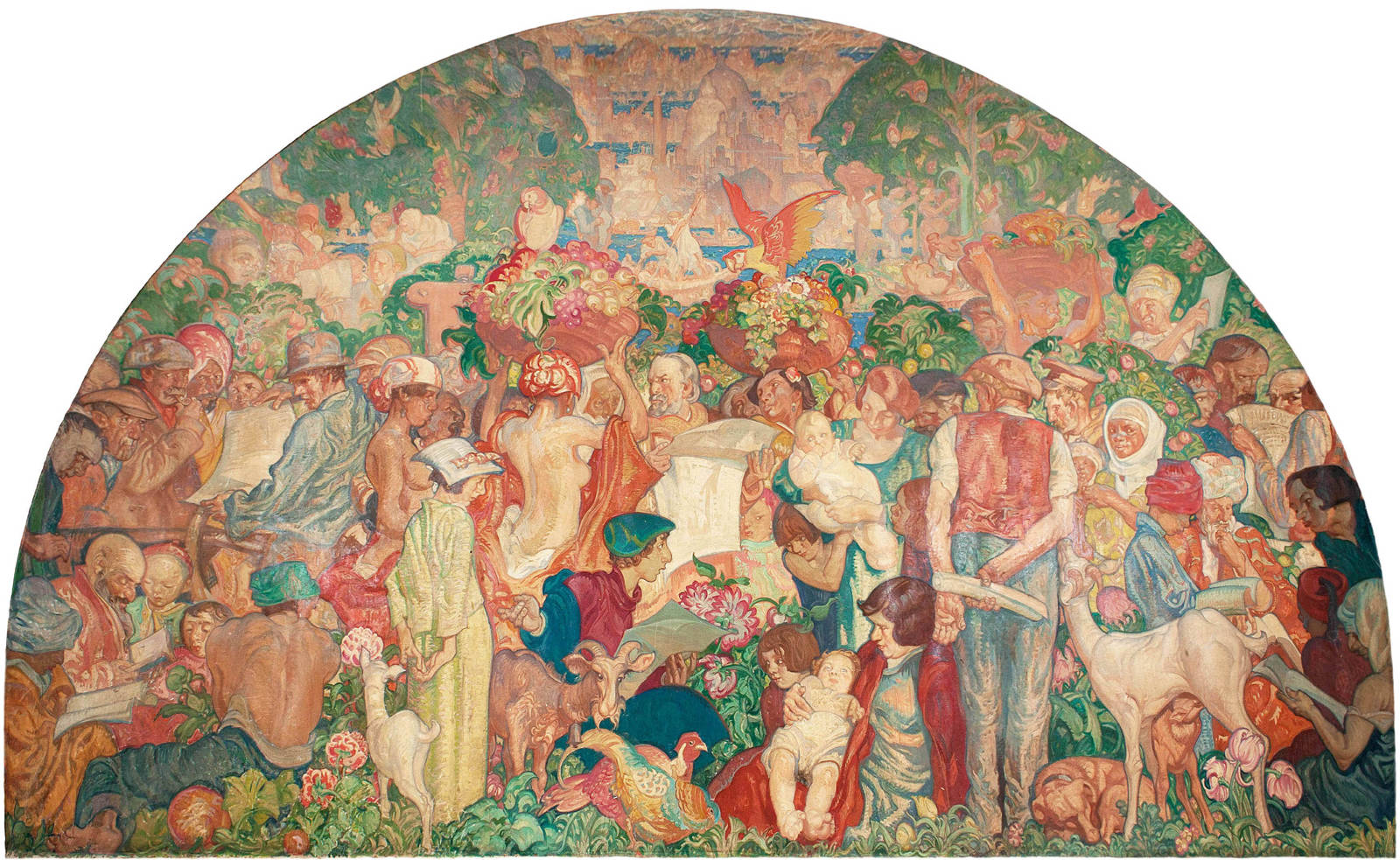 The Printed Word Makes the People of the World One by Sir Frank Brangwyn RA RWS PRBA HRSA, 1867-1956. Mural for the entrance hall of Odham Press, London. 1935-36. Oil on tempera canvas washed-in with tempera. 396.2 x 548.6 cm (156 x 216 in.). Source: British Murals & Decorative Painting, 1910-1970. [Click on image to enlarge it.]
In 1935 Brangwyn was commissioned by Lord Southwood (who began life as J.S. Elias, a newspaper boy) to create a lunette decoration (about 180 sq ft) for the main entrance hall of Odham Press. Long Acre, London. Brangwyn's design with its exotic vegetation, figures bearing baskets of fruit, wild birds and animals is reminiscent of his Empire Panels (1925-32), though additionally figures can be seen reading newspapers and books.
The building was demolished in 1973, but the lunette was saved and sold in auction (Philips on November 16, 1981, Lot 72). According to Duffy it was offered to the Tate in 1977 and the response was: 'Though it is certainly a very typical work, I am afraid that there is not much chance of our being interested in buying it.' Tate 4/2/130/1. The painting was again offered in 1987 and the Tate internal memo read: 'In theory we need this ... but I find the picture rather ridiculous.' Tate 4/2/130/1.
Provenance: Odhams Press; Phillips on November 16, 1981, Lot 72; Mr. Drummond; Cider House Galleries; Dr Peter Gaunt; Christie's, London, June 7, 1990, Lot 27; Hilary Gerrish; private collection Canada.
Exhibited: Japan c. 1976; Kaplan Gallery, London, 1975.
Bibliography
Duffy, Peter, 'Frank Brangwyn and the curious incidence of art in the Tate', p44, British Art Journal, 8.1.
Gaunt, William. 'English Painting of Today', The Studio 113 (June 1937).
Liss, Paul. British Murals & Decorative Painting, 1910-1970. Exhibition catalogue. London: Liss Fine Art and the Fine Art Society, 2013. No. 39.
Vincent, Galloway. The Oils and Murals of Frank Brangwyn 1867-1956. Leigh on Sea: F. Lewis, 1962, p.75.
---
Last modified 29 August 2013