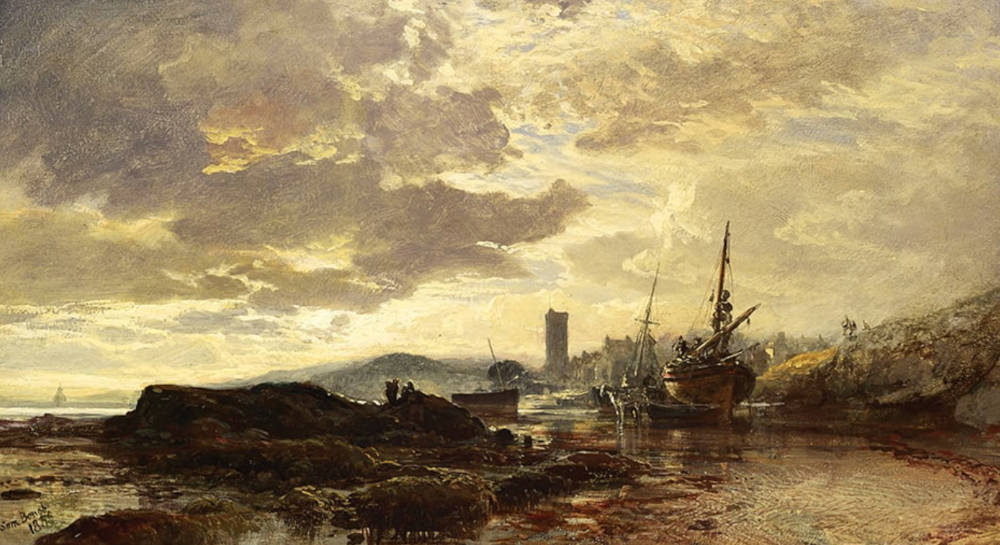 Ebb Tide, Dysart, 1858 by Samuel Bough RSA RSW (1822-1828). Signed and dated 1858. Oil on board, 13 x 22 inches. [detail] Provenance: Doig, Wilson & Wheatley, 90 George Street, Edinburgh. Courtesy of the Fine Art Society, London. Click on image to enlarge it.
Commentary by the Fine Art Society
Bough was a restive character, travelling across Scotland and beyond to inspire his painting. In 1858, the year this work was painted, he exhibited pictures of the Highlands, the Borders, the Forth, the Weald of Kent, the River Thames and his travels in Norway. Above all, however, he favoured the harbours of the Fife coastline. Thanks to a rail link from Edinburgh to Leuchars completed in 1855, Bough was able to frequent and paint the fishing villages along the coast regularly, and there are accounts of his raucous evenings in local taverns after a day's painting.
Bough's coastal scenes depict a way of life that was beginning to change. His meticulously accurate fishing boats are a far cry from the burgeoning industry in Edinburgh and Dundee that would soon make its way along the coast. One of Bough's great passions, and strengths, was the observation of weather and cloud formation. So excited was he by painting the weather that he would try to obtain reliable forecasts from one of the principal fishmongers in Edinburgh. Multiple scenes of Dysart by Bough were exhibited at the Royal Scottish Academy. Their titles, including "sunrise" and "evening effect", emphasise the importance he placed on light and atmosphere.
The Fine Art Society, London has most generously given its permission to use in the Victorian Web information, images, and text from its print and online catalogues. The copyright on text and images from their catalogues remains, of course, with the Fine Art Society.
---
Last modified 2 December 2021