The Annunciation and the Adoration of the Magi, by Sir Edward Coley Burne-Jones (1833-1898). 1861. Oil paint on three canvases: Frame, 1336 x 984 x 85 mm, support: 1086 x 737 mm; frame: 1339 x 1819 x 80 mm, support: 1086 x 1562 mm; frame: 1333 x 984 x 80 mm, support: 1086 x 737 mm. In the collection of the Tate Gallery, originally presented by George H. Bodley in memory of his father George Frederick Bodley in 1934. Reference: N04743. Photographed by Jacqueline Banerjee at the press view of the exhibition, "Edward Burne-Jones," Tate Britain, 24 October 2018-24 February 2019, reviewed here. The triptych was unveiled on this occasion after months of restoration work, and looks much brighter than it does in earlier reproductions.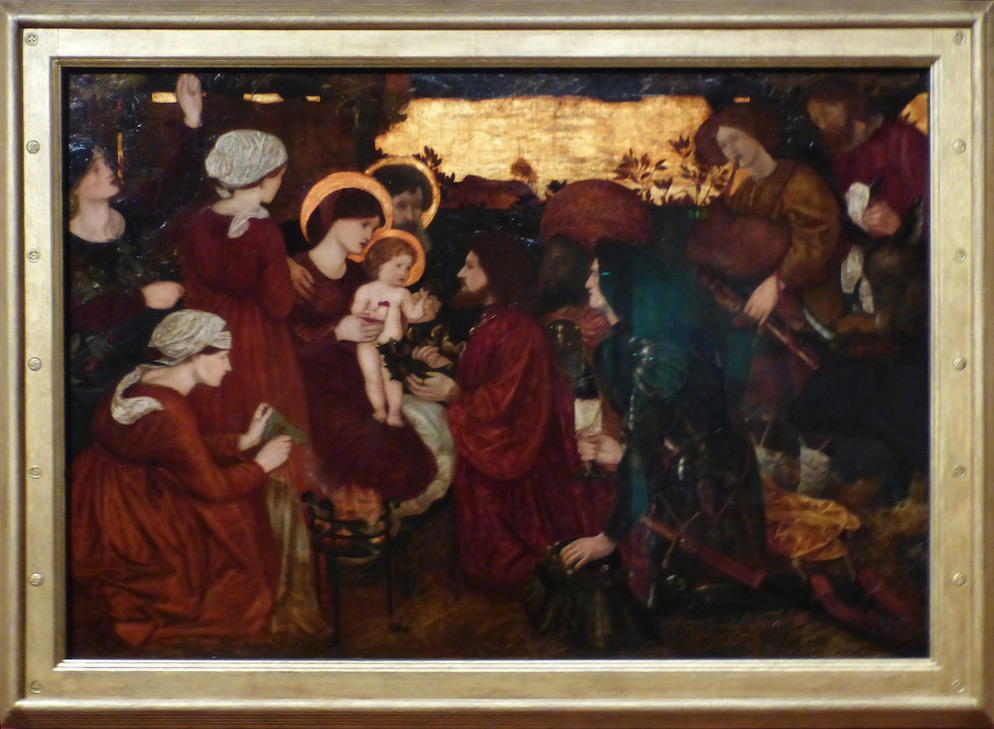 Closer view of the central panel.
The gallery's display caption of 2004 explained that such a triptych was originally commissioned as an altarpiece for St Paul's, Brighton, and that one version of it was duly installed there. But it was not the first version that Burne-Jones had painted. Feeling that the central panel as first painted was too difficult to see from a distance, he had painted another version, and it was this second one, in which the three kings are all standing, that went to the church. That version became too valuable for the church to insure and maintain, and was lent to Brighton Museum before finally being sold through Sotheby's to a private collector, to help fund essential restoration work to the church tower (see "The Burne-Jones Triptych"). While the second one has, therefore, been lost to the general public, the first one, picked up by Bodley when it was being sold as an "old Venetian picture" (Burne-Jones 224), fortunately reached the Tate.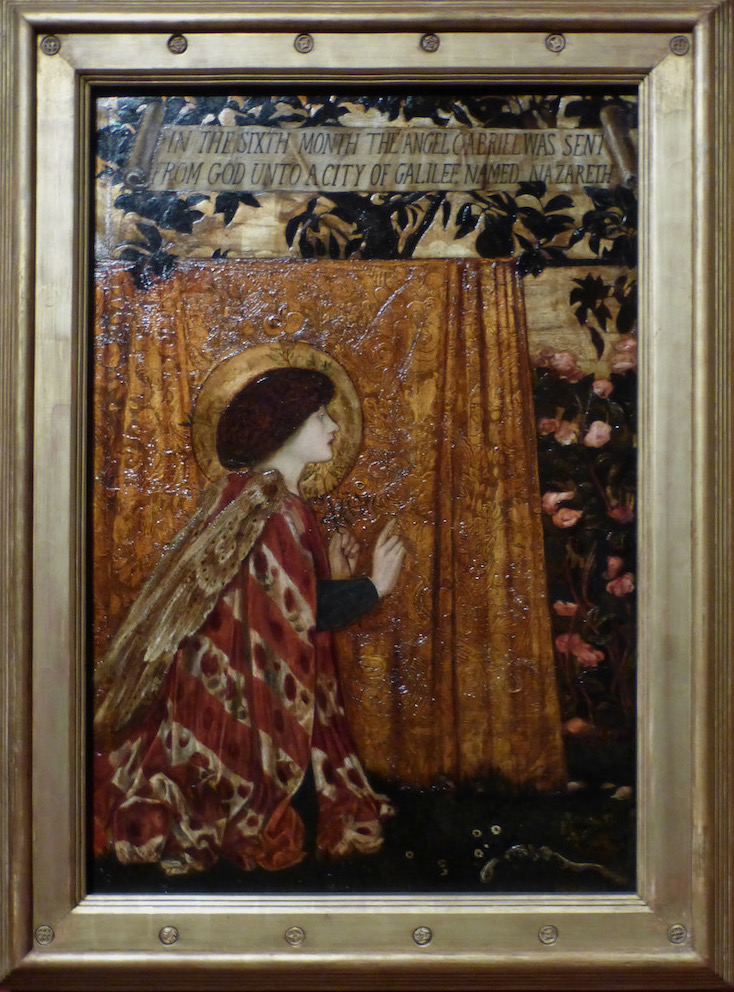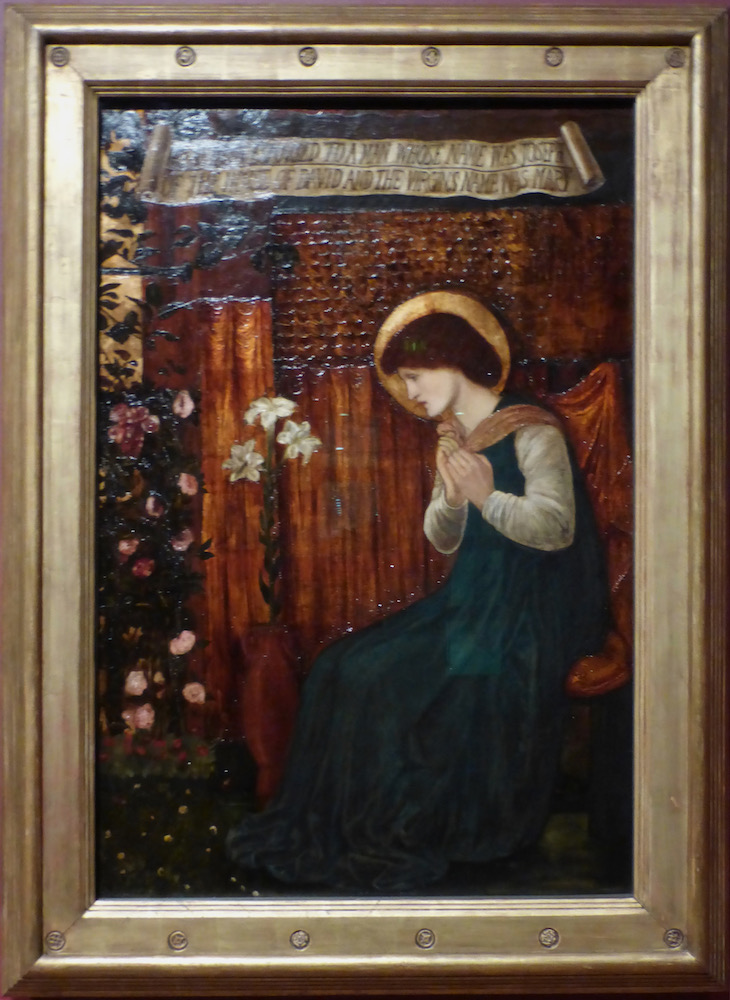 Closer view of the wings, with the Angel Gabriel on one side and the Virgin Mary on the other.
In his depiction of these Biblical scenes, Burne-Jones is generally said to have been influenced by Rossetti, who had begun his own triptych, The Seed of David, for Llandaff Cathedral in 1858 (see Wildman and Christian 63). But it is interesting that the second version should once have been offered for sale as a Venetian painting. Indeed, the display caption finds echoes in it of nativity scenes by several Italian painters, mentioning both Fra Angelico and Tintoretto, while Stephen Wildman and John Chamberlain also find "echoes of Carpacccio" in the king in armour (64). But, comparing this version to a reproduction of the earlier one, the latter critics suggest that such influences seem less pronounced, the whole triptych appearing more consistent in atmosphere and scale — a sign, they feel, of "the gradual development of an individual style" (64).
Keen observers will notice that William Morris was the model for the king kneeling in the centre, while Jane Morris sat for Mary. According to the artist's wife, who should know, Swinburne and Burne-Jones himself appear as the shepherds on the right (224; Burne-Jones is on the far right). The similar backgrounds of the wings (brocade and pink roses in one, trellising and pink roses in the other) help to lessen the division of Gabriel from Mary; the miraculous future foretold in their encounter is appropriately balanced between the immortal and the mortal — the lilies, however, symbolising Mary's purity.
Captions, text and formatting (as well as photographs), by Jacqueline Banerjee. You may use these images without prior permission for any scholarly or educational purpose as long as you (1) credit the photographer and Tate Britain, and (2) link your document to this URL in a web document or cite the Victorian Web in a print one.
Related Material
Bibliography
Burne-Jones, Georgiana. Memorials of Edward Burne-Jones, Vol. I. London: Macmillan, 1904. Internet Archive. Contributed by Brigham Young University. Web. 28 October 2018.
"The Burne-Jones Triptych." St Paul's Church, Brighton. Web. 28 October 2018.
Wildman, Stephen, and John Christian, with essays by Alan Crawford and Laurence des Cars. Edward Burne-Jones. Victorian Artist-Dreamer. New York: Metropolitan Museum of Art, 1998.
---
Created 28 October 2018