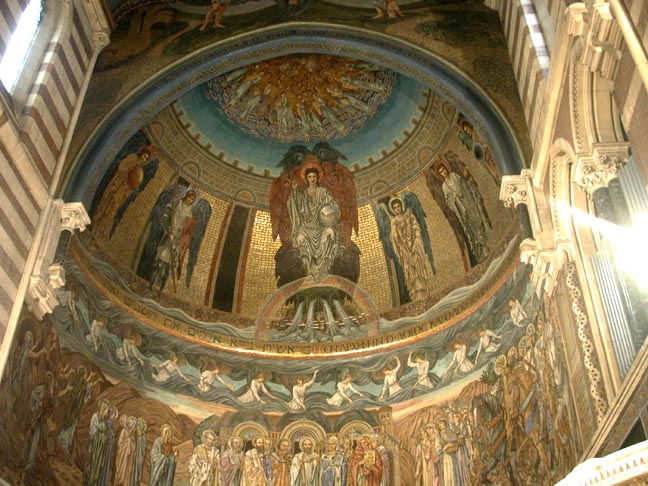 Christ the Lord in Glory above the Representatives of Historic Christendom by Sir Edward Coley Burne-Jones, Bt ARA. St. Paul's within the Walls, Via Napoli, 58, Rome (G. E. Street, 1873). The Bancroft Collection of the Delaware Art Museum, has two studies of Christ.
Photograph by George P. Landow, November 2004. [This image may be used without prior permission for any scholarly or educational purpose.]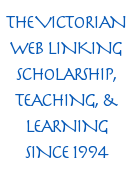 "The great mosiac of the rear wall represents Christ the Lord in glory. At the very top against the blue of the sky is glimpsed a glittering vision of angels. Below sits the majestic figure of Christ, enthroned upon the cherubim and seraphim. In Christ's left hand he holds the orb of the earth and His right hand is upraised in blessing. From his feet issue the streams of living water and a rainbow is 'round about the Throne' (Revelation 4). On either side of Christ are ranged the archangels, standing each before a gate of heaven. One gate, on Christ's right, is empty -- reminding us of the fall from heaven of Lucifer. Below this majestic scene is the sea of the firmament, through which runs the inscription in Hebrew: 'In the beginning God created the heaven and the earth' (Genesis 1:1) and in Greek: 'In the beginning was the Word and the Word was with God (John 1:1). Below this is to be found a row of graceful angels separating earth from heaven, and in the lowest register we find the Church Triumphant" (St. Paul's within the Walls, pp. 2-3).
Related Materials
Bibliography
St. Paul's within the Walls. Anglican Episcopal. Rome, n.d. 4-page descriptive pamphlet.
---
Last modified 5 June 2020