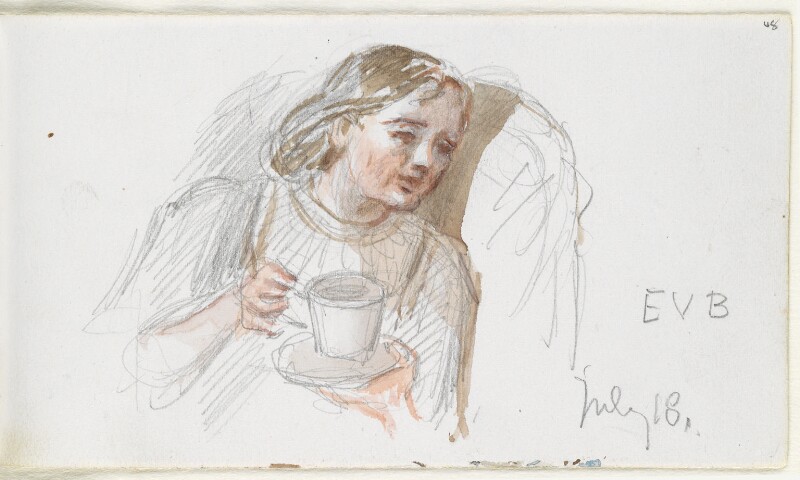 Eleanor Vere Boyle by Louisa Anne Beresford, Marchioness of Waterford (1818–1891), © National Portrait Gallery, London. NPG D23146(48). 18 July 1888. Watercolour and pencil, 3 3/8 in. x 5 7/8 in. (87 mm x 150 mm). Given by Anne Horatia (née Richmond), Lady Piper, 1994. Reproduced here by kind permission of the gallery. [Click on the image to enlarge it.]
Like the little watercolour of Eleanor Vere Boyle carrying flowers this affectionate sketch was made during the sitter's stay with Louisa Bereford that summer, at Highcliffe Castle. Louisa had inherited this grand estate from her mother, and would spend the summers there. She often had guests, and on hearing that her friend Eleanor was troubled, had written to her on 1 July,
1888. — My dearest Playmate, I am so grieved to think you are troubled and worried. Tell me, and I will do all I can to comfort you. You always seem to me to be made for smiles and sunshine and beautiful things. I cannot fancy you low and depressed and no sparkle in the sea-blue eyes. I think if we were together it would come, and that you would feel nineteen. Well, summer and green leaves will do you good, I know, and then come to Highcliffe and we will fancy ourselves nineteen, and very good children. [qtd. in Hare 456]
The sitter evidently accepted the invitation. Holding cup of tea, She looks perfectly relaxed and at home here, but perhaps still anxious. In telling her friend what was troubling her, she was doubtless receiving kind reassurance. — Jacqueline Banerjee
Bibliography
Hare, Augustus J. C. The Story of Two Noble Lives, Being Memorials of Charlotte, Countess Canning, and Louisa, Marchioness of Waterford. Vol. III. London: George Allen, 1893. Internet Archive. Contributed by Harvard University. Web. 18 June 2020.
---
Last modified 24 August 2015