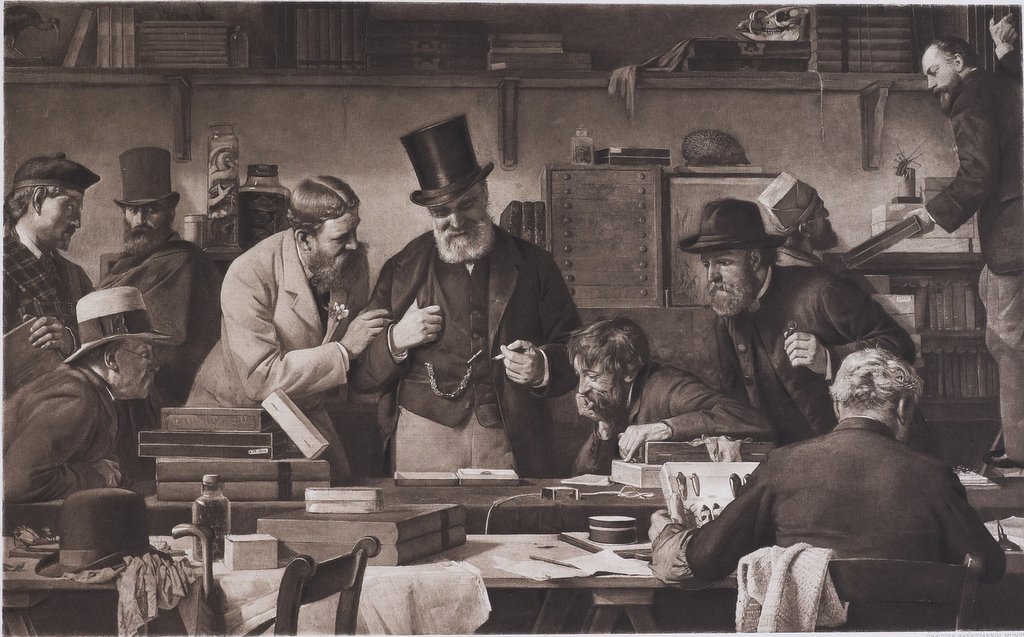 After an Entomological Sale: Beati Possidentes, by Edward Armitage RA (1817-1896). 1878. Oil on canvas. Source: Ed Farnley, uploaded to Wikipedia from Pictures and Drawings Selected from the Works of Edward Armitage (1898), and available on the Creative Commons (CC BY-SA 4.0) license. Commentary and formatting by Jacqueline Banerjee.
This painting shows the venerable Royal Academician and Professor of Painting in his other guise, as a fervent collector of insect specimens. It is obviously a high point in his hobby, and one which he wishes to commemorate: standing proudly in the centre, he has just purchased a very rare beetle, and is gazing at it in rapt admiration. Clearly, half the pleasure is being surrounded by envious, like-minded friends who share his passion. The artist has for once permitted us entry into a more private circle, somewhere at the top of the world of Victorian natural history enthusiasts (of which, of course, there were many).
The occasion seems to have been a particular sale held in 1877 at auction rooms in King Street, which drew the most avid and well-heeled collectors. It is interesting to see a possibly Middle-Eastern assistant in the background, helping the salesman bring down a case of specimens, and various small items scattered around, like a boar's skull on the shelf at the top, and a box of matches and some string on the table. Even the variety of headgear or hairstyles is interesting. Among the people identified here are Armitage's friends, the artists Philip Hermogenes Calderon (standing on the left at the back with a top hat like Armitage's), and Frederick William Pickersgill, leaning forward on the right with something in his hand, possibly a pipe. This is a kind of jeu d'esprit, but if Armitage had painted more scenes as informal and amusing as this, he would probably have been much more popular!
Bibliography
Armitage, Jill. Edward Armitage RA: Battles in the Victorian Art World. Kilworth Beauchamp, Leicestershire: Matador, 2017. [Review]
---
Created 13 October 2019