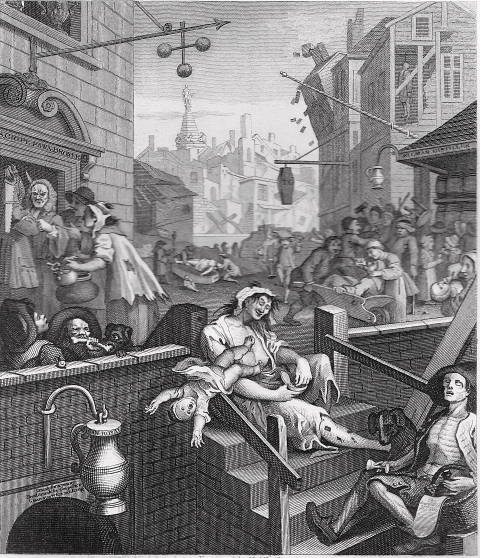 Gin Lane
William Hogarth (1697-1764)
Engraved by C. Armstrong
14 by 12.2 cm.
Source: Complete Works, facing p. 130
Scanned image, caption, and commentary below by Philip V. Allingham
[This image may be used without prior permission for any scholarly or educational purpose.]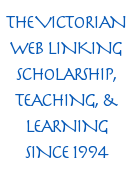 Gin Lane's collapsing buildings and social order provide a stark contrast to Beer Street's good order, industry, construction, and gentle amorousness. Hogarth therefore contraets the effects of this traditional English beverage to those of this cheap, foreign one. In fact, gin has the same pernicious effects in eighteenth-century London as the smoking of opium later had in nineteenth-century China. The only merchants who prosper in Gin Lane are purveyors of the beverage and undertakers (signified by the symbol of the coffin in front of the shop). Everywhere else in St. Giles Cripplegate, chaos, greed, and death reign: a mother disregards her responsibility to nurse her child, who falls to injury or death while the crowd waits at the distiller's door for its daily dram, a "nauseous contrast" (130) to beer-consumption. However, the volume's Victorian commentators see some progress in terms of ornament and architecture:
Our modern Gin Temples form a striking contrast to those of Hogarth's time, and are aptly described in the London daily press: — "The expense incurred in fitting up gin-shop bars in London is almost incredible, every one vying with his neighbour in convenient arrangements, general display, rich carvings, brass work, finely-veined mahogany, gilding, and ornamental painting. The carving of one ornament alone in the Grapes gin-shop, Old Street Road, cost 100 pounds: the workmanship was by one of the first carvers in wood in London. Three gin-shops have been lately fitted up in Red Lion Street, at an expense, for the bar alone, of upwards of 2,000 pounds. Time was when gin was only to be found in by-lanes and blind-alleys — in dirty obscure holes, 'yclep'd dram-shops; but now gin has become a giant demi-god, a mighty spirit, dwelling in gaudy gold-besplastered temples, erected to his honour in every street, and worshipped by countless thousands, who daily sacrifice at his shrine their health, their strength, their money, their minds, their bodies, wives, children, sacred, and liberty. Juggernaut is but a fool to him; for the devotees of [the Hindu deity] Juggernaut, though they put themselves into the way of being crushed to death beneath his chariot wheels, are put out of their misery at once; but the devotees of the great spirit Gin, devote themselves to lingering misery: for his sake they are contented to drag on a degraded, nasty existence — to see their children kicked, gruel-swoln papers! In these temples of the great spirit Gin, may be seen maudlin, unwashed multitudes — the ancient, and the infant of a span long, old men and maidens, grandsires and grandams, fathers and mothers, husbands, wives, and children, crowding, jostling, and sucking in the portions of the spirit which the flaunting priestesses dole out to them in return for their copper offerings. [130]
Bibliography
Complete works of William Hogarth ; in a series of one hundred and fifty superb engravings on steel, from the original pictures / with an introductory essay by James Hannay, and descriptive letterpress, by the Rev. J. Trusler and E.F. Roberts. London and New York: London Printing and Publishing Co., c.1870.
---

Victorian
Web

Visual
Arts

Painting

William
Hogarth

Next
Last modified 26 January 2010