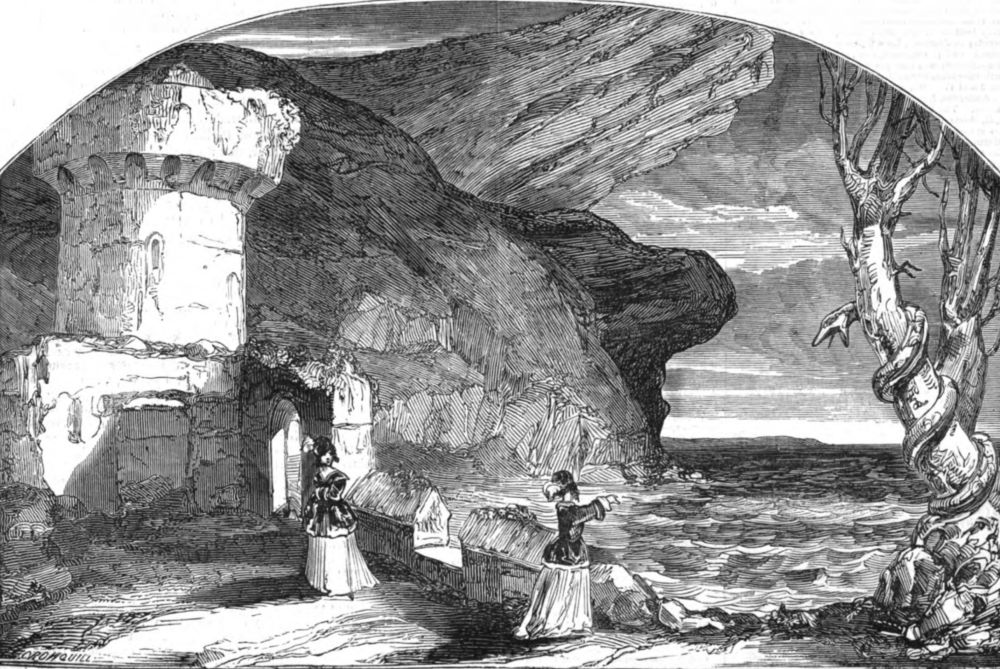 Extravaganza of "The Island of Jewels," at the Lyceum Theatre. 1849. Source: The Illustrated London News. Click on image to enlarge it.
The extravaganza at this theatre— written, of course, by Mr. Planché — is entitled "The Island of Jewels." The King and Queen of Pharitale are the parents of two daughters—one ugly, and one beautiful, through the spells of the fairy Magotine, who had been forgotten at their christening. Bellotta (Miss Kenworthy) is the name of the lovely, and Laidronetta (Miss Julia St. George) that of the hideous sister. The former has a lover, one Prince Prittphello; and, at their marriage ceremony, Laidronetta and her confidante, Fidelia, are refused admittance, and, being fain to return to the Lone Tower, are wrecked at sea on the Island of Jewels, the King of which has been changed into a green serpent, and his people into precious stones. The Princess, of course, finds a husband in King Emerald, as may be seen set forth more at large in the Counteas D'Anois' story of "Serpentine Vert."
Of all Mr. Planchés burlesques, the present is, perhaps, the most elegant ever witnessed, and the way in which it has been produced the most gorgeous imaginable. An incidental ballet, on the subject of "Cupid and Psyche," was introduced into the action with fine effect. The concluding scene — discovering, in the midst of an unfolded column of palm leaves, seven nymphs supporting the crown jewels on a cushion — is indescribably magnificent. The whole, also, was in perfect taste; and the piece must be pronounced a crowning triumph in the art of burlesque.
The scene engraved is the Lone Tower, with Magotine raising the storm at sea, with the saving intervention of the serpent.
Bibliography
"Christmas Pantomimes and Extravaganzas." Illustrated London News. 15 (29 December 1849): 437. Hathi Trust Digital Library version of a copy in the University of Michigan Library. Web. 26 December 2015. The text above was created from the Hathi page images with ABBYY FineReader. — George P. Landow
---
Last modified 27 December 2015