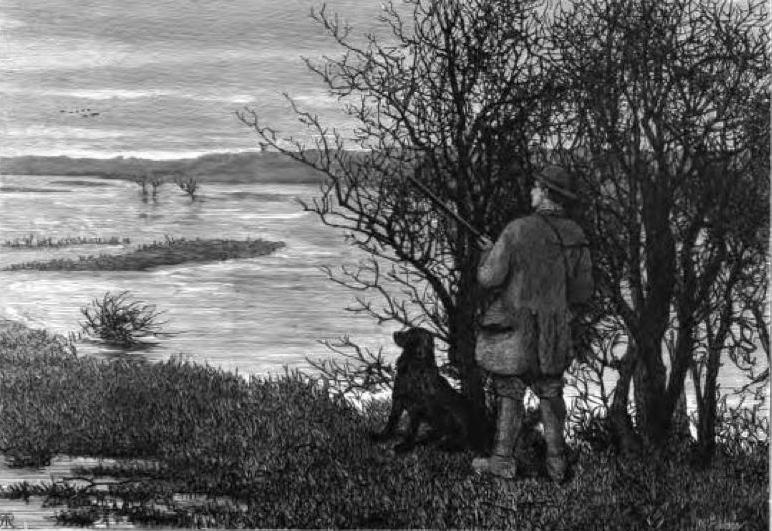 Flight Shooting by H. R. Robertson. Source: Life on the Upper Thames. Text and formatting by George P. Landow, [You may use this image without prior permission for any scholarly or educational purpose as long as you (1) credit the University of Toronto and the Internet Archive and (2) link your document to this URL in a web document or cite it in a print one.]
The term "flight-shooting" signifies shooting wild-fowl at evening twilight, as they fly overland from the sea, or from rivers or lakes which they use by day, to marshes, moors, or fens, where they feed by night; and, again, the sport may be resumed at morning twilight, as the birds return from their feeding haunts to their places of daily resort.
The flight-shooter waits in ambush in the track of the flight usually taken by the wild-fowl as they fly to and fro morning and night, or he may conceal himself in a boat or up a creek — indeed, anywhere in their track. From some such place of concealment the flight-shooter keeps a sharp look-out about the space of an hour and a half, or so long as twilight lasts. Wild-fowl move very rapidly through the air at flight-time, but generally low enough to be brought down by a dexterous sportsman, even with a short gun. The tyro will be sorely puzzled at first, as trip after trip passes over his head in rapid succession. No shooting is more difficult than this, and none requires a keener eye or greater dexterity. The sportsman should remember to allow the birds to pass over his head before firing, and then send his shot after them, under their feathers; and he must fire well forward, at least a foot in front of them, so as to make allowance for the rapidity of their flight.
There is now a great deal of uncertainty attending this sport in any but severe winters; but before the destruction of the breeding-haimts of wild-fowl by the drainage of moors and fens, it was a very popular diversion, and a steady source of food-supply in many districts.
Whenever the flight-shooter is fortunate enough to meet with a shot at a good number of birds, he may bring down his four or five at a charge with a small gun, if he fire at the critical moment, which is (and it cannot be too much insisted on) the instant after they have passed over his head.
The most propitious night that can be chosen for this sport is at the first and last quarters of the moon, or at the half-moon, and during a strong wind, as the birds then fly very low. A cloudy sky, or rather a sky which presents a mixture of dark and white clouds, with only a little moonlight, is also highly favourable; neither bright moonlight nor clear starlight evenings are adapted for flight-shooting. When the course of the birds is westward, and a lurid sky lights up the scene, the fowler has an excellent chance of seeing his birds clearly when he fires. They generally fly in small trips to their feeding-haunts at night, but return in the morning in larger flights. They fly very low as they proceed over water and mud, but rise higher in the air on reaching dry land.
In windy weather they keep more together, and go in larger flights; but very swiftly, if their course be down wind. The sportsman must then be doubly quick in taking his shots, or the birds will have passed by him before he can bring the gun to his shoulder. If, on the other hand, the course of the birds be against a strong wind, their flight will be so steady that the sportsman will have abundant time to aim deliberately before firing. When the moon rises before twilight, the flight-shooter's sport is often considerably prolonged, as many of the fowl frequently make their flight an hour or two later on such occasions, more especially ducks that have been constantly shot at on their flight; these birds sometimes defer their departure to the feeding marshes until long after their customary hour, during moonlight.
Wild-fowl generally fly much lower in the morning than in the evening, sometimes only just topping the hedges, and they appear less wary of danger; probably this may be accounted for by their crops being at that time full and their appetites appeased. [186-87]
Bibliography
Robertson, H. R. Life on the Upper Thames. London: Virtue, Spalding, & Co., 1875.Internet Archive digitized from a copy in the University of Toronto Library.
---
Last modified 7 May 2012