The Reform Bill [of 1832] was not calculated materially to improve the general composition of the Legislature. The good it has done, which is considerable, chiefly in this, that, by being so great a change, it has weakened the superstitious feeling against great changes. — John Stuart Mill, "Coleridge"
Disenfranchisement Clauses
56 nomination or rotten boroughs returning 111 MPs lost their representation
30 boroughs with less than 4,000 inhabitants lost one MP each
Weymouth and Melcombe Regis gave up two of their four MPs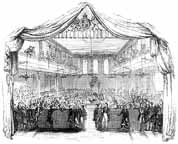 The First Reformed Parliament. 1843.
Enfranchisement
65 seats were awarded to the counties
44 seats were distributed to 22 larger towns including Birmingham, Manchester, Leeds, Sheffield and the new London metropolitan districts
21 smaller towns were given one MP each
Scotland was awarded 8 extra seats
Ireland was given 5 extra seats
Franchise Qualification
The borough franchise was regularised. The right of voting was vested in all householders paying a yearly rental of £10 and, subject to one year residence qualification £10 lodgers (if they were sharing a house and the landlord was not in occupation).
In the counties, the franchise was granted to:
40 shilling freeholders
£10 copyholders
£50 tenants
£10 long lease holders
£50 medium lease holders
Borough freeholders could vote in the counties if their freehold was between 40 shillings and £10, or if it was over £10 and occupied by a tenant.
Related Materials
---
Last modified April 1997

Epigraph added 15 July 2019