The images here were kindly provided by the Wallace Collection for purposes of this review, except for the first, which was taken by the author outside the lower floor gallery.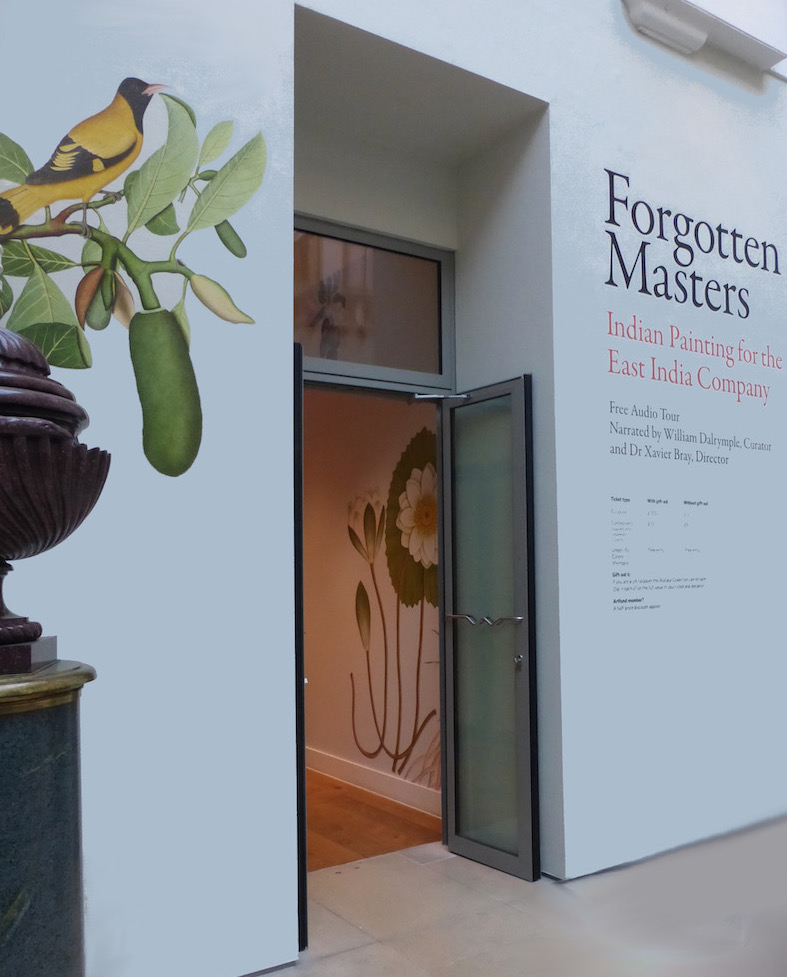 The "Forgotten Masters" exhibition at the Wallace Collection was guest curated by William Dalrymple, and follows the release of his best-selling historical account, The Anarchy: The Relentless Rise of the East India Company (2019). So much was wrong about Britain's exploitation of India, as Dalrymple demonstrates there. But here we see at least one benefit of it. Among the fortune-seekers, or others driven by worthier motives, were some Company administrators who fell under the subcontinent's spell. They were enchanted by the land in which they found themselves, its sheer exoticism, its extraordinary natural beauty, and its variety of peoples and cultures. Wishing to keep a visual record of it in the days before photography, they commissioned local artists to paint it, often assembling them into albums. Some of these they sent home to their and families, some were treasured and handed down in those families. This exhibition provides a rare opportunity to see the original works gathered together.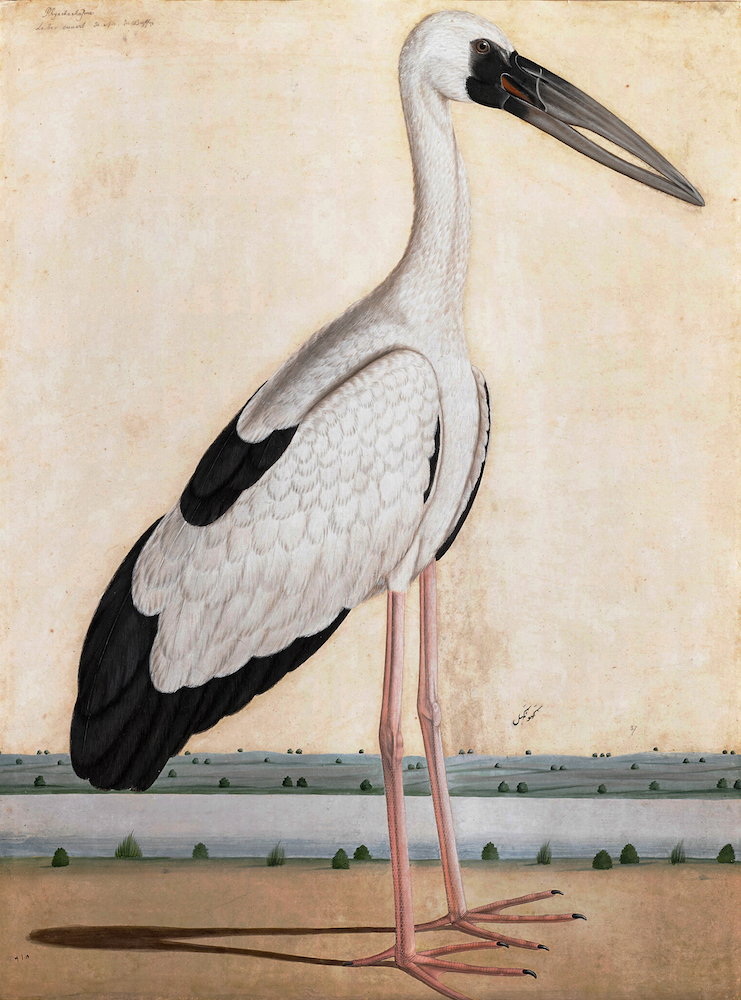 Left to right: (a) Asian Openbill Stork in a Landscape, Lucknow, by an unknown artist, c.1780. Courtesy Private Collection (Photo: Margaret Nimkin). (b) A Great Indian Fruit Bat, or Flying Fox (pteropus giganteus), by Bhawani Das, Calcutta, c. 1778-1782. Courtesy Private Collection. (c) Arum tortuosum (now Arisaema tortuosum, family Araceae), by Vishnupersaud (cropped), c. 1821. © The Board of Trustees of the Royal Botanic Gardens, Kew.
These works were more than keepsakes or mementoes. They were often exquisite paintings of high artistic merit, fine in composition, colour, and close and telling detail. Despite being drawn from a variety of regions, the artists came to be known collectively as the Company School, and were generally anonymous, as if they, like the regions they came from, had been co-opted by East India Company. It is heart-warming to see this process reversed, and a number of the artists named and made known to us as individuals, or in some cases classed as being from a certain family or circle, in other words, followers of the most skilled artists, rather than of the Company (which, of course, was very far from being an artistic institution).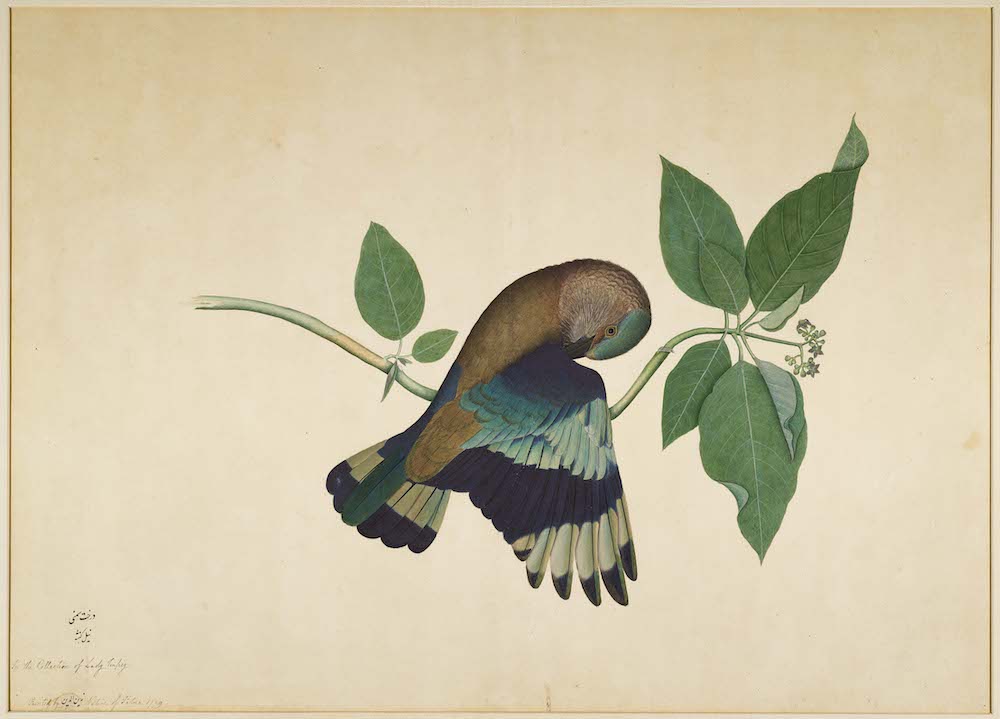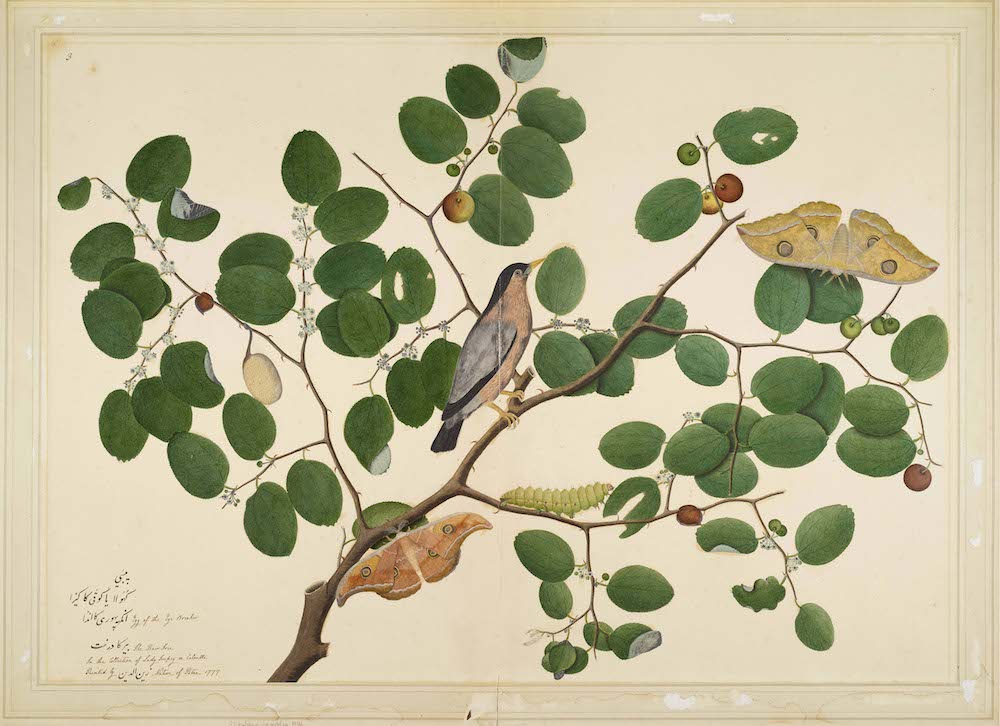 Two paintings by Shaikh Zain al-Din, both © Minneapolis Institute of Art, and both from the Impey Album, Calcutta, 1780, given by Elizabeth and Willard Clark. Left: Indian Roller on Sandalwood Branch. (This faces and overlaps with the title page of the catalogue). Right: Brahminy Starling with Two Anteraea Moths, Caterpillar and Cocoon in Indian Jujube Tree (cropped).
Like those shown above, most of the paintings are in opaque watercolour on plain, pale, uncluttered backgrounds. The focus is often on natural history, specimens of Indian flora and fauna, commissioned by visitors with an interest in it. Lady Impey, for example, wife of Sir Elijah Impey (1732-1809), the first Chief Justice of the Supreme Court at Calcutta, kept a menagerie which included a pangolin, and this also featured in the Impey Album — and is shown in the exhibition. But there are a range of other subjects. For example, the Impey Album itself also contains paintings of the family in their splendid neo-classical rooms, attributed to the same artist, Shaikh Zain al-Din. The one of the children in their nursery gives an intimate glimpse of the lives of the British in India at that time: how pale the children look here! This is how they must have struck their ayahs, although their pallor may also reflect the fact that the artist found it hard to depict western skin-tones.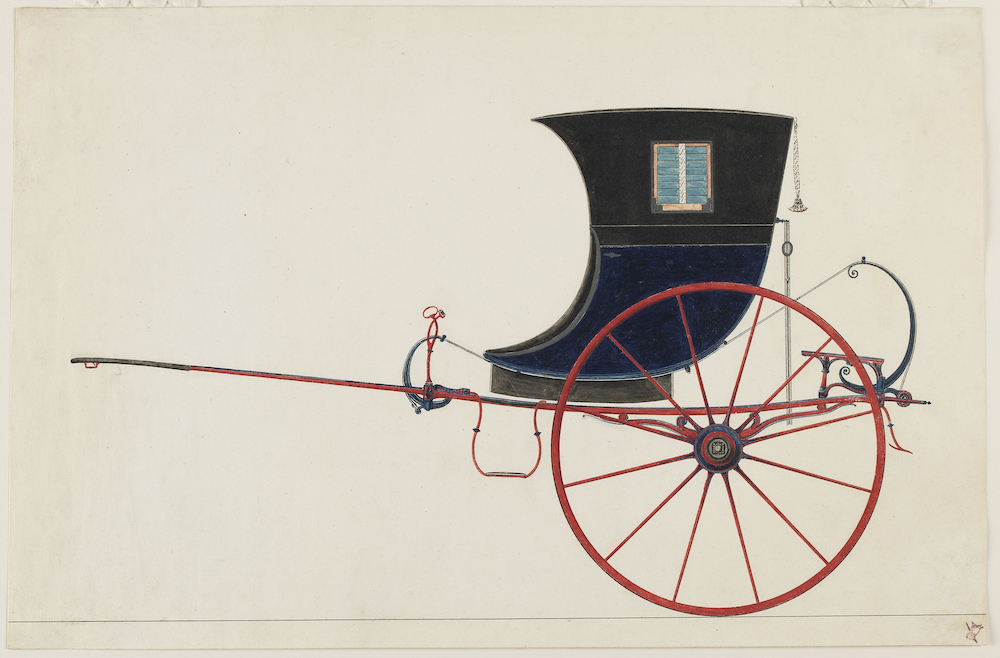 Two paintings from the the Freer Gallery of Art and Arthur M Sackler Gallery (Smithsonian Institution). Left: Six Recruits, by the Ghulam Ali Khan family, for the Fraser Album, c.1815. Right: English Gig, by Sheikh Mohammah Amir (copy).
Other well-known albums include the Fraser Album, from which the painting on the left above is taken, and the Metcalfe Album. William Fraser (1784-1835) was the British Resident and Agent in Delhi until he was murdered; Sir Thomas Metcalfe (1795-1853) was the administrator who replaced him (Fraser's monument features in Metcalfe's album). The subjects they commissioned included Indian architecture, whether Mughal or new westernised structures like St James, Delhi, and panoramic views, like one from the maidan (or plain) in Calcutta. These give us an impression of what India was like in those days. Calcutta looks amazing in these paintings. But the most impressive works are probably those displaying the intricately pierced and ornamented Mughal structures, so painstakingly represented in every tiny detail. These are really breathtaking.
Daily life, customs and types of work were also popular subjects. As shown on the right above, even a gig could look both delicate and impressive. Works by Ghulam Ali Khan or his circle and Shaikh Mohammad Amir of Karriah are outstanding. The latter is perhaps best known for another painting on display here, his perfectly symmetrical depiction of "A Syce (Groom) Holding Two Carriage Horses," from about 1845.
However, perhaps the best known of the artists associated with the East India Company was Sita Ram. He is not a favourite of Dalrymple's because, as he points out in an interesting interview in ArtReview Asia, this was an artist who adapted all too well to western expectations. In effect, he marked the end of the kind of fusion seen in earlier work of this kind. "Everything that followed," Dalrymple argues,
only increased that cultural break. Already by the time that Valentine Prinsep is touring India in the 1880s he said there was just no one that he could find Delhi producing producing good traditional local art. He said that the quality of the work that he'd seen from before the 1850s was so fine but that all they were doing today was copying those for tourists. The traditions had died. The reason was colonialism, the massacres of 1857 and the end of that whole world.
So while we are bound to admire the way Indian artists adapted to the expectations of those who commissioned their work, we are equally bound to regret that western art eventually robbed Indian artists of their own traditions. The paintings on show at the Wallace Collection have a special poignancy about them, a poignancy that comes both from the scenes depicted, and the way they were depicted — over what turned out to be a relatively brief period of cultural exchange.
Related Material
Bibliography
Dalrymple, William, ed. Forgotten Masters: Indian Painting for the East India Company. London: Philip Wilson Publishers (Bloomsbury), 2019.
Rappolyt, Mark. "An Unlikely 'Collaboration."" ArtReview Asia. Web. 20 December 2019.
---
Created 20 December 2019