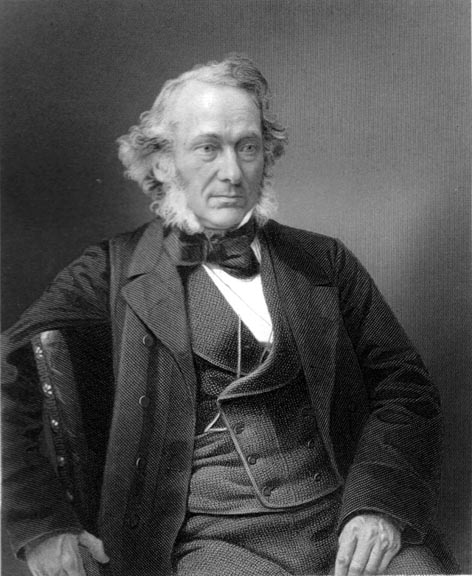 Richard Cobden was born in 1804 into a farming family at Heyshott in West Sussex . In 1814 his father had to sell the farm and Richard, the fourth of eleven children, was sent to a school in Yorkshire which he described as "Dotheboys Hall" in reality. In 1819 Cobden went to work in his uncle's warehouse in London where he proved to be an adept clerk and salesman.
In 1828 he and two friends went into partnership to sell calico in London; in 1831 they opened a calico-printing works in Lancashire. In 1832 Cobden settled in Manchester but went on to visit America and the Levant. Consequently he published England, Ireland and America in 1835 and Russia in 1836. In them he preached free trade and economic non-intervention by the government.
In 1837 he stood as a parliamentary candidate for Stockport on a free trade platform but was unsuccessful. In 1838 he became one of the seven founding members of the Anti-Corn-Law League in Manchester. He conducted lecture tours all over England and he became an MP for Stockport in 1841. His parliamentary speeches were clear, quiet, and persuasive. He was the only man ever to beat Peel in debate in parliament and in 1846 Peel acknowledged Cobden's rule in the repeal of the Corn Laws.
He refused to merge the ACLL with wider programmes of reform because he saw the advantages of a single policy, and saw the appeal to new industrial areas. He was so committed to the cause of free trade that he became bankrupt. A public subscription of £80,000 was raised in recognition of his services, and in 1847 he used the money to buy back his childhood home and farm.
Cobden did not hold Cabinet office although in 1860 he was responsible for arranging a commercial treaty with France. He spoke out strongly in favour of the north during the American Civil War. Cobden died in 1865
Related Materials
---
Last modified April 1997; image added November 2012; related materials added 18 November 2010