Dante Gabriel Rossetti, perhaps the most famous of the Pre-Raphaelites and the central mind of the movement, is often accused of empty aestheticism, perverse fleshly ideas of art and religion, and the objectifying of women. David Sonstroem investigates the art and life of Rossetti in his book Rossetti's Fair Lady, and proves that such simple categorization does not come so easily for this complex man.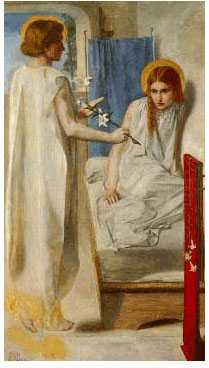 The concept of his fair lady arose early in Rossetti's life, first derived from his extensive work in translating Italian poetry. From these works, he began formulating a woman-image type: a blond, slender, round-armed, straight-nosed, gray-eyed, white-skinned, red-lipped, bright-faced, white-teethed, small and firmly breasted, slim-waisted female who also embodied grace, stateliness and chastity. His concept of woman as a heavenly creature, influence his early works as seen in his depictions of Mary in the poem "Ave" and the paintings The Girlhood of Mary and Ecce Ancilla Domini (The Annunciation). The paintings use his sister Christina as a model, who was both pretty and available. Rossetti, in contrast to most conventional madonnas, depicted a rather earthly appearing Mary as a simple, frightened, but strong young woman. To make his madonna fit his ideal, he also painted his Mary's hair as gold instead of Christina's natural brown.
However, Rossetti soon moved beyond the unreachable saintly figure of Mary. His heavenly lady soon became a saviour of man, whose beauty reached religious proportions as did love with such a woman. Manifestations of this type occur in Rossetti's Blessed Damozel wherein he began equating earthly love with heavenly bliss -- a union of spirit and body. Therefore, Rossetti increasingly turned to artwork to make his ideals have more tangibility.
Spiritualizing the erotic: D. G. Rossetti's Beata Beatrix — Elizabeth "Lizzie" Siddall as Dante's Beatrice.
At this point, as Rossetti had yet to find the physical equivalent to his fair lady, his "tendency then in sketching a face was to convert the features of his sitter to his favorite ideal type." However, this soon changed. At the very time he began searching for red-headed models, he met Elizabeth Eleanor (Lizzie) Siddall, in whom he met his ideal. However, he soon discovered deficiencies in this human form of his dream, most notably her disinclination to engage in "earthly love." Since by Rossetti's system of beliefs, the physical union meant the same as heavenly salvation, Rossetti felt that Lizzie was failing his fantasy while also adding to no small amount of sexual frustration.
As a result, depictions of Rossetti's fair lady took on more forms: sinful women, complete fantasies, victimized women, the femme fatale. All continued to investigate the potentials within a woman to save, to be saved, to destroy or to be destroyed. He turned to other models besides Lizzie to help his exploration: Annie Miller, Fanny Cornforth, and, most strongly, Jane Morris. He began to struggle with the inconsistencies of his portrayals of women -- for instance, how could the prostitute or siren lead him to divine inspiration if his fantasy relied upon the purity and integrity of woman? He began to differentiate between love and lust, body and soul -- his whole ideal began to fragment, because real women turned out to be far more complicated.
By the time of Rossetti's death, his life-long struggle to fuse the spiritual with the sensual, to discover the nature of woman -- or rather, the confirm his ideals of woman in art and in life -- did not quite come together. His body of work, so often quoted from his own life experiences, shows the great conflicts within his fantasy and the inconsistencies of human emotion. He searched and toiled to bring his dreams into reality, so he could not be called an escapist in the classical sense. Nor could his fascination with women be so easily dismissed as fleshy aestheticism or objectification. As Sonstroem says, "Rossetti's worship was genuine, and he worshiped, not Art, but the ladies he depicted."
---
Last modified 1996