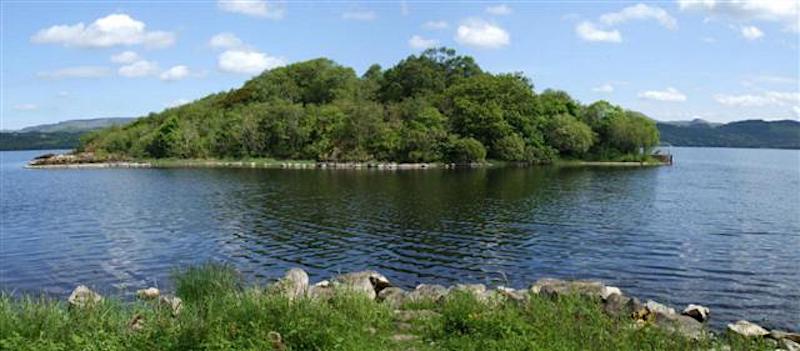 Innisfree, in Lough Gill, © Copyright Kenneth Allen, originally posted on the Geograph website, and licensed for reuse under this Creative Commons Licence: Attribution-ShareAlike 2.0 Generic (CC BY-SA 2.0)
THE LAKE ISLE OF INNISFREE
I will arise and go now, and go to Innisfree,
And a small cabin build there, of clay and wattles made;
Nine bean rows will I have there, a hive for the honey bee,
And live alone in the bee-loud glade.
And I shall have some peace there, for peace comes dropping slow,
Dropping from the veils of the morning to where the cricket sings;
There midnight's all a glimmer, and noon a purple glow,
And evening full of the linnet's wings.
I will arise and go now, for always night and day
I hear lake water lapping with low sounds by the shore;
While I stand on the roadway, or on the pavements gray,
I hear it in the deep heart's core.
W. B. Yeats (1865-1939) was living in London in the winter of 1888, when he composed the first version of this poem. Still in his early twenties, he had recently been in low spirits, troubled by "the directionless, cloudy, incoherent nature of his poetry" (Foster 78). The jolt that he felt from a moment of home-sickness seemed to solve his problem. Looking back, he described how it happened:
I had still the ambition, formed in Sligo in my teens, of living in imitation of Thoreau on Innisfree, a little island in Lough Gill, and when walking through Fleet Street very homesick I heard a little tinkle of water and saw a fountain in a shop-window which balanced a little ball upon its jet, and began to remember lake water.
From the sudden remembrance came my poem Innisfree, my first lyric with anything in its rhythm of my own music. I had begun to loosen rhythm as an escape from rhetoric and from that emotion of the crowd that rhetoric brings, but I only understood vaguely and occasionally that I must for my special purpose use nothing but the common syntax. A couple of years later I would not have written that first line with its conventional archaism — "Arise and go" — nor the inversion in the last stanza. [Autobiographies 153-54]
Despite his second thoughts — and it is notable that these do not extend to lyrical flights like "noon's a purple glow" — this was a significant moment. It confirmed what he had long felt was the importance of direct "personal utterance," not only in drama but in poetry (Autobiographies 102).
The poem is much-loved now as an expression of homesickness, conveyed in keenly felt words. But for literary critics, it carries a more complex freight of meaning. It synthesizes the various influences on Yeats at that time, and, as a result, the trends of the Victorian age itself. Moreover, it can be seen as providing the very foundation of his future work. Duncan Wu puts it well:
Never less than exalted in his imaginative ambitions, Yeats's poetry combines the influences of the Pre-Raphaelites, the French symbolists, the kabbalistic and spiritualist worthies with whom he consorted, Irish fairy traditionalism, and nationalist politics in a heady cocktail unlike anything else. "The Lake Isle of Innisfree" seems like an unexpected way to end a century characterized by increasing doubt and despondency, but in truth the Romantic urge to unify and idealize had never really evaporated. It underpins the medievalism of Tennyson and the Pre-Raphaelites, can be heard beneath the "tremulous cadence" of the sea in "Dover Beach," and a longing for it even informs the "ecstatic sound" of Hardy's darkling thrush (which recalls the "darkling" experience of Keats's famous ode). Yeats's great poetry, which would produce its finest fruits in the next century, was founded on an unquenchable aspiration, the immortal longings with which the 1800s had begun. [5]
Placed in the "The Rose" section of early poems in his Collected Works (1908), "The Lake Isle of Innisfree" makes an ideal entry into Yeats's poetry. Considering it to be sentimental, the poet himself was taken aback, even "shocked" by its popularity (Unterecker 80). But it speaks to many, by giving voice to the sense of displacement and alienation so prevalent in our high-pressured urban lives. And it speaks usefully to literary critics, who find in it the lyrical gifts that, despite Yeats's own wish to confront life more directly, inform the whole body of work yet to come from this important author.
Bibliography
Foster, R. F. W. B. Yeats: A Life. Part I: The Apprentice Mage. Oxford: Oxford University Press, 1997.
Unterecker, John. A Reader's Guide to William Butler Yeats. New York: The Noonday Press, 1959.
Wu, Duncan. Introduction. Victorian Poetry. Ed. Valentine Cunningham and DUncan Wu. Oxford: Blackwell, 2002.
Yeats, W. B. Autobiographies. London: Macmillan, 1955.
_____. The Collected Works in Verse and Prose of William Butler Yeats, Vol. 1 (of 8): Poems Lyrical and Narrative. Stratford-on-Avon: Shakespeare Head Press, 1908. (Available on Project Gutenberg.)
---
Created 28 June 2021