[The following passage comes from the Project Gutenberg online edition of Trollope's Thackeray prepared by Barbara Tozier, Bill Tozier, Lisa Reigel, and the Project Gutenberg proofreading team. The decorated initial 'B' is based the one on a Thackeray designed for Vanity Fair. — George P. Landow]
"The question arises what a novel should be . . . " — Anthony Trollope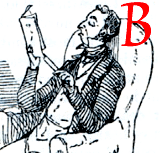 But this special fault was certainly found with Vanity Fair at the time. Heroines should not only be beautiful, but should be endowed also with a quasi celestial grace,—grace of dignity, propriety, and reticence. A heroine should hardly want to be married, the arrangement being almost too mundane,—and, should she be brought to consent to undergo such bond, because of its acknowledged utility, it should be at some period so distant as hardly to present itself to the mind as a reality. Eating and drinking should be altogether indifferent to her, and her clothes should be picturesque rather than smart, and that from accident rather than design. Thackeray's Amelia does not at all come up to the description here given. She is proud of having a lover, constantly declaring to herself and to others that he is "the greatest and the best of men,"—whereas the young gentleman is, in truth, a very little man. She is not at all indifferent as to her finery, nor, as we see incidentally, to enjoying her suppers at Vauxhall. She is anxious to be married,—and as soon as possible. A hero too should be dignified and of a noble presence; a man who, though he may be as poor as Nicholas Nickleby, should nevertheless be beautiful on all occasions, and never deficient in readiness, address, or self-assertion. Vanity Fair is specially declared by the author to be "a novel without a hero," and therefore we have hardly a right to complain of deficiency of heroic conduct in any of the male characters. But Captain Dobbin does become the hero, and is deficient. Why was he called Dobbin, except to make him ridiculous? Why is he so shamefully ugly, so shy, so awkward? Why was he the son of a grocer? Thackeray in so depicting him was determined to run counter to the recognised taste of novel readers. And then again there was the feeling of another great fault. Let there be the virtuous in a novel and let there be the vicious, the dignified and the undignified, the sublime and the ridiculous,—only let the virtuous, the dignified, and the sublime be in the ascendant. Edith Bellenden, and Lord Evandale, and Morton himself would be too stilted, were they not enlivened by Mause, and Cuddie, and Poundtext. But here, in this novel, the vicious and the absurd have been made to be of more importance than the good and the noble. Becky Sharp and Rawdon Crawley are the real heroine and hero of the story. It is with them that the reader is called upon to interest himself. It is of them that he will think when he is reading the book. It is by them that he will judge the book when he has read it. There was no doubt a feeling with the public that though satire may be very well in its place, it should not be made the backbone of a work so long and so important as this. . . .
Whether the ideal or the real is the best form of a novel may be questioned, but there can be no doubt that as there are novelists who cannot descend from the bright heaven of the imagination to walk with their feet upon the earth, so there are others to whom it is not given to soar among clouds. The reader must please himself, and make his selection if he cannot enjoy both. There are many who are carried into a heaven of pathos by the woes of a Master of Ravenswood, who fail altogether to be touched by the enduring constancy of a Dobbin. There are others,—and I will not say but they may enjoy the keenest delight which literature can give,—who cannot employ their minds on fiction unless it be conveyed in poetry. With Thackeray it was essential that the representations made by him should be, to his own thinking, lifelike. A Dobbin seemed to him to be such a one as might probably be met with in the world, whereas to his thinking a Ravenswood was simply a creature of the imagination. He would have said of such, as we would say of female faces by Raffaelle, that women would like to be like them, but are not like them. Men might like to be like Ravenswood, and women may dream of men so formed and constituted, but such men do not exist. Dobbins do, and therefore Thackeray chose to write of a Dobbin.
So also of the preference given to Becky Sharp and to Rawdon Crawley. Thackeray thought that more can be done by exposing the vices than extolling the virtues of mankind. No doubt he had a more thorough belief in the one than in the other. The Dobbins he did encounter—seldom; the Rawdon Crawleys very often. He saw around him so much that was mean! He was hurt so often by the little vanities of people! It was thus that he was driven to that overthoughtfulness about snobs of which I have spoken in the last chapter. It thus became natural to him to insist on the thing which he hated with unceasing assiduity, and only to break out now and again into a rapture of love for the true nobility which was dear to him,—as he did with the character of Captain Dobbin.
It must be added to all this that, before he has done with his snob or his knave, he will generally weave in some little trait of humanity by which the sinner shall be relieved from the absolute darkness of utter iniquity. He deals with no Varneys or Deputy-Shepherds, all villany and all lies, because the snobs and knaves he had seen had never been all snob or all knave. Even Shindy probably had some feeling for the poor woman he left at home. Rawdon Crawley loved his wicked wife dearly, and there were moments even with her in which some redeeming trait half reconciles her to the reader.
Such were the faults which were found in Vanity Fair; but though the faults were found freely, the book was read by all. Those who are old enough can well remember the effect which it had, and the welcome which was given to the different numbers as they appeared. Though the story is vague and wandering, clearly commenced without any idea of an ending, yet there is something in the telling which makes every portion of it perfect in itself. There are absurdities in it which would not be admitted to anyone who had not a peculiar gift of making even his absurdities delightful. No schoolgirl who ever lived would have thrown back her gift-book, as Rebecca did the "dixonary," out of the carriage window as she was taken away from school. But who does not love that scene with which the novel commences? How could such a girl as Amelia Osborne have got herself into such society as that in which we see her at Vauxhall? But we forgive it all because of the telling. And then there is that crowning absurdity of Sir Pitt Crawley and his establishment. [92-96]
.
. . . .
The reader as he closes the book has on his mind a strong conviction, the strongest possible conviction, that among men George is as weak and Dobbin as noble as any that he has met in literature; and that among women Amelia is as true and Becky as vile as any he has encountered. Of so much he will be conscious. In addition to this he will unconsciously have found that every page he has read will have been of interest to him. There has been no padding, no longueurs; every bit will have had its weight with him. And he will find too at the end, if he will think of it—though readers, I fear, seldom think much of this in regard to books they have read—that the lesson taught in every page has been good. There may be details of evil painted so as to disgust,—painted almost too plainly,—but none painted so as to allure. [106-107]
Related Material
References
Trollppe, Anthony. Thackeray. "English Men of Letters series." London: Macmillan, 1879. Web. Project Gutenberg. E-text prepared by Barbara Tozier, Bill Tozier, Lisa Reigel. 4 August 2013
---
Last modified 4 August 2013