Marianne Caroline Patmore (1871) by John Brett. Click on image for larger picture.
Marianne Byles, who became Patmore's second wife, was Born on June 23rd of 1882, the second daughter of James Byles of Bowden Hall in Gloucestershire. When her father died when Mary was only 13, she moved with her mother to Lavington where Mary began to receive tutorials and instruction from both her cousin and the Archdeacon Manning, Vicar of Lavington-with-Graffham. The archdeacon primarily instructed Mary in spiritual matters and in drawing, and it was publicly believed that if Manning had not converted to Catholicism from the Anglican church then the two would have married. After Manning's conversion, Mary Byles remained an Anglican for only two years before, to her mother's dismay, she herself converted. Not long after, her mother also died, after which time Mary began to tour Europe with her cousin and former tutor, Miss Eisdell. In Rome, she met Coventry Patmore in 1864, and it was not long before Coventry proposed marriage. Refusing to marry him because of his Anglican faith, Marianne prompted him to convert to Roman Catholicism. After the marriage was arranged, Coventry returned to England to prepare his family for the wedding, and Marianne Byles remained in Rome where she began to become acquainted with Patmore's verse. After her marriage to Patmore on July 18th 1864, Mary began a life largely devoted to the care of Patmore's children until they were old enough to leave their father's house at which time Mary resumed a life of religious devotion, prayer and contemplation.
Many have argued that Mary's reserved character and way of life led to Patmore's withdrawal from Victorian literary society. Nevertheless, it was Marianne's money that allowed Patmore to retire from his museum work and focus on his writing and the construction of their estate in Sussex. Basil Champneys, Patmore's friend and biographer, insists that he gave up his job with the British Museum due to an illness of the lungs. Either way, however, there was no longer a need for Patmore to work at the museum, and during his second marriage the poet became somewhat of a businessman, managing his affairs concerning the development of his estate, Heron's Ghyll.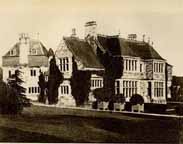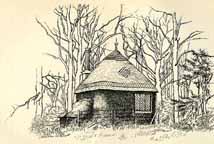 Left: The Hermitage at Heron's Ghyll.
Right: Coventry Patmore's Heron's Ghyll estate in Sussex.
Click on images for larger pictures.
Heron's Ghyll was a large mansion with one room designed as a chapel for whicih the Patmores appointed various chaplains before settling on a priest from Lewes who regularly came to visit the estate as a guest. Another building located at an angle to the house was intended for Patmore as a study. However, finding this study to be too noisy or perhaps not far enough away from the house, he built a hermitage set farther back into the woods which resembled a hut with its curved wooden walls and thatched roof.
On April 12th 1880, Marianne Patmore died, and Coventry embarked on the construction of a new church in Old Hastings located directly across from the estate in honor of her memory. The project, one which Marianne and Coventry seemed to have been planning during her lifetime, was funded not only by the Patmores but mostly by the Pious Society. Once the land was purchased, the building of the church began under the architectural design of Basil Champneys.
Related Materials
References
Champneys, Basil. Memoirs and correspondence of Coventry Patmore. 2 vols. London, G. Bell & Sons, 1900
---
Last updated 29 June 2004