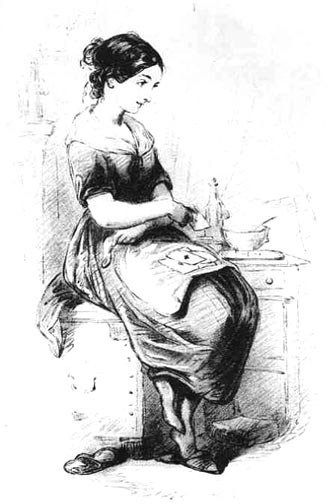 Phiz's re-conceived image of the small servant, an obviously much more adolescent version for the Cheap Edition (1848).
The Old Curiosity Shop did not begin as a serial novel; rather, Charles Dickens began it as a frame story for the weekly periodical Master Humphrey's Clock, edited and written entirely by Dickens and published from 4 April 1840 to 4 December 1841. The concept behind the frame story of the child and her grandfather in a gloomy but picturesque curiosity shop was that it would serve to introduce Dickens's persona, the story-teller Master Humphrey, who would describe his own life and  introduce his small circle of friends (other writers), and their penchant for telling stories. However, within four numbers Dickens realised that the public wanted a continuous narrative in serial rather than discrete articles and short stories. He was thus forced to abandon the notion of soliciting other writers to contribute as "Master Humphrey's Circle." Within this original conception, a multi-part short story, amounting to perhaps a novella, was to include (in addition to the philosophical narrator, Master Humphrey) compulsive gambler Grandfather Trent; his orphaned granddaughter and grandson (Nell and Fred); the grandson's whimsical friend, the Comic Man, Dick Swiveller; the forthright, loyal, working class youth Kit Nubbles; and the horrid, misshapen villain, Daniel Quilp. Dickens found it necessary to introduce a secondary villain, the unscrupulous attorney from Bevis Marks, Sampson Brass, and his termagant sister, Sally. Only well into the narrative, apparently, did Dickens conceive of the "little servant" of the Brasses, the workhouse (and therefore illegitimate) child whom Dick dubs "The Marchioness." As the story developed into a full-blown, multi-plot picaresque novel, Dickens seems to have considered developing the Marchioness into a genuine character. When he determined that she should be the lovechild of Daniel Quilp and Sally Brass, and that as the story's Cinderella she should eventually marry Dick Swiveller cannot be determined, but he obviously did not let Phiz into his intentions for this character until half the novel had elapsed.
Since, as Joan Stevens points out, "one obvious use of the woodcuts is to mark the first entry of characters and themes, which are then recalled to mind after intervening weeks with a second illustration" (117), Dickens and Phiz first introduce the Marchioness in Chapter 35 (Part 20: Mr. Brass at the Keyhole as a marginal figure on the Brasses' staircase. Dickens mentions that the Brasses have instructed the Marchioness to fall down those stairs in order to awaken the sleeping lodger: "we have made the servant-girl fall down stairs several times (she's a light weight, and it don't hurt her much) but nothing wakes him" (346) as the three adults stand at the lodger's door. Only in the next chapter, however, does Dickens begin to do anything with the new character:
One circumstance troubled Mr. Swiveller's mind very much, and that was that the small servant always remained somewhere in the bowels of the earth under Bevis Marks, and never came to the surface unless the single gentleman rang his bell, when she would answer it and immediately disappear again. She never went out, or came into the office, or had a clean face, or took off the coarse apron, or looked out of any one of the windows, or stood at the street-door for a breath of air, or had any rest or enjoyment whatever. Nobody ever came to see her, nobody spoke of her, nobody cared about her. Mr. Brass had said once, that he believed she was a 'love-child' (which means anything but a child of love), and that was all the information Richard Swiveller could obtain. [Chapter XXXVI, 356-57]
Sally Brass, perhaps to impress Dick with the notion that she and her parsimonious brother are benevolent employers, treats the small servant to a small meal of mutton. Not until Chapter 51 does Dickens reintroduce her, when she answers the door to Quilp. Although Dick both names and renames "the small servant" as both "The Marchioness" and "Sophronia Sphynx," Dickens never provides her real name or explains her origins.
Who, indeed, was this abused child? Who was her mother? her father? It is no longer necessary to build up hypothetical answers, however convincing. There is a cancelled passage in the corrected proof sheets of The Old Curiosity Shop preserved in the Forster-Dyce Collection in the Victoria and Albert Museum3 that answers these questions beyond peradventure of doubt. [Grubb, 162]
Since the cancelled passage occurs not merely in manuscript, but in the corrected proof sheets, we may surmise that Dickens at the last moment chose to suppress her origins, perhaps because he had already conceived of the possibility arranging for her education and eventual marriage to Dick Swiveller, a plot line that real-instances had presented Dickens long before Professor Henry Higggins in George Bernard Shaw's Pygmalion (1913) tries to help Eliza Doolittle escape her lower-class origins by giving her gruelling elocution lessons. The passage in question occurs within the scene in which Mr. Garland and the Single Gentleman interrogate Sally Brass about her role and Quilp's in producing false evidence against Kit Nubbles:
Miss Sally folded her arms, and pressing her lips close together, and swaying herself from side to side, looked steadfastly at her brother.
"It's no worse!" she said, "no worse for the artful wretch to be the ruin of her own mother!"
Mr. Brass looked around the room, and under the table, as if for the parent in question; and again raised his eyes to his sister's face.
"It's no worse, I ask you," repeated Sarah," for her to be my ruin than yours?"
"Gentlemen," said Brass, turning pale, "there's a little distraction going on here. You had better put that tray of forks out of the way, and take particular care of your penknives if you please."
Miss Brass smiled loftily at these fears, and folding her arms a little tighter, replied,
"I am her mother. She is my child. There. Now what do you say?"
"Why, I say," said Brass, falling back in his chair, "don't talk non-sense. Your child? I don't believe such a thing's possible. I am sure it isn't. It couldn't be. I'd sooner believe in Mrs. Southcote and her child. Non-sense."
Giving utterance to this last word in a loud tone and with strong emphasis, Sampson bent over his writing again, and shook his head until he could shake it no longer. [reproduced in Grubb, 163]
Dickens was very near to winding up the novel when he wrote this passage for Chapter LXVI (9 January 1841). Grubb speculates that Dickens withheld the information about the servant-girl's parentage because he felt that providing additional information about the Marchioness would inappropriately shift the focus away from the dying Nell:
Suddenly, when reading his galley proofs, Dickens realized that the Marchioness was becoming a real threat to the supremacy of Little Nell. She was becoming a distractive element just when he wanted everything to converge upon his dying heroine; therefore, he decided to risk artistic incompleteness rather than raise up a rival of Little Nell. [Grubb, 165]
Sampson Brass appears to know nothing about his sister's ever having been pregnant, and in the suppressed passage she does not identify the father. Grubb points to another suppressed passage in which Dick Swiveller puts two and two together, concluding that Quilp "might not also have been able to solve the riddle, had he chosen" ("Chapter the Last," cited in Grubb, 164). Grubb points to Quilp's recognizing that the small servant's dwarfism is a reflection of his own when she answers the Brasses' door to his knocking when he drops by Beavis Marks to invite the legal duo to his warehouse in Chapter LI:
"There's a servant, I suppose," said the dwarf, knocking at the house-door. "She'll do."
After a sufficiently long interval, the door was opened, and a small voice immediately accosted him with, "Oh please will you leave a card or message?"
"Eh?" said the dwarf, looking down, (it was something quite new to him) upon the small servant.
Quilp has no idea before the door opens that the Brasses have such a servant, and his initial response is not to recognise either in her face or form either Sally or himself. Dickens does, however, tantalize readers as he retails Quilp's assessment of the girl: "Whether there was anything in the peculiar slyness of her action which fascinated Mr. Quilp, or anything in the expression of her features at the moment which attracted his attention for some other reason; or whether it merely occurred to him as a pleasant whim to stare the small servant out of countenance; certain it is, that he planted his elbows square and firmly on the desk, and squeezing up his cheeks with his hands, looked at her fixedly." This response is hardly proof that Quip sees his own features in the servant.
Grubb enthusiastically presents his theory as supported by "documentary evidence," although Dickens is never clear about the identity of the father. The author may have thought that the whole issue was better left unresolved since there appears to be no sexual or romantic liaison between Quilp and Sally, because her own brother appears to know nothing about Sally's having had a daughter, and because he did not wish to throw a blight over the character whom he has come to Dick's rescue, turn evidence against the Brasses, exonerate Kit Nubbles, and (most significantly) marry the story's Comic Man and become a perfectly respectable middle-class wife after Dick has paid for her schooling.
Relevant Illustrations of the Marchioness from Later Editions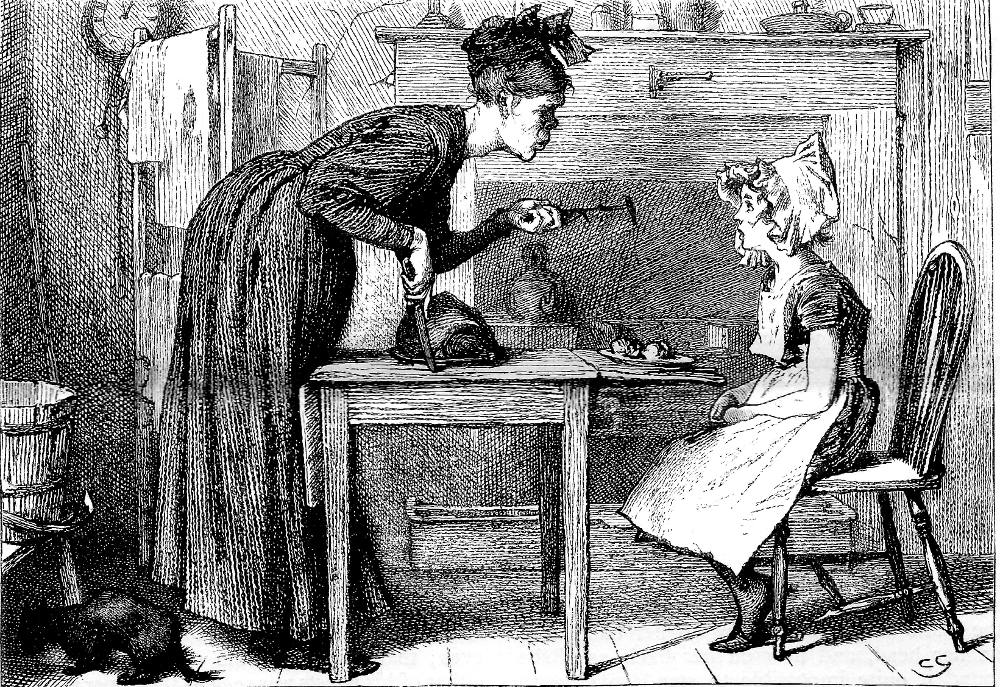 Green realizes the scene by underscoring the unequal power relationship of the mere child, seated and submissive, and scowling, domineering, intimidating employer who trusts an implement in the child's face: "Do you see this?" (1876), with Dick entirely absent from the frame.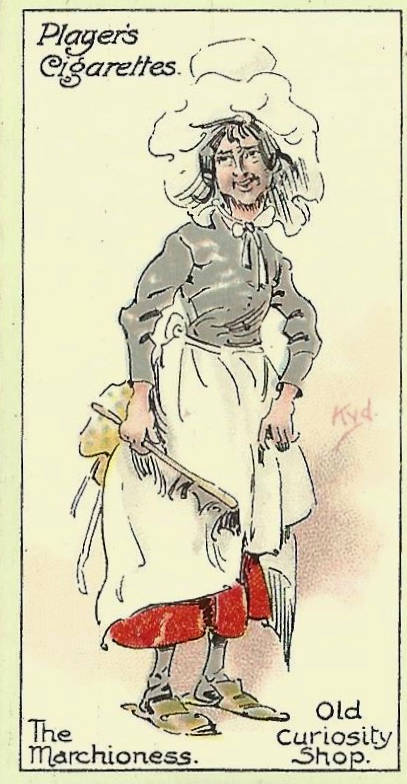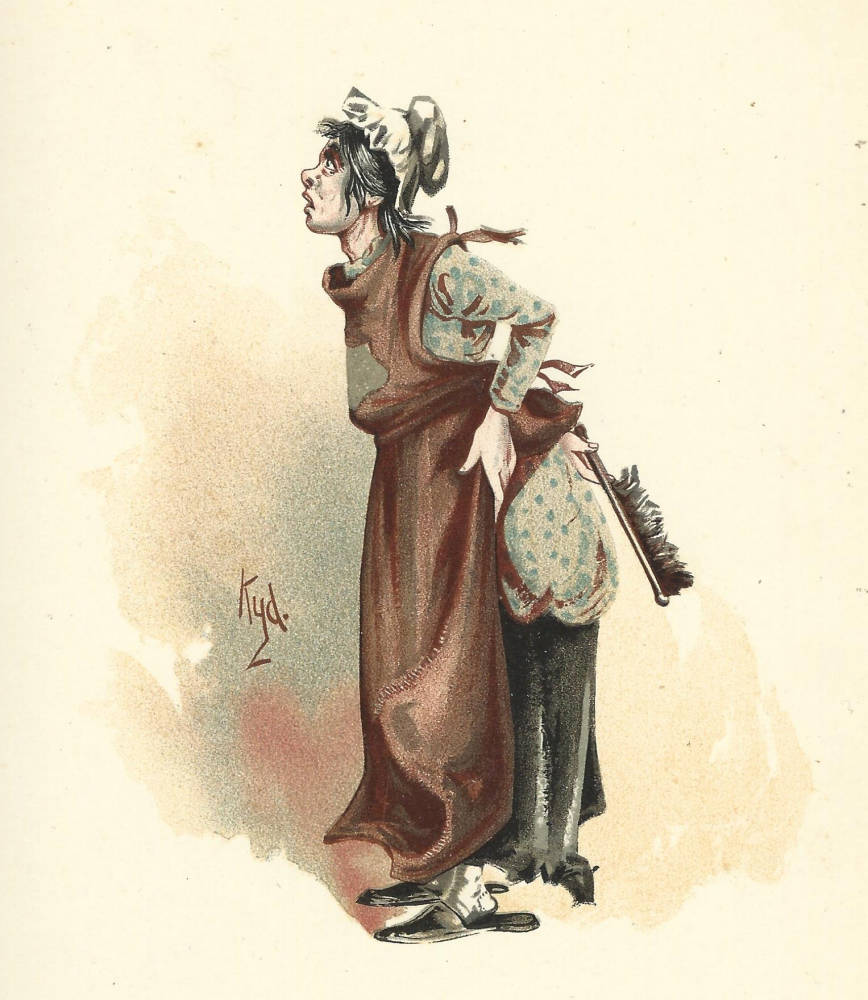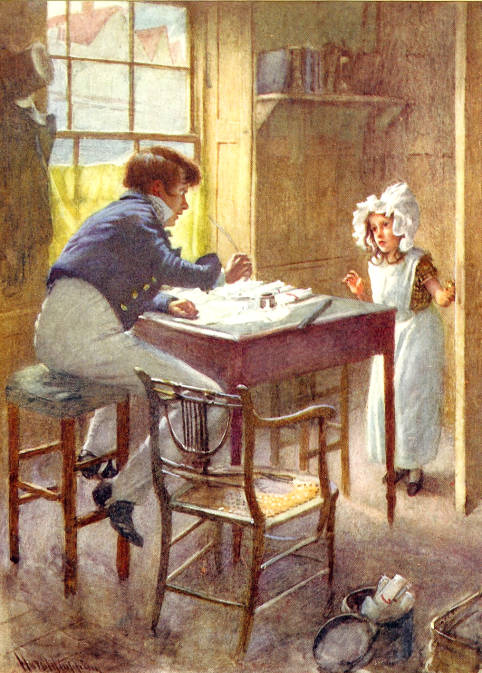 Left: Clayton J. Clarke's amusing caricatures of the dirty-faced, preternaturally old workhouse child in the Player's Cigarette card series: The Marchioness (Card No. 28), and a more Eliza Doolittle-like version with adolescent features in The Marchioness (for Chapter 2), both dating from 1910. Right: Harrold Copping's realisation of the scene in which Dick and Marchioness first meet, from Character Sketches from Dickens (1924).
Related Resources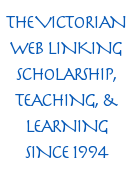 Scanned image and text by Philip V. Allingham. [You may use this image without prior permission for any scholarly or educational purpose as long as you (1) credit the person who scanned the image and (2) link your document to this URL in a web document or cite the Victorian Web in a print one.]
Bibliography:
The Old Curiosity Shop

(1841-1924)

Cohen, Jane Rabb. "Part Two: Dickens and His Principal Illustrator. 4. Hablot Browne." (Part 1). Charles Dickens and His Original Illustrators. Columbus: Ohio U. P., 1980. 59-80.

Davis, Paul. Charles Dickens A to Z: The Essential Reference to His Life and Work. New York: Facts On File, 1998.

Dickens, Charles. The Old Curiosity Shop in Master Humphrey's Clock. Illustrated by Phiz, George Cattermole, Samuel Williams, and Daniel Maclise. 3 vols. London: Chapman and Hall, 1840.

Grubb, Gerald G. "Dickens' Marchioness Identified." Modern Language Notes. 68, 3 (March 1953): 162-65.

Hammerton, J. A. "XIII. The Old Curiosity Shop." The Dickens Picture-Book. The Charles Dickens Library Edition. London: Educational Book, 1910. 170-211.

Kitton, Frederic G. Dickens and His Illustrators. London: George Redway, 1899.

Lester, Valerie Browne. Phiz: The Man Who Drew Dickens. London: Chatto and Windus, 2004.

Steig, Michael. "Phiz's Marchioness." Dickens Studies. 2, 3: (September 1966): 141-46.

_______. Chapter 3, "From Caricature to Progress: Master Humphrey's Clock and Martin Chuzzlewit." Dickens and Phiz. Bloomington & London: Indiana U. P., 1978. 51-85.

Stevens, Joan. "'Woodcuts Dropped into the Text': The Illustrations in The Old Curiosity Shop and Barnaby Rudge." Studies in Bibliography. Vol. 20 (1967), 113-134.

Vann, J. Don. "The Old Curiosity Shop in Master Humphrey's Clock, 25 April 1840-6 February 1841." Victorian Novels in Serial. New York: MLA, 1985. 64-5.
---
Created 15 October 2020