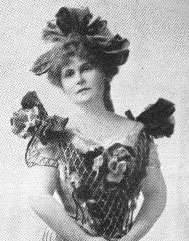 Marie Corelli (real name "Mary Mackay") was probably born somewhere in London in May of 1855. Her origins are not known for certain, but she was probably the illegitimate daughter of Dr. Charles Mackay and his mistress, Mrs. Mary Elizabeth Mills, whom Dr. Mackay married after his first wife died. After her first book, A Romance of Two Worlds, was published in 1886, she became the best selling author in England, and the favorite of Queen Victoria, who ordered a collection of all Marie's books. Despite the savage attacks of critics, her books often broke sales records. She was the only author invited to the coronation of Edward VII, and counted among her friends Mark Twain, Ouida, the Empress Frederick of Germany, and many other writers and members of royalty. Tennyson wrote her praises for her work Ardath (1889), a book which did not sell very well relatively, but the one Marie had always considered her best.
After Marie moved to Stratford-on-Avon in 1899, she crusaded to preserve Shakespeare's shrine in the Church of the Holy Trinity and worked to prevent some cottages once owned by Shakespeare's descendants from being demolished for a Carnegie library. She also helped establish Harvard House for visiting students of Harvard University. She bought and restored a 16th-century house, Mason Croft, which is now the Shakespeare Institute of the University of Birmingham. She published a pamphlet to encourage British people to visit Stratford-on-Avon.
Marie Corelli's books are imaginative, philosophical and mystical. She took it upon herself to cure the world of all it's social ills. Among her best works are Thelma (1887), Wormwood (1890), Barabbas (1893), The Sorrows of Satan (1895), The Master Christian (1900), Temporal Power (1902), The Life Everlasting (1911), and The Secret Power (1921). After W.W.I, her books were considered out-of-date and sales and interest declined. She died in 1924.
Until recently, when Virginia published Annette R. Federico's Idol of Suburbia: Marie Corelli and Late-Victorian Literary Culture, no full-length serious study of her works had appeared. Jessica Amanda Salmonson has a short biography on the web [and since Mr. Malerbo wrote this essay, Julia Kuehn, Assistant Lecturer in English, University of Hong Kong, has contributed work on Corelli to the Victorian Web, as has GPL]. Bryn Mawr College has a collection of some of Marie Corelli's letters and another short biography.
Sources
Coates, T.F.G., and R.S. Warren Bell. Marie Corelli, The Writer and The Woman. London: Hutchinson 1903.
Bigland, Eileen. Marie Corelli, The Woman and the Legend. London: Jarrolds, 1953.
Federico, Annette R. Idol of Suburbia: Marie Corelli and Late-Victorian Literary Culture. Charlottesville: U of Virginia Press, 2004. [added on the recommendation of Dr. Emil I Mondoa. GPL]
---
Last modified 25 August 2003