This four-part essay has been adapted by the author from Chapter 5 of her book, Literary Surrey (Headley Down: John Owen Smith, 2005), with added documentation, photographs, captions and links. The photographs are by the author unless otherwise noted. You may reuse the author's ones without prior permission for any scholarly or educational purpose as long as you (1) credit the photographer and (2) link your document to this URL in a web document or cite the Victorian Web in a print one. [Click on the images to enlarge them, and sometimes for more information.]
Introduction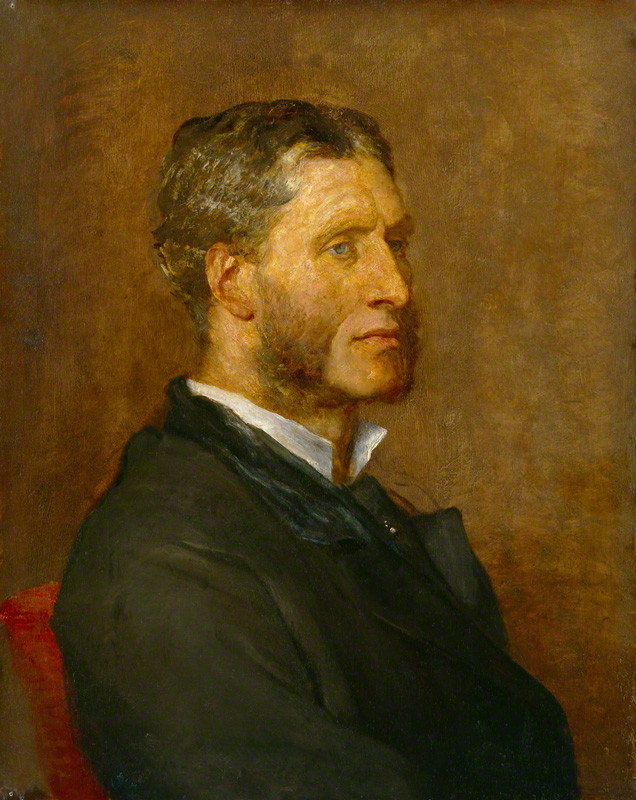 Portrait of Matthew Arnold By G. F. Watts (1880).
With his centre parting, side-whiskers and stiff collar, Matthew Arnold looks every inch the austere and unbending Victorian gentleman. But, like so many other spokesmen of his generation, the author of such major works as "The Scholar Gipsy" (1853) and Culture and Anarchy (1869) had another side to him, a side which can now be seen most clearly in his more intimate writings — his letters.
For a long time, it was hardly possible to see it even there. Both his widow and his surviving sister made cuts to the letters before they were first published, and between them they removed the affectionate words of a loving husband, and "every trace of humour." The result, as George W. E. Russell, the editor of this original two-volume collection himself realised, "was a curious obscuration of some of Arnold's most characteristic traits — such, for example, as his overflowing gaiety" (qtd. in Lang, LL I: xix).
The twenty-first century "unexpurgated" six-volume edition of his correspondence, however, edited by Cecil Lang, shows the famous poet and critic as he really was. Gone is the nostalgic, backward-looking atmosphere of so much of his poetry. Gone too is the solemn "high seriousness" of his critical essays. These of course reflected his character too. They reflected, on the one hand, the inner self, the man apart; and on the other hand, the public man, the teacher, the sage. But his letters reveal the personality shown to and loved by his nearest and dearest, to whom he writes with unshadowed delight about the minutiae of his daily life, particularly, as time goes by, about his life in the Surrey countryside. It is in these letters, more than in his serious, academic writings — and against this lovely backdrop — that "the kindness, the homeliness, the unaffected simplicity of Mr Arnold's bright and happy nature" (Galton 121) are fully revealed at last.
Matthew Arnold in Laleham, Surrey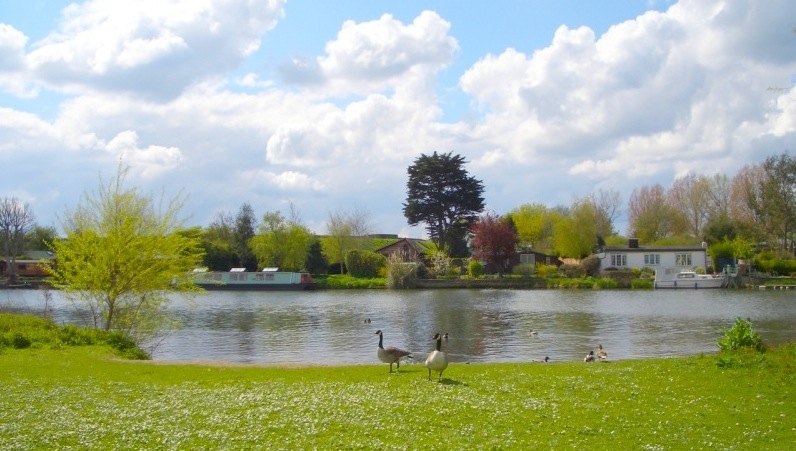 "It changes less than any place I ever go to": the Thames at Laleham.
Matthew Arnold is most commonly associated with three different parts of England — Rugby, the Lake District, and Oxford. As a boy, he was a pupil at Rugby, where, of course, his father was the great headmaster, and as a young man he briefly taught classics there himself. All through his life, he took holidays at Fox How, the family's grey ten-bedroomed mansion in Ambleside, built in 1834 with the advice of William Wordsworth. Fox How was owned by the family for almost a hundred years, and still stands as a monument to the fading gleams of the Romantic era in that beautiful landscape. Arnold also followed in his father's footsteps by making a name for himself at Oxford. He won a competitive scholarship to Balliol in 1840, and then the prestigious Newdigate Prize of 1843 as an undergraduate, becoming a fellow at Oriel in 1845, and later being elected Professor of Poetry at Oxford for two consecutive five-year terms (1857-67). Not only "The Scholar Gipsy" but also several of his other poems are set in the Oxfordshire countryside.
Yet his strongest ties were always with the south-east. He was born in the little Thames-side village of Laleham on Christmas Eve 1822, and christened in the parish church of All Saints, Laleham, on 23 January 1823. Laleham was in Middlesex then, but fought successfully to be annexed to Surrey (rather than Greater London) when Middlesex was abolished as a county in 1965. It was in present-day Surrey, therefore, that Matthew spent much of his childhood. And he chose to live for the last fifteen years of his life in Cobham, only about six miles away from Laleham, but so quintessentially and traditionally "Surrey" that it was a likely model for Jane Austen's Highbury in Emma. The poet Edward Thomas, himself highly attuned to the connection of man and nature, felt that only here in Cobham could Arnold "really be seen at home" (74).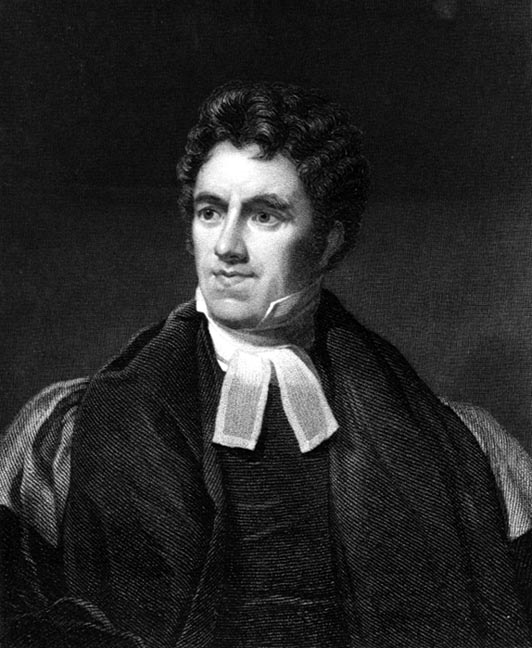 Thomas Arnold, from a portrait by Thomas Philips, R.A.
Inevitably, Arnold is first seen through others' eyes, principally, his parents'. The family's links with this corner of England began before his birth, when Arnold's father, the brilliant and idealistic Thomas Arnold, came to Laleham in 1819 to start his teaching career. He was then unmarried, but arrived with his married sister Frances and her husband, the Reverend John Buckland, and brought over to Laleham a whole troupe of Arnolds — his widowed mother, his aunt Susan, and another sister, Susannah, who was an invalid. No plaque commemorates the site of the large brick house which he rented on Laleham Broadway, and where his first son, Matthew, would be born. After the house itself was demolished in 1864, it was replaced by a vicarage, which is now used as a nursing home for the elderly, called the Glebe House Residential Home. However, the family's presence is still felt here: local children go on from the adjacent primary school to the Matthew Arnold School a short distance away in Staines, and tend the Arnold family grave in All Saints churchyard in Laleham, so the connection with the author in the family is by no means forgotten.
At this time, fresh from studying theology at Oxford, Thomas Arnold had agreed to help his brother-in-law set up a preparatory school. Finding the right premises had proved difficult, and the two brothers-in-law had fixed on the area almost in desperation. Yet Thomas Arnold was quite satisfied with his new surroundings, painting a picture of it as it was when his children grew up there:
Of the country about us, especially on the Surrey side, I have explored much; but not nearly so much as I could wish. It is very beautiful, and some of the scenes at the junction of the heath country with the rich valley of the Thames are very striking. Or if I do not venture so far from home, I have always, a resource at hand in the bank of the river up to Staines; which, though it be perfectly flat, has yet a great charm from its entire loneliness, there being not a house anywhere near it; and the river here has none of that stir of boats and barges upon it, which makes it in many places as public as the high road. [qtd. in Stanley 55]
Muncaster House, where Buckland taught the younger boys, and which Matthew Arnold himself attended.
Arnold would gather the older scholars around him at his redbrick house, while the building acquired for the younger boys was Muncaster House on Ferry Lane, on the opposite side of Laleham, and leading down to the river. It certainly looks the part, although it has now been turned into flats. A great deal of work had to be done to prepare it for its first pupils, and Buckland seems to have been the one to do it. Thomas Arnold wrote from there, to a friend in Oxford, that his brother-in-law made a fine schoolroom out of the Root House — which would have been the vegetable store. The young Matthew Arnold would one day be taught there himself.
It was common enough for clerics to tutor boys privately, but Buckland's school could take about thirty pupils, and was the country's first true "Prep School." Next to the Matthew Arnold School in Staines are the Buckland Junior and Infant Schools, so this has not been forgotten, either. However, reputations are not built overnight. Thomas Arnold only had a handful of older boys, and had to borrow money when he got married a year later to a clergyman's daughter, Mary. The first of their six children to start their lives at the house on Laleham Broadway was a girl, Jane. Matthew, the future poet and critic, was the next.
Matthew is said to have been rather a troublesome child, and he had some problem with his legs as well, making it necessary for him to wear heavy leg-irons. It is touching to imagine him dragging himself about Laleham in these. "I cannot help thinking that they would have been equally safe and efficacious if much lighter," his anxious mother wrote in her journal in June 1826 (qtd in Hamilton 16). His clumsy way of walking continued even after the leg-irons came off, and earned him the nickname "Crabby."
Matthew Arnold's early childhood in Laleham was tough in another way. His father demanded as much from his children as his pupils. He employed a series of governesses for them, but he was the one who directed their studies. They had to learn Latin grammar, French verbs and so on when they were five, and Greek, German and Italian from the age of six. (No wonder Matthew Arnold's criticism and published notebooks are peppered with quotations in various languages!) Then their father would test them on Sunday evenings, something which their mother later remembered fondly, but which may have been much less fun for the children.
For Matthew, at least, Laleham remained a base even after his father's appointment as the headmaster of Rugby School. With great reluctance, his immediate family did move there after nine years, but the rest of the Arnold clan remained in Laleham with the Bucklands, and Matthew himself was soon sent back to be taught at his uncle's school. He hated being apart from his parents, and felt confined by the school's strict routine. Progress was slow, and his father had to write to him in Laleham to scold and encourage him. After two years, he was able to rejoin his parents. Still, his links with Laleham were maintained. For example, when he burnt his hand once, it was to his aunt at Laleham that his parents sent him to recover.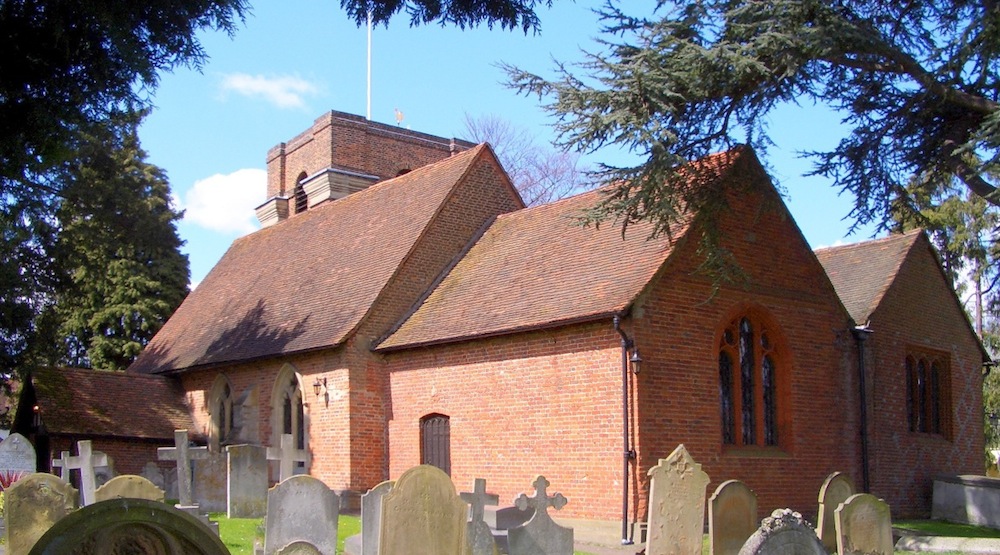 All Saints', Laleham, where Arnold was not only christened, but would also be buried.
Much as he had disliked the Muncaster House school, Matthew Arnold loved the neighbourhood itself. It continued to beckon him when he was grown up. Now we can begin to see him there through his own writings. For example, he was in Laleham visiting his aunt at New Year in 1848, when he was 25 and working in London as Private Secretary to Lord Lansdowne — his first job. On Sunday 2 January he attended a service at the little old brick church where he had been christened, reporting to his mother in Rugby that he went up the "shelving gravelly road up towards Laleham," to find the stream at Pentonhook, where the Thames makes a hook-like loop just north-west of Laleham, "with the old volume, width, shine, rapid fullness ... unchanged & unequal led." He also mentions nostalgically "the heaths and pines of Surrey" (LL 1: 79-80). In August 1849 he was there again, walking up that same riverbank with his uncle and other family members, at the head of his uncle's pupils. "It changes less than any place I ever go to," he wrote to his sister. The next morning, he went diving and swimming in the river "with the swans looking at me" together with his old schoolfriend from Rugby, Thomas Hughes, the author of Tom Brown's Schooldays (LL 1: 154). Hughes was exactly his age, and a great fan of his father's; he must have been delighted to visit the scenes of his beloved headmaster's early manhood.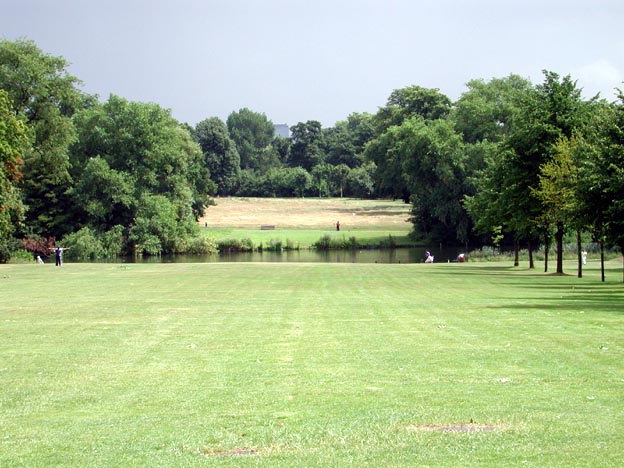 Walking towards the Long Water Kensington Gardens (photograph by George Landow).
Matthew Arnold's name was now in print. This was the very year in which his first book of poems, The Strayed Reveller and Other Poems, was published. It contained his ever-popular "The Forsaken Merman" (1849) with its seaside setting, but in which, too, the voices of the children and the "sweet airs" wafted "seaward / From heaths starr'd with broom" recall his Laleham past. A stanza in "Lines Written in Kensington Gardens" in his next volume (Empedocles on Etna and other poems, 1852), suggests just how deeply his Laleham past affected him:
In the huge world which roars hard by
Be others happy, if they can!
But in my helpless cradle I
Was breathed on by the rural Pan.
Coming from such a background, the speaker in this short poem delights in the "red-boled" pines, daisies and thrushes around him in the popular London park. He goes on to pray to the "Calm soul of all things" for the ability to respond wholeheartedly to the peace which it gives here (a peace which "Man did not make and cannot mar!") and for a quiet mind, a sympathetic heart, and a full life. This is the poem of a young man at the start of his adulthood, in which Wordsworthian ideas spring to life with fresh details and a very personal prayer. The last part of the prayer ("nor let me die / Before I have begun to live") is especially poignant: Arnold's father had died suddenly ten years before, at the age of forty-six.
In stanza five of "Lines Written in Kensington Gardens" Arnold compares the "fragrant grass" at his feet with that upon which an angler might recline by a stream, to count his catch. The riverside environment of his boyhood had become the landscape of his mind, and often appears in his imagery. "The Buried Life," for instance, is an archetypal Victorian poem in which he is aware of the undertow of the soul's true current, and appreciates those rare moments when a loved one distracts us from "the rush and glare" of our busy lives, and puts us back in touch with it. Then, "a lost pulse of feeling stirs again," so that
A man becomes aware of his life's flow,
And hears its winding murmur; and he sees
The meadow where it glides, the sun, the breeze.
"The Future" develops the life/river metaphor more schematically, as man's voyage continues from the river's source to the ocean. The crowding in of cities on its banks is noted with foreboding and anxiety, but as the flow widens again, the "Murmurs and scents of the infinite Sea" bring hopes of peace. Arnold's poetic masterpiece of 1853, "The Scholar Gipsy," based on a seventeenth-century tale about an Oxford scholar who opted out of society, is set around the Oxfordshire stretch of the Thames. Yet here too the best-known stanza (stanza 21) uses the river figuratively, to suggest the joys of the past, when "life ran gaily as the sparkling Thames" before the advent of "this strange disease of modern life." This river could be the Thames anywhere — at Laleham, even, for nowhere does Arnold associate himself more wistfully with his "truant boy" hero than here.
Arnold might well yearn for the old days in Laleham, despite his early experiences with the leg-irons. By this time, he was already burdened in another way, by family responsibilities and a demanding job. He had married Frances Lucy (Flu) in 1851, and their first son Thomas had already been born. Their second, Trevenen ("Budge"), was born that year. And just before his marriage he had become an Inspector of Schools, a job which involved checking elementary school and teacher standards all over the country, and even travelling on the continent, to see how things were being done over there. His references in "The Scholar Gipsy" to "sick hurry ... divided aims ... heads o'ertaxed" do seem to reflect his struggles at this point in his life.
Arnold would always be busy, always energetically involved in the world. It was years before the couple even had a proper base, finally settling down for about eight years near Flu's parents in London's Belgravia. By now they had another son, Richard, and the family was still growing. Poetry began to seem a self-indulgence, for which Arnold's school-visiting, school reports and pupil-teacher examining, as well as his Oxford lectures, left him little leisure. Perhaps, too, using his critical faculties all the time kept inspiration at bay, or undermined his confidence as a poet. Whatever the reason or reasons, he published his last book of poems only a year after completing his second stint as Professor of Poetry at Oxford in 1868. In 1871, he became a Senior Inspector of Schools, and in 1884 his title was changed to that of Chief Inspector. He retired from his demanding work slightly less than a year before his death.
During middle age, Arnold had particular cause to revisit Laleham on several occasions. The male Arnolds were not robust. He and Flu lost three of their four sons. Their youngest boy, Basil, died at the age of sixteen months in January 1868. That March, the family moved to Harrow, which was convenient for Arnold's current school district, as well as being close to Harrow School for the remaining boys. But later in the same year, just as he was preparing the influential essays of Culture and Anarchy for publication, Thomas died too, to be followed all too soon by Budge. At first, the churchyard at Ambleside had been considered for Basil's resting place, but in the end the three boys were buried under one vault at Laleham, for which, Arnold confessed, "I ... shall always have a home feeling" (LL III: 212).
Related Material
Bibliography
Adamson, Oswald. "Our Dear Laleham." Shepperton: Ian Allan, 1989. (See pp. 59-61. The title of this local history book was inspired by Thomas Arnold's regretful journal entry on leaving Laleham for Rugby).
Arnold, Matthew. The Letters of Matthew Arnold (cited as LL), ed. Cecil Y. Lang. 6 vols. Vol. I, 1829-59, etc. Charlottesville and London: University of Virginia Press, 1996-2001.
Hamilton, Ian. A Gift Imprisoned: The Poetic Life of Matthew Arnold. London: Bloomsbury, 1998.
Honan, Park. Matthew Arnold: A Life. New York: McGraw Hill, 1981.
Lang, Cecil Y. Introduction. The Letters of Matthew Arnold. Vol. I, 1829-59. Charlottesville and London: University of Virginia Press, 1996-2001.
Murray, Nicholas. A Life of Matthew Arnold. London: Sceptre, 1996.
Stanley, Arthur Penrhyn. The Life and Correspondence of Thomas Arnold, D.D. 1844. London: John Murray, 1877.
Thomas, Edward. A Literary Pilgrim in England. London: Cape, 1928.
---
Created 6 May 2017