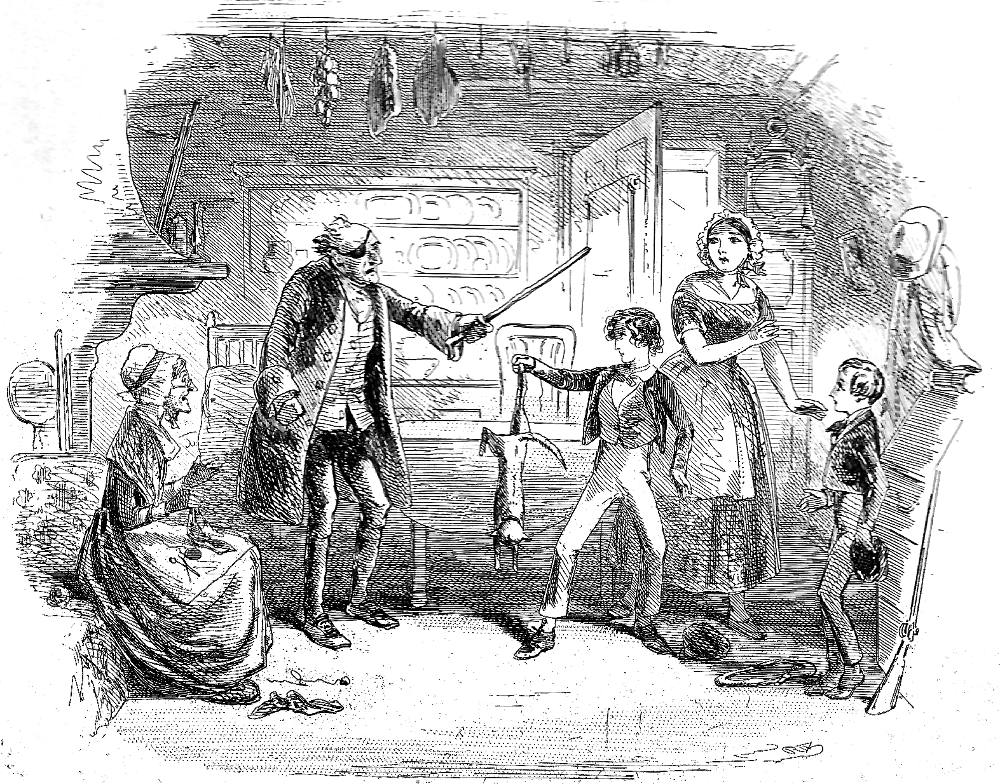 Who shot the cat? by Phiz (Hablot K. Browne). Illustration for William Harrison Ainsworth's Life and Adventures of Mervyn Clitheroe, Part 1 (December 1851), Chapter III, "Containing an Account of My Great-Uncle, John Mobberley, His Old dame, and his Farm at Marston." Steel etching, 10.4 cm high by 13.3 cm wide, facing page 27. Source: Ainsworth's Works (1882), originally published in the first serial instalment by Chapman and Hall.
Context of the Illustration: Mervyn Defends Himself against His Uncle's Accusation
As we set off to oley the injunction, leaving him expectorating after this lengthy harangue, Maipas obseried to me,
"You'Il not say anything about the hnife to old Mobb, Mervyn?"
"I'll give you another thrashing, if you call him tbat name agiain," I replied. "Recollect how largely your father is indebted to him, and hold your peace."
This effectually silenced him.
After this occurrence, Malpas was very civii to me, and we became better friends than we had been for some time previously. He was also very attentive to my uncle, and I thought, if any one could be accused of trying to curry favour with the old man, it was he, and not I. However, I did not concern myself about his proccedings, and my uncle showed no increased regard for him. I thought, however, from hints let drop occasionally by the old man, that he had got some notions into his head respecting me which he had not previously entertained. Somehow or other, he found out that I had caught the owl, and was very cross with me for disobeying him. Then Talbot was lamed, and it was said that I had beaten him with a heavy stick, though I was much too fond of him to beat him at all. The great boar had lost his curly tai1, and the appendage being unaccountably found in my pocket, it proved a great bore to me. But the climax was put to my offences by one of such an aggravated nature, that it threw me into disgrace. My aunt's favourite tom-cat was shot, and it supposed — nay, proved — that I had done the ruthless deed. Poor Tom, who was fond of exercising his claws, had certainly scratched me rather severely, and it was said I had breathed vengeance against him. No such thing. The next morning master Tom was missing, and after vainly calling to him, he was at last found by Malpas in the garden, with half an ounce of shot in his head. Never shall I forget my poor old aunt's distress at the sight of her farourite, held up before her by the heels like a great jack-hare by Malpas.
"Zounds and fury! — who killed the cat?" cried my uncle, coughing terribly.
"Ay, who indeed?" said my aunt; — "poor pussy!"
"My goodness! here's a pretty piece of work!" screamed Hannah Massey, rushing out of the dairy. "Who can have done it?"
All eyes were turned to me, and, though I was perfectly innocent, I looked and felt like a culprit.
"It must be this young imp of the devil. He's always in mischief," cried my uncle, shaking his stick menacingly at me. [Book the First, Chapter III, ""Containing an Account of My Great-Uncle, John Mobberley, His Old dame, and his Farm at Marston," 27]
Commentary
The real culprit in the piece, Mervyn's life-long rival, Malpas Sale (centre), holds aloft the dead cat as the one-eyed uncle shakes his stick at the cowering Mervyn (right). Phiz seems to have enjoyed revisiting the kinds of schoolboy scenes that he created for the early chapters of Dickens's David Copperfield (May 1849 — November 1850). One might have wished for more schoolroom scenes such as Steerforth and Mr. Mell (July 1849), so that we might have expected that readers would have embraced Ainsworth's apparent Bildungsroman, suggesting a new direction in his serial fiction. However, the popular taste, conditioned by such historical novels as Jack Sheppard, did not warm to Ainsworth's boyhood reminiscence. The mystery of who shot the cat, for example, akthough necessary in laying the groundwork for Mervyn's ongoing conflict with Malpas Sale, is not nearly so compelling as Ainsworth's account of Jack's ingenuity and hair-breadth escapes.
Readers of the 1858 volume edition of the novel have already encountered an image of the crotchety, cat-owning uncle as a ghost in the atmospheric frontispiece. However, in the early serial run, Phiz introduced him in this second illustration for December 1851 as one of the novel's most significant characters, the elderly relative whose lost will becomes vital to Mervyn's prosperity. Phiz seems to be re-using images such as that of the boys (Mervyn is specially reminiscent of young David Copperfield in the July 1849 illustration Changes at Home), and Aunt Mobberley here bears some resemblance to other elderly women by Phiz such as Mrs. Gummidge in We arrive unexpectedly at Mr. Peggotty's fireside (November 1849). The young maid, Hannah Massey, reminds readers familiar with Phiz's work as a reiteration of such attractive young women as Dora Spenlow and Agnes Whitfield in David Copperfield and Mary Graham and Ruth Pinch in Martin Chuzzlewit, a type he will reprise again even in Madame Defarge for Dickens's A Tale of Two Cities in 1859.
Scanned image, colour correction, sizing, caption, and commentary by Philip V. Allingham. [You may use this image without prior permission for any scholarly or educational purpose, as long as you (1) credit the person who scanned the image, and (2) link your document to this URL in a web document or cite the Victorian Web in a print one.] Click on the image to enlarge it.
Bibliography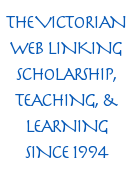 Ainsworth, William Harrison. The Life and Adventures of Mervyn Clitheroe (1851-2; 1858). Illustrated by Hablot Knight Browne ('Phiz'). London: Routledge, 1882.
Lester, Valerie Browne. Phiz: The Man Who Drew Dickens. London: Chatto and Windus, 2004.
Vann, J. Don. "William Harrison Ainsworth. Mervyn Clitheroe, twelve parts in eleven monthly installments, December 1851-March 1852, December 1857-June 1858." New York: MLA, 1985. 27-28.
---
Created 23 November 2018

Last modified 31 July 2020