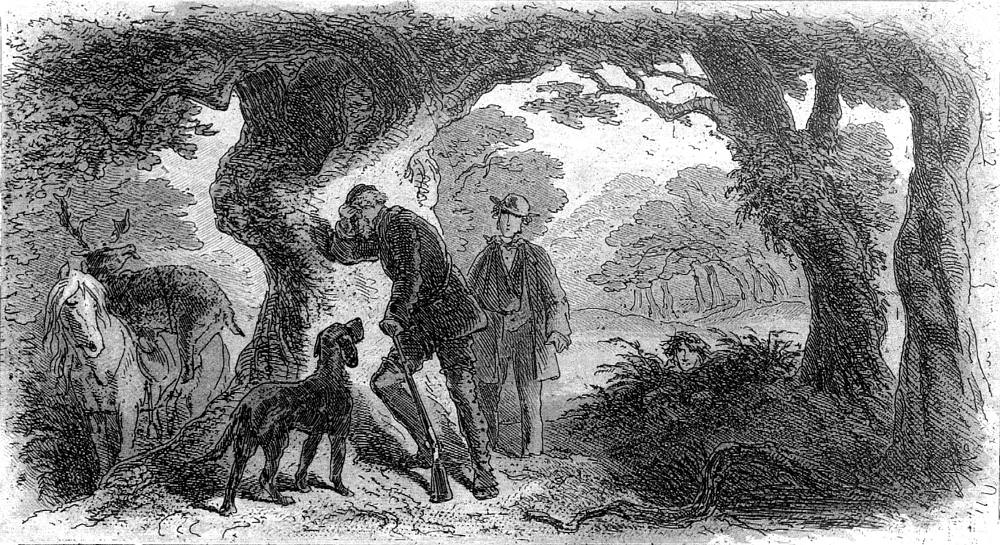 I receive sad Intelligence from Ned Culcheth by Phiz (Hablot K. Browne), eleventh serial illustration for William Harrison Ainsworth's Life and Adventures of Mervyn Clitheroe, Part 6 (January 1858), Book the Second, Chapter VI, "A Summer Morning in Dunton Park. — Sad Intelligence," facing page 168. Steel etching, 8.9 cm high by 16.3 cm wide, framed. Source: Ainsworth's Works (1882), originally published in the sixth serial instalment by George Routledge & Sons. [Click on the illustration to enlarge it.]
Passage Illustrated: Malpas Proves the Seducer of a Married Woman
"But I have been sadly remiss, Ned. I ought to have asked long ago after sweet Sissy? How is your darling little wife?"
I was never more startled in my life. I thought the strong man would have dropped. He shook as if an ague had seized him, and staggered towards a tree, against which he leaned for support.
Suspecting I had harmed his master, Hubert glared at me with his deep-set red orbs, while his lips curled fiercely. For my own part, I was exceedingly distressed. But I had never heard of poor Sissy's death. And that Ned must have lost her I now felt certain, from the emotion he displayed. [Book the Second, Chapter VI, "A Summer Morning in Dunton Park. — Sad Intelligence," page 168]
Commentary: Sissy Culcheth becomes a Fallen Woman
Ainsworth keeps the reader in considerable suspense for several pages about the sad fate of Sissy, the pretty young Welsh wife of the elderly game-keeper Ned Culchetch. However, Ned eventually makes Mervyn aware that his wife has not died, but rather has run off with a handsome young gentleman, feeling that Ned was not good enough for her. The reader quickly guesses that the culprit is none other than the dastardly "Capt'n Sale." Thus, Ainsworth's vilifying Malpas here becomes another instance of the gentlemanly villain of contemporary melodrama translated to the pages of a novel. However, unlike Dickens's James Steerforth, upon whom Ainsworth seems have based him, Malpas sale has added venial sins to his already exposed financial irresponsibility, deviousness, and greed, although in both David Copperfield and Mervyn Clitheroe the chief misconduct of the aristocratic villain is his betrayal of a quondam friend, the story's protagonist in each case. Neither Mervyn nor Ned can act without proof, especially the seducer is apparently Simon Pownall, Sale's confederate, rather than Sale himself. Thus, Mervyn offers the gamekeeper bent on challenging Malpas sale the following advice, since by the rules of social decorum a mere huntsman, no matter how wronged, cannot compel a gentleman to defend himself against a charge of immoral conduct:
"Patience, Ned — patience!" I exclaimed. "Dismiss these vioient notions, and act like a just and prudent man. The laws of honour, I agree with you, ought to bind all classes alike; and if a man is not too proud to injure another, his rank ought not to screen him from the consequences of the act. If such a person refuses satisfaction to his inferior, he ought to be stamped wiih dishonour. But this cannot be, and therefore it is idle to discuss the question. Attend to what I am about to say to you. Malpas Sale has injured me only a degree less than he has injured you. We will make common cause against him. Prove to me beyond question that he lured your wife from you — that she eloped with him. Prove to me that they were seen together after her flight. Discover her retreat, so that she may be produced, if we flnd occasion. Do this, and I will ensure you ample redress." (171)
In Phiz's picture, neither the pony nor the hound can comprehend their master's grief as he unburdens himself to the protagonist. Mervyn, somewhat surprised at Ned's behaviour as well as his tearful narrative, has his arm in a sling from the wound sustained in the pistol duel at Crabtree Green the night before. The faithful hound Hubert is as puzzled as is Mervyn at first by Ned's utter breakdown. A less obvious observer of Ned's grief is the Gypsy boy, Obed, hiding in the bed of ferns at the foot of the oak to the right. The juxtaposition in the illustration contradicts what Ainsworth describes in the text, in which Obed creeps up behind the pony (left) in order to cut off a piece of venison with which to distract the hunting-dog when he gives chase. Mervyn suspects that the prying Gypsy lad and his surly father are both acting as spies and minions for the man who has injured both of them. Since Mervyn's romantic interest, Apphia Brideoake, parallels David's childhood sweetheart, Little Em'ly, in David Copperfield, the erring Sissy must correspond to the other Fallen Woman in Dickens's Bildungsroman, Martha Endell, the seamstress whom Steerforth leads astray.
Although Phiz gives no indication of Mervyn's mental state, the story's protagonist is shocked by Ned's revelation that the villainous gentleman, Malpas Sale, has seduced and run away with the stalwart gamekeeper's young wife. Mervyn now regrets that he passed up the opportunity the previous evening to dispatch the seducer of Sissy Culchetch, whose immoral conduct here is even worse than James Steerforth's stealing Little Em'ly away from the Peggottys in David Copperfield, although the result is the same: the pretty young woman becomes "lost" or "fallen" in the eyes of respectable, middle-class society.
Scanned image, colour correction, sizing, caption, and commentary by Philip V. Allingham. [You may use this image without prior permission for any scholarly or educational purpose, as long as you (1) credit the person who scanned the image, and (2) link your document to this URL in a web document or cite the Victorian Web in a print one.] Click on the image to enlarge it.
Bibliography
Ainsworth, William Harrison. The Life and Adventures of Mervyn Clitheroe (1851-2; 1858). Illustrated by Hablot Knight Browne ('Phiz'). London: Routledge, 1882.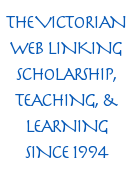 Lester, Valerie Browne. Phiz: The Man Who Drew Dickens. London: Chatto and Windus, 2004.
Vann, J. Don. "William Harrison Ainsworth. Mervyn Clitheroe, twelve parts in eleven monthly installments, December 1851-March 1852, December 1857-June 1858." New York: MLA, 1985. 27-28
---
Last modified 23 November 2018