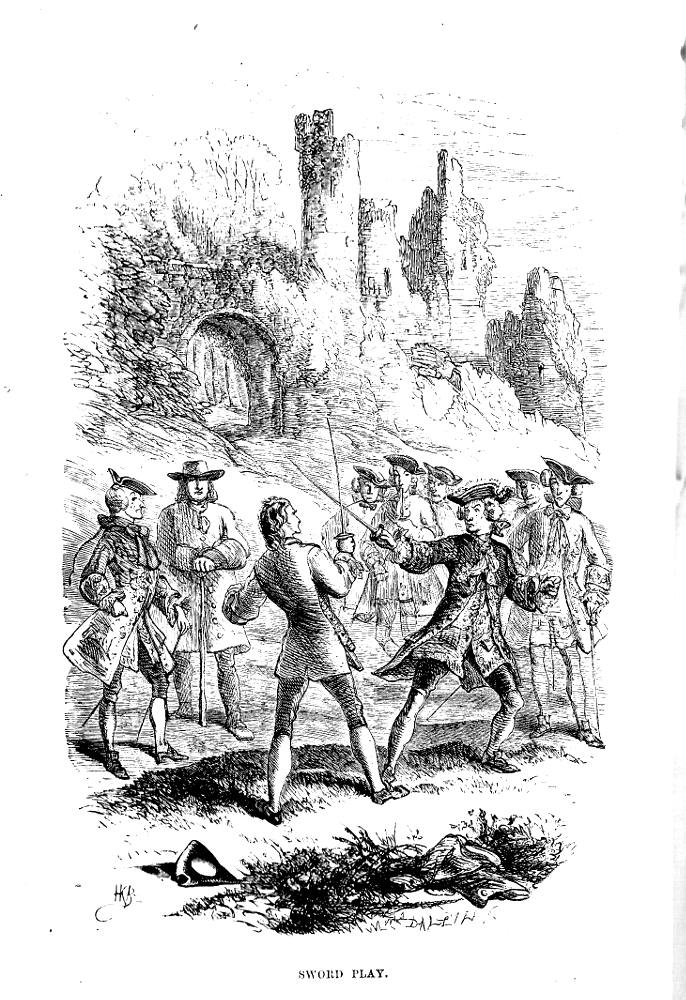 Frontispiece: Sword Play
Phiz
Dalziel
April 1855
Steel-engraving
15.2 cm high by 9.8 cm wide, vignetted
The Spendthrift, first published in Bentley's Miscellany, Part 4 (Chapters 8-11).
Scanned image and text by Philip V. Allingham.
[You may use these images without prior permission for any scholarly or educational purpose as long as you (1) credit the photographer and (2) link your document to this URL in a web document or cite the Victorian Web in a print one.]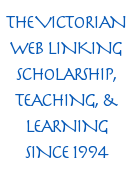 Passage Associated with the Illustration
"Sir Randal, you must give place to me in this affair," Gage said; "your turn may come by-and-by. I demand an apology from Mr. Arthur Poynings for his intrusion, and a retraction of the calumnies he has uttered against my friends."
"You shall have neither one nor the other, sir," Arthur rejoined. "I came here to serve you; and as to what I have said of your friends, so far from withdrawing the charges, I reiterate them with greater force than before."
"Well done!" Mark exclaimed — "that be plain speakin', at all events."
"No more words need be wasted," Gage cried. "Our present appeal must be made to our swords."
"To it, then," Sir Randal cried; "I am impatient to be at him. I would give a hundred pounds for your chance."
"You should not have it for two hundred," Gage replied, with a laugh. "But we must proceed like men of honour. Lord Melton, will you do me the favour to act as second to Mr. Arthur Poynings?"
Willingly," his lordship replied, "on the understanding that if no one else manages to slit his weasand, I may have that pleasure myself."
Upon this he moved round to Arthur, and bowing to the young man, who ceremoniously returned the salutation, proffered his services as second, which were of course accepted. With some difficulty, Mark Rougham was induced to stand aside, and as he quitted his post he said to Gage, — "He wished his honour and Master Arthur could shake hands, and agree, and leave him to fight it out wi' the rest of 'em." [Chapter XI, "In which Sir Randal proves himself as expert at sword-play as at cards," pp. 82-83]
A Note on Phiz's Last Commissions for Ainsworth
First published in monthly serial in Bentley's Miscellany in nineteen parts from January 1855 through January 1857, The Spendthrift, featuring just eight illustrations by Phiz (Hablot Knight Browne), appeared in volume form in December 1856. This was one of three contemporary books for which Phiz received a commission in 1857, the others being Augustus Mayhew's Paved with Gold, Charles Dickens's Little Dorrit, Theodore Hook's Precepts and Practice — "as well as illustrations for re-editions of the work of Fielding and and Smollett" (Lester, p. 161), namely Henry Fielding's Amelia, Joseph Andrews, and Tom Jones, and Tobias Smollett's Humphry Clinker, Peregrine Pickle, and Roderick Random. However, Phiz was to illustrate only two further Ainsworth novels, Mervyn Clitheroe (continuing into 1858) and Ovingdean Grange (1860). Phiz has based the illustration which eventually served as the frontispiece for the volume edition of The Spendthrift: A Tale on an incident in the fourth instalment (April 1855).
Whereas Phiz executed the programs of illustration for Mervyn Clitheroe(1851-52; 1858) and A Tale of Two Cities (1859) in his old, caricatural style, albeit somewhat modified in deference to the new taste in realism, but subsequently seems to have abandoned this style in the wood-engravings for The Spendthrift (1857-58) and Ovingdean Grange (1860). Moreover, although he uses the strategy of the dark plate extensively in the steel-engravings for Mervyn Clitheroe and occasionally (as in The Mail, June 1859) in A Tale of Two Cities, he has not attempted this method of steel-engraving for the programs using wood-engravings. As John Buchanan-Brown notes, in his wood-engravings from the mid-1850s onwards, Phiz "was never at home with the technique of woodcutting" (citing Edgar Browne, p. 26) because he did not have recourse to cross-hatching and providing subtle background details and tended to increase the use of white space as he emphasized the thin lines in his drawing. These tendencies are quite pronounced in the Routledge cheap editions of Ovingdean Grange and The Spendthrift.
Commentary: Duelling
In his lengthy catalogue of historical novels Ainsworth never flinched from the opportunity for depicting a duel; indeed, the Victorian reading public had long associated Ainsworth's novels with such affairs of honour, a prime example being The Duel in Tothill Fields in the July 1842 number of The Miser's Daughter", a Cruikshank illustration that may have served as a model for Phiz thirteen years later, including the positioning of the antagonists and the witnesses, and the artist's use of an architectural backdrop. Ainsworth may well have self-plagiarised from this earlier contest at arms since the protagonist triumphs in the first encounter, only to be bested and wounded in a second encounter shortly afterward. Ainsworth is historically accurate in depicting the duel as a contest involving rapiers rather than pistols, and Phiz, like Cruikshank in the 1842 engraving, would certainly have acquiesced since the duel with rapiers makes for a more compact design, with the adversaries close together. According to Robert B. Shoemaker, "The first duel involving pistols in the London area took place in Tothill Fields in 1711 between Colonel Richard Thornhill and Sir Cholmley Deering, but pistols were not commonly used until the early 1760s" (528). Establishing the opening date as 1728 (when Gage's father dies in a hunting accident while the son is still at university), Ainsworth seems to have set the principal action of the novel during the 1740s, some twenty years before pistols would replace rapiers in affairs of honour. The practice of duelling, which the British aristocracy had imported from Italy about 1570, gradually died out in the nineteenth century; the last recorded duel in Great Britain occurred on 19 October 1852, when two French political exiles, Frederic Cournet and Emmanuel Barthélemyon met on Priest Hill, between Englefield Green and Old Windsor. Ainsworth was therefore recording a bygone usage for his readers, who still must have found reading about a duel titillating, even if they tended to disapprove of such affairs as extra-legal. Phiz is obviously enjoying the opportunity to depict a vigorous scene in a costume drama, but also underscores through the ruinous castle in the background how "sword play" is anachronistic in the modern age, when affairs of honour are better settled in court.
Other Victorian Illustrations of Eighteenth-century Duelling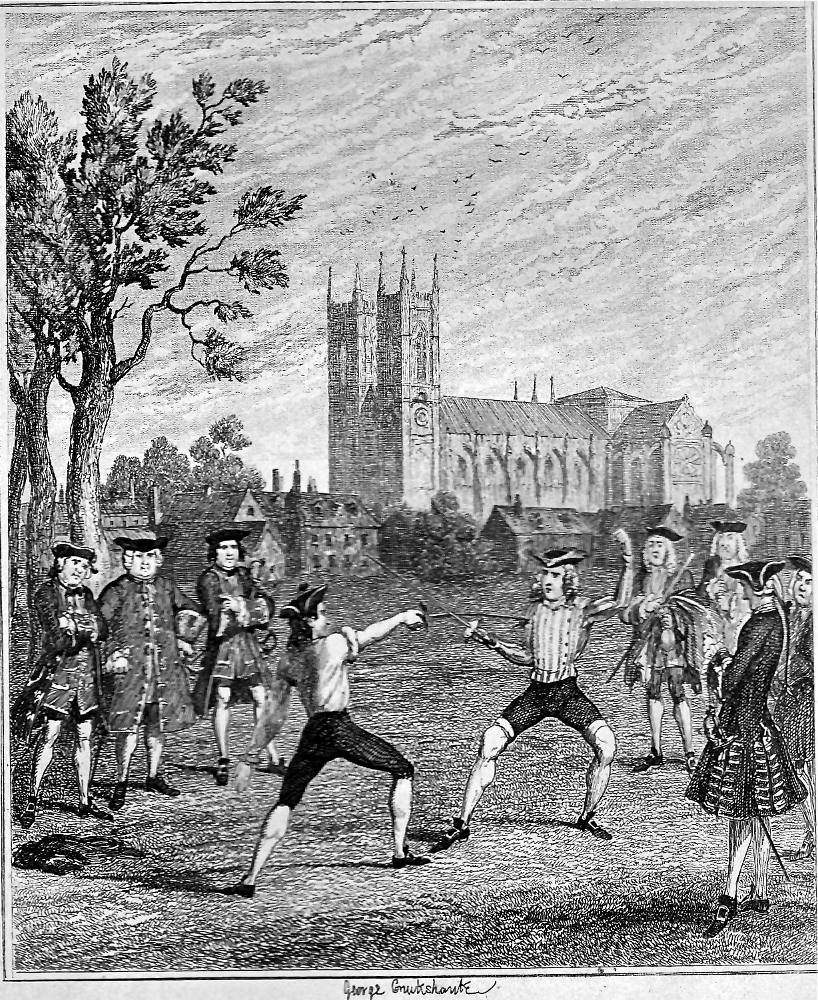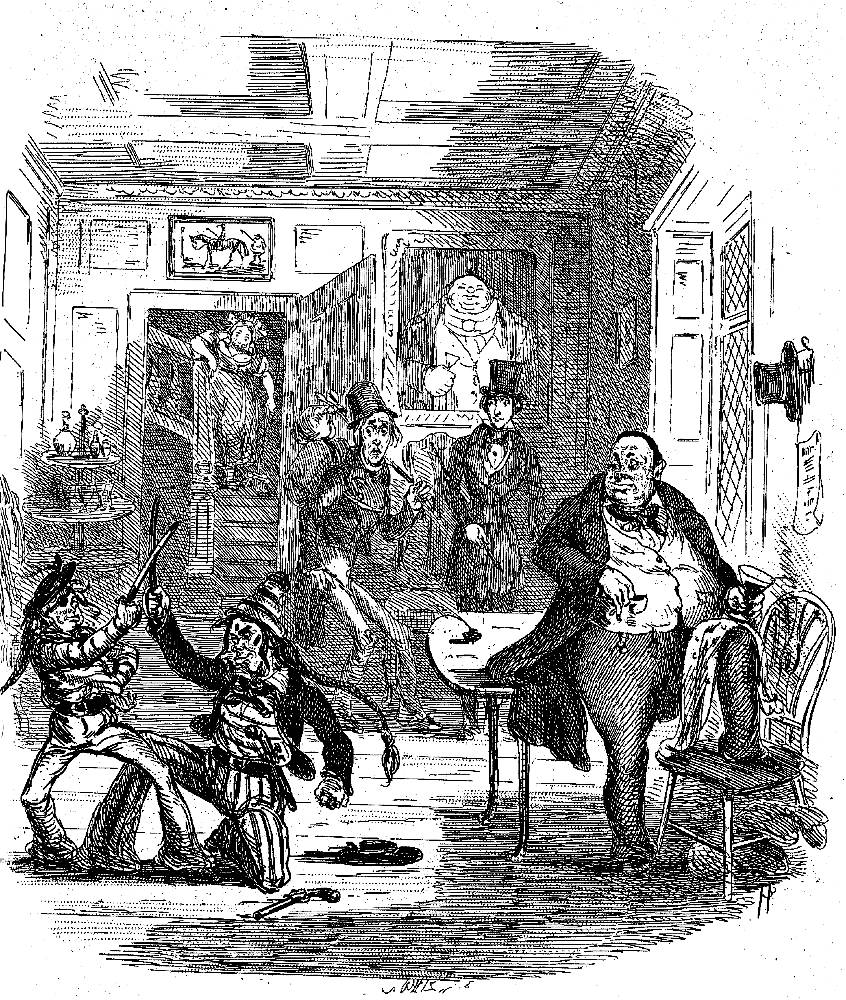 Left: The Cruikshank engraving of the protagonist's giving satisfaction, The Duel in Tothill Fields (1842) in Ainsworth's The Miser's Daughter (July 1842) . Right: Phiz's humorous depiction of a stage duel, The Country Manager Rehearses a Combat in Nicholas Nickleby, Chapter 22 (Oct. 1838). [Click on the images to enlarge them.]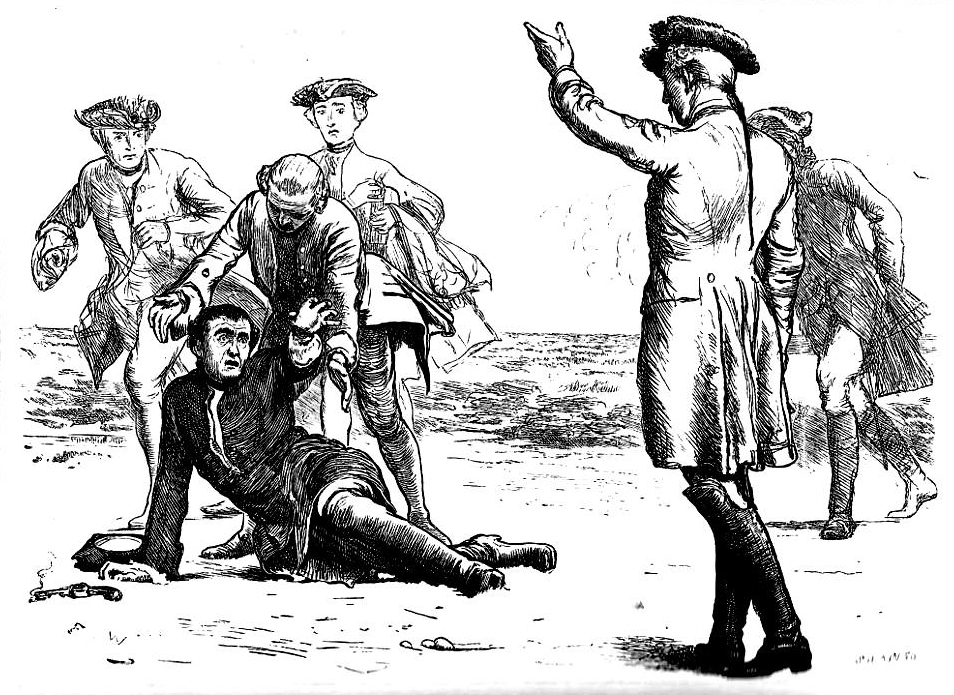 Above: Fred Walker's melodramatic interpretation of the death of a duellist in a combat on the sands near Boulogne-sur-Mer, Last Moments of the Count of Saverne in Denis Duval in the Cornhill Magazine, No. 9 (April 1864).
Working methods
Bibliography
Ainsworth, William Harrison. The Spendthrift: A Tale. (1860). Illustrated by Phiz. Ainsworth's Works. London & New York: George Routledge, 1882.
Lester, Valerie Browne. Phiz: The Man Who Drew Dickens. London: Chatto and Windus, 2004.
Shoemaker, Robert B. "The taming of the duel: masculinity, honour, and ritual violence in London, 1660-1800." The Historical Journal, 45, 3 (2002), pp. 525–545. University of Sheffield. Web. 25 June 2018.
Vann, J. Don. "The Spendthrift in Bentley's Miscellany, January 1855 — January 1857." Victorian Novels in Serial. New York: Modern Language Association, 1985. Page 30.
Worth, George. William Harrison Ainsworth. New York: Twayne, 1972.
---

Victorian
Web

Illustra-
tion

Phiz

W. Harrison
Ainsworth

Next
Last modified 29 September 2019