Introduction
Sidney Paget (1860-1908), the famed illustrator, has created the most recognisable and iconic image of Sherlock Holmes. In 1891, the Strand Magazine began to publish Arthur Conan Doyle's detective stories with illustrations of Sidney Paget and soon they became an inseparable component of the Sherlock Holmes canon. Conan Doyle once admitted that Paget's image of Sherlock Holmes was much better than his own description of the Great Detective.
Life and artistic work
Sidney Paget was born in London on 4 October 1860, as the fifth of nine children (including four sons) of Robert Paget, a vestry clerk of St. James and St. John from 1856 to 1892 in Clerkenwell, and his wife, née Martha Clarke, a music teacher. He received his early education at the Cowper Street School, London, and next he spent two years studying the artistic antiquities at the British Museum before going to the Heatherley School of Fine Art. In 1881, he entered the Royal Academy Schools, following in the footsteps of his two brothers, Henry Marriott (1856-1936) and Walter Stanley (1863-1935), who became noted book and periodical illustrators.
At the Academy Schools, he won second place in the Armitage competition in 1885, and first place and medal in 1886 for his painting "Balaam Blessing the Children of Israel." After finishing the Academy, Paget rented a studio in Holland Park Road, Kensington, and began painting portraits and small pictures without great success. In his short artistic career, he produced numerous portraits in oils (including one of Arthur Conan Doyle) and other paintings, as well as hundreds of drawings for magazines. Paget's illustrations appeared in many periodicals, such as the Strand, the Sphere, the Graphic, the Illustrated London News, the Pall Mall Magazine, and the Pictorial World.
In 1893, Sidney Paget married Edith Hounsfield and had six children with her. Around 1905, he developed a painful chest complaint which may have come from ingesting lead-based paint when sucking his brushes. He died at Margate on 28 January 1908 and was buried at Marylebone cemetery, Finchley.
Sidney Paget as an iconic Sherlock Holmes illustrator
Sidney Paget created more than 350 black-and-white drawings to the Sherlock Holmes stories, which made him internationally famous. His masterly illustrations boosted the great popularity of the Great Detective. However, Paget's image of Sherlock Holmes slightly differs from that described by Arthur Conan Doyle himself.
His very person and appearance were such as to strike the attention of the most casual observer. In height he was rather over six feet, and so excessively lean that he seemed to be considerably taller. His eyes were sharp and piercing, save during those intervals of torpor to which I have alluded; and his thin, hawk-like nose gave his whole expression an air of alertness and decision. His chin, too, had the prominence and squareness which mark the man of determination. His hands were invariably blotted with ink and stained with chemicals, yet he was possessed of extraordinary delicacy of touch, as I frequently had occasion to observe when I watched him manipulating his fragile philosophical instruments. [A Study in Scarlet 8]
Paget's Holmes was more handsome and more elegant than Conan Doyle had actually intended. It is believed that Sidney Paget based Holmes's appearance on that of his younger brother, Walter, who was also an illustrator. However, his elder brother Henry, quoted in the 1912 Oxford Dictionary of National Biography, strongly denied this supposition saying that "the assertion that the artist's brother Walter, or any other person, served as model for the portrait of Sherlock Holmes is incorrect." Nevertheless, Sidney Paget's Holmes, it seems, bears a striking resemblance to the young Walter Paget.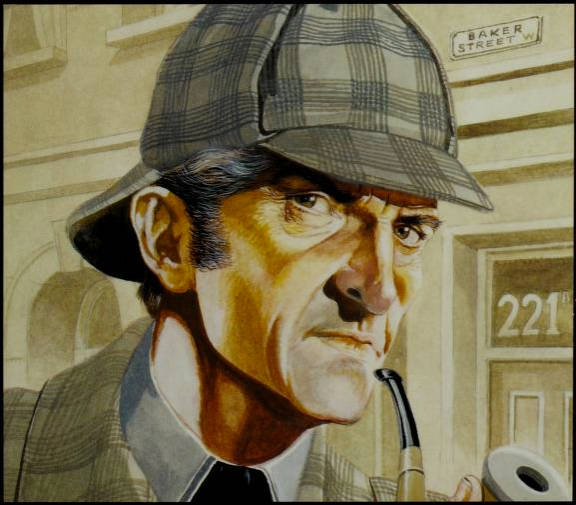 Holmes in the famous hat that Paget added. This image comes from the cover of the The Original Illustrated Sherlock Holmes — a reprint of the Strand Magazine pages.
Sidney Paget added a few features to Sherlock Holmes's image that made him an iconic figure in popular culture. He depicted Holmes in a deerstalker for "The Adventure of Silver Blaze," which is regarded as one the finest illustrations of the Sherlock Holmes canon. As a matter of fact, Holmes is never described by Arthur Conan Doyle as wearing a deerstalker, a type of a close-fitting cap with a visor in front and back and earflaps usually tied at the crown. The cap was originally worn in rural areas, especially by hunters. In fact, in "The Adventure of Silver Blaze," Sherlock Holmes wears "his ear-flapped travelling cap," and in "The Boscombe Valley Mystery," he wears a "close-fitting cloth cap," but not a deerstalker. Holmes was a crime hunter, so the deerstalker cap might have a symbolic meaning. Paget also drew Holmes wearing an Inverness cape, which was a kind of a popular weatherproof sleeveless overcoat. Altogether, the famous deductive method, a deerstalker cap and an Inverness cape have become Holmes's unforgettable trademark.
Conclusion
Sidney Paget remained until his untimely death the chief illustrator of the Sherlock Holmes stories. He established the iconic image of Holmes, which was imitated by later illustrators. In gratitude for his contribution to the immortal fame of the Master Detective, Arthur Conan Doyle gave him a wedding gift – a silver cigarette case with an inscription "From Sherlock Holmes, 1893."
Most of Sidney Paget's original drawings have perished. Only a few dozen illustrations are known to be in private and institutional collections. In 2004, the famous original illustration of Holmes and Moriarty in mortal combat at the edge of the Reichenbach Falls was auctioned by Southeby's in New York for $220,000.
References
Brake, Laurel, eds. Marysa Demoo. Dictionary of Nineteenth-century Journalism in Great Britain and Ireland. Gent and London: Academia Press, 2009.
Oxford Dictionary of National Biography. London: Smith, Elder & Co., 1912.
Doyle Arthur Conan. A Study in Scarlet and The Sign of Four. Mineoloa, N.Y.: Dover Publications, Inc., 2012.
___. The New Annotated Sherlock Holmes: The Complete Short Stories: The Adventures of Sherlock Holmes and The Memoirs of Sherlock Holmes. Edited with a foreword and notes by Leslie S. Klinger, introduction by John Le Carré. New York: W.W Norton and Company, 2005.
Doyle, Arthur Conan. The Original Illustrated Sherlock Holmes. "Reproduced from the original publication in The Strand Magazine with the classic illustrations by Sidney Paget." Edison, New Jersey: Castle Books, [after 1954]. Internet Archive version of a copy donated by Friends of the San Francisco Library. Web.
Redmond, Christopher. Sherlock Holmes Handbook. Toronto: Dundurn, 2009.
Online source
"Sidney Paget: Iconic Illustrator of Sherlock Holmes" http://ve.torontopubliclibrary.ca/sidney_paget/newspapers.html
---
Last modified 28 November 2013