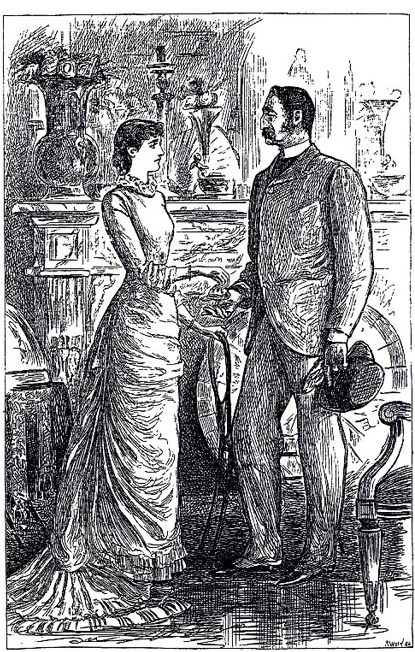 "You Will Please To Deliver Them Into No Hands But His Own"
George Du Maurier
1880
Plate 9 for Thomas Hardy's A Laodicean.
[Paula Entrusts a Purse Intended for Somerset into the Keeping of de Stancy]
[See commentary below]
Scanned image and text by Philip V. Allingham
[You may use this image without prior permission for any scholarly or educational purpose as long as you (1) credit the person who scanned the image and (2) link your document to this URL in a web document or cite the Victorian Web in a print one.]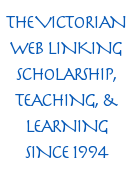 In the ninth plate, Du Maurier synthesizes two moments -- the passage spoken by Paula, and her subsequent action of giving the money for Somerset into de Stancy's charge. In fact, several further lines of dialogue ensue before she ties the bag of gold coins and places it de Stancy's hand. A subtle shade of emotion colours Paula's face for the first time in the narrative-pictorial sequence -- "A curious little blush crept over her sobered face" (Book IV, Ch. 5), which Du Maurier has translated as tender regard for the absent Somerset. As the pillar-like captain receives her instructions, the reader wonders whether the man of honour will be able to resist Dare's entreaties, or whether indeed the money will go into no hands but Somerset's as Paula has commanded. The bag of coins, a possible symbol of perfidy (especially in the iconography of mediaeval and Renaissance art, in which such a bag of coins is often associated with Judas's betrayal of his Master), repeats the photograph of Dare which Somerset had earlier entrusted to de Stancy, but which de Stancy, out of misguided concern for his bastard-son, had failed to deliver.
Prior to arriving at the complementary text, which occurs late in the ninth instalment (Book IV, Ch. 1-5), readers are held in suspense as they eagerly wait to discover the meaning of the exchange, suspecting that money and Dare are involved, and wondering whether de Stancy is knowingly a party to Dare's machinations. In fact, after readers encounter the textual moment depicted, de Stancy rises in their estimation, not merely because he refuses to cooperate with Dare's duplicity, but also because, "Though opposed to the architect as a lover, de Stancy felt for him as a poor devil in need of money." Du Maurier's captain, every inch a military man despite his civilian garb, betrays no such compassion on his stolid features. His figure is relaxed, Paula's tense, as she leans for support on a chair-back. Elegance and opulence surround her fashionably draped, slender figure as her fine arm and delicate hand convey through de Stancy to the absent and apparently impecunious Somerset tokens of her financial power. When George needed mere emotional support, she was evasive and detached in her verbal token, telegrams and letters; now that necessity has compelled him to apply to her for more tangible assistance, ironically (comments Du Maurier) she is all concern; no trace of insouciance crosses her features. Du Maurier has chosen his moment well, for his graphic interpretation of her yields further insight into her ambivalent nature, and (since Du Maurier knows that the reader's apprehension of meaning will depend upon mediating between text and illustration), some suspense even after the moment is realized in both media: will de Stancy be true to his word, no matter what necessitous plea Dare makes?
---

Victorian
Web

A
Laodicean

Illustration

George
Du Maurier

Next
Created 11 May 2001

Last modified 31 December 2019