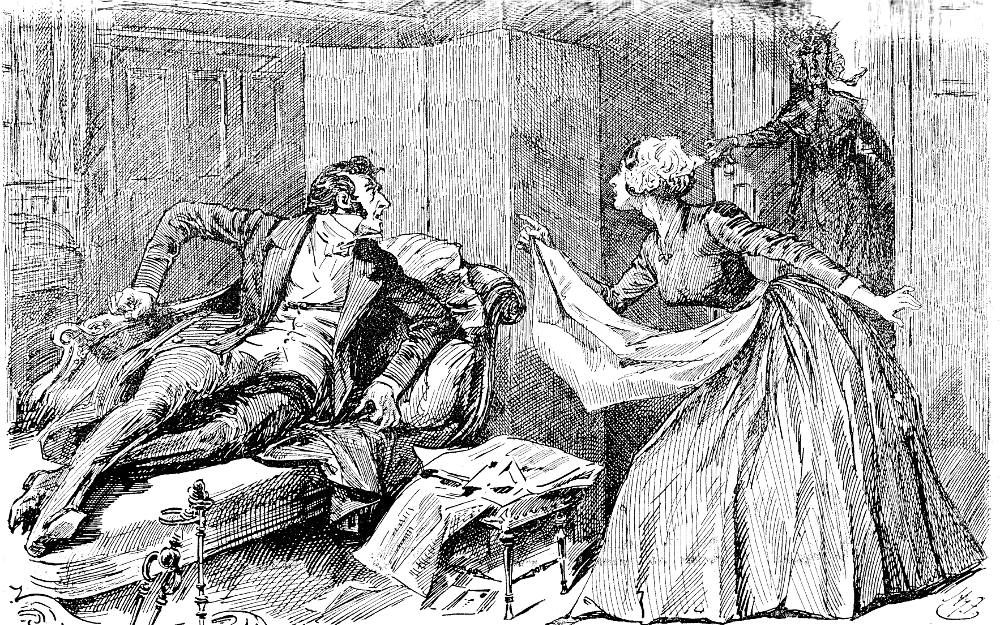 Susan Nipper and Mr. Dombey by Harry Furniss in The Charles Dickens Library Edition (1910) — from Chapter 44, "A Separation," (9.5 x 14.7 cm; 3 ¾ x 5 ¾ inches, framed) occupies its own page, facing IX, 608. Caption: "It's not the first time I have heard it, not by many and many a time you don't know your own daughter, sir, you don't know what you're doing, Sir, I say to some and all," cried Susan Nipper, in a final burst, "that it's a sinful shame!" [Click on the image to enlarge it.]
Passage Illustrated: Susan Nipper assails Mr. Dombey as an uncaring parent
"Is there anybody there?" cried Mr Dombey, calling out. "Where are the men? where are the women? Is there no one there?"
"I left my dear young lady out of bed late last night," said Susan, nothing checked, "and I knew why, for you was ill, sir, and she didn't know how ill and that was enough to make her wretched as I saw it did. I may not be a Peacock; but I have my eyes — and I sat up a little in my own room thinking she might be lonesome and might want me, and I saw her steal downstairs and come to this door as if it was a guilty thing to look at her own Pa, and then steal back again and go into them lonely drawing-rooms, a-crying so, that I could hardly bear to hear it. I can not bear to hear it,' said Susan Nipper, wiping her black eyes, and fixing them undauntingly on Mr. Dombey's infuriated face. "It's not the first time I have heard it, not by many and many a time you don't know your own daughter, sir, you don't know what you're doing, Sir, I say to some and all," cried Susan Nipper, in a final burst, "that it's a sinful shame!"
"Why, hoity toity!" cried the voice of Mrs. Pipchin, as the black bombazeen garments of that fair Peruvian Miner swept into the room. "What's this, indeed?" [Chapter 44, "A Separation," 630]
Pertinent Scenes from Other Illustrated Editions (1847 and 1877)
Left: Phiz's depiction of Florence's having to part with her maid after Susan has confronted the father about his lack of empathy: Florence parts from a Very Old Friend (November 1847). Right: Fred Barnard's Household Edition version of the same same: "Do you call it managing this establishment, madam," said Mr. Dombey, "to leave a person like this at liberty to come and talk to me?" (1877).
Related Material, including Other Illustrated Editions of
Dombey and Son
Scanned image and text by Philip V. Allingham. [You may use this image without prior permission for any scholarly or educational purpose as long as you (1) credit the person who scanned the image and (2) link your document to this URL in a web document or cite the Victorian Web in a print one.]
yd's five Player's Cigarette Cards for
, 1910
Bibliography
Dickens, Charles. Dealings with the Firm of Dombey and Son: Wholesale, Retail, and for Exportation. Illustrated by Harry Furniss. The Charles Dickens Library Edition. London: Educational Book Company, 1910. IX.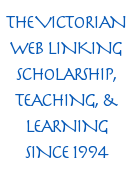 _______. Dombey and Son. Illustrated by Hablot Knight Browne (Phiz). 8 coloured plates. London and Edinburgh: Caxton and Ballantyne, Hanson, 1910.
_______. Dombey and Son. Illustrated by Fred Barnard [62 composite wood-block engravings]. The Works of Charles Dickens. The Household Edition. 22 vols. London: Chapman and Hall, 1877. XV.
---
Created 7 January 2021