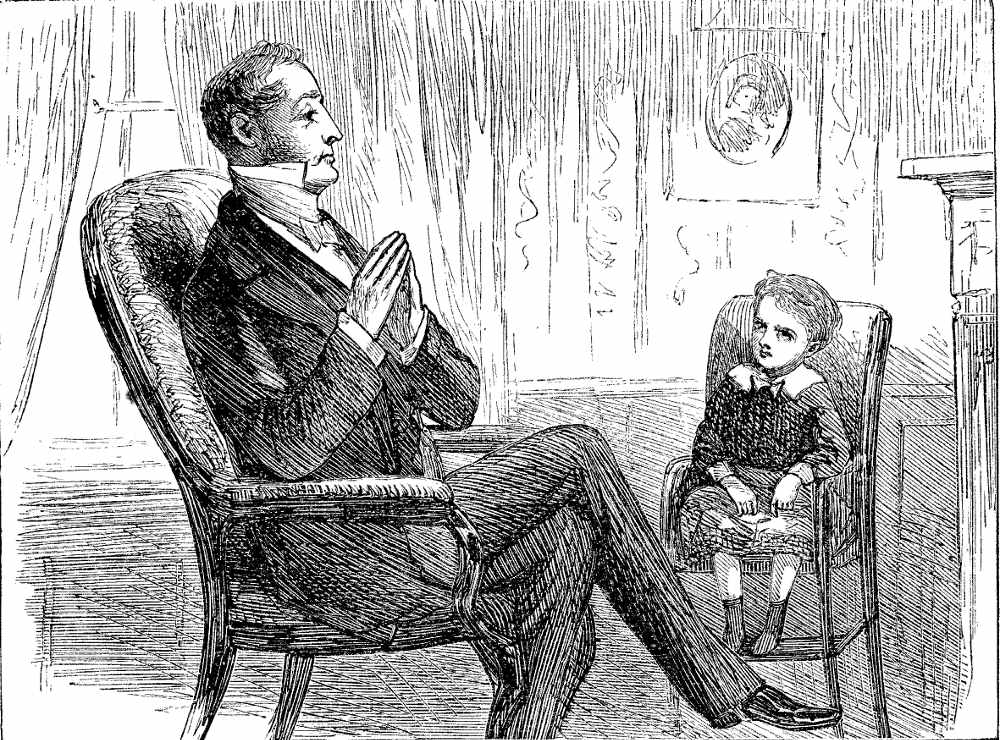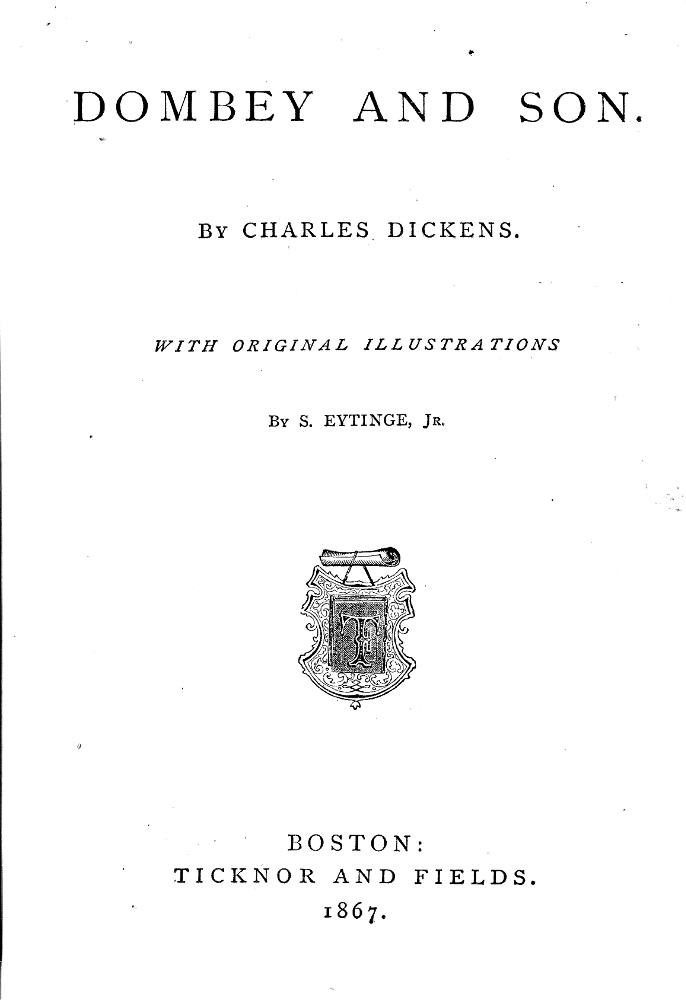 Frontispiece and title-page — the first full-page illustration of the merchant-prince and his sickly but precocious son serves as the frontispiece for the third volume of the fourteen-volume Diamond Edition, illustrated by Sol Eytinge, Jr. (10 cm high by 7.5 cm wide). The Diamond Edition of Dickens's Dombey and Son (Boston: Ticknor and Fields, 1867). [Click on the images to enlarge them.]
Commentary
The Diamond Edition, containing all of Dickens's major writings to date, was probably intended to promote Dickens's long-awaited Second American Reading Tour, which James T. Fields in 1866 had ardently persuaded Dickens to undertake, despite the stresses that such a far-flung tour would entail for the 54-year-old author. The Diamond was the first uniform edition containing all of Dickens's principal works, including everything from his earliest Sketches to his most recent journalism, collected as The Uncommercial Traveller, and missing only certain collaborative frame-tales for Christmas and The Mystery of Edwin Drood in a highly compact form suitable for reading on American railway and steamboat journeys.
The order of the volumes is not entirely chronological as, for instance, in order to bring the ninth volume up to standard length, the Boston publishers have added the short novel Hard Times (1854), placing this well outside the somewhat chronological order of the first eight volumes. That The Life and Adventures of Martin Chuzzlewit (1843-44) should appear as the second volume when logically it should be the seventh, immediately behind Barnaby Rudge (1841), suggests that Ticknor & Fields were taking into account the relative popularity of Dickens's works in America of the mid-1860s. That the publishers elected to make Barnaby Rudge the third volume in the lengthy series seems to suggest that this, Dickens's seventh full-length novel, was among his most popular in America, although, unlike Martin Chuzzlewit, it features neither American scenes nor American characters.
Related Material, including Other Illustrated Editions of
Dombey and Son
Scanned image and text by Philip V. Allingham. [You may use this image without prior permission for any scholarly or educational purpose as long as you (1) credit the person who scanned the image and (2) link your document to this URL.]
Bibliography
Dickens, Charles. Dombey and Son. With 16 Illustrations by Sol Eytinge, Jr., and A. V. S. Anthony (engraver). The Diamond Edition. 14 vols. Boston: Ticknor & Fields, 1867. III.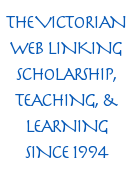 Kitton, Frederic George. Dickens and His Illustrators: Cruikshank, Seymour, Buss, "Phiz," Cattermole, Leech, Doyle, Stanfield, Maclise, Tenniel, Frank Stone, Landseer, Palmer, Topham, Marcus Stone, and Luke Fildes. Amsterdam: S. Emmering, 1972. Re-print of the London 1899 edition.
Schlicke, Paul, ed. The Oxford Reader's Companion to Dickens. Oxford and New York: Oxford U. P., 1999.
Winter, William. "Charles Dickens" and "Sol Eytinge." Old Friends: Being Literary Recollections of Other Days. New York: Moffat, Yard, & Co., 1909. Pp. 181-202, 317-319.
---
Created 11 February 2021