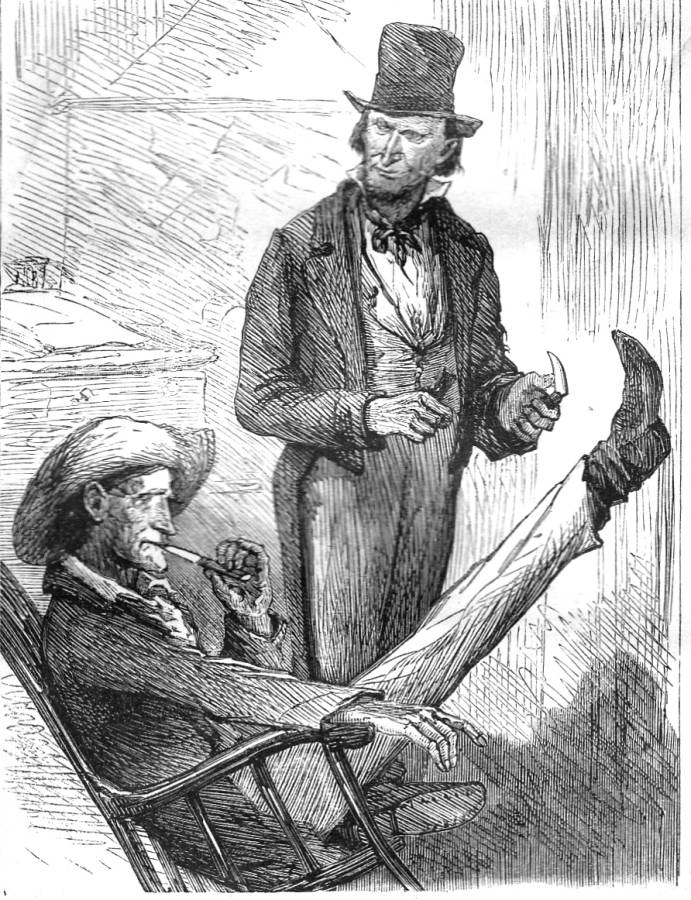 General Choke and Mr. Scadder
Sol Eytinge, Jr.
1867
[Click on image to enlarge it.]
Having made their way west by train and arrived at the Mississippi, Mark and Martin make the acquaintance of General Cyrus Choke (the man in the tailcoat standing in the Eytinge illustration), who conducts them to the offices of the Valley of Eden Land Corporation [Continued below].
Image scan and text by Philip V. Allingham; formatting by George P. Landow.
You may use this image without prior permission for any scholarly or educational purpose as long as you (1) credit the person who scanned the image and (2) link your document to this URL in a web document or cite the Victorian Web in a print one.
On the wall of land-agent's ramshackle hut Eytinge has positioned a map, but has not indicated its precise nature (as opposed to Phiz's having included a detailed town plan in "The Thriving City of Eden as it Appeared on Paper" for the September 1843, ninth monthly part). However, to add to the verisimilitude of the illustration Eytinge has included Scadder's rocking chair and office desk (left). The scene realised occurs just after Mark and Martin, accompanied by Choke, arrive at the office of the Eden Land Corporation on the banks of the Mississippi River:
They, desiring nothing more, agreed; so off they all four started for the office of the Eden Settlement, which was almost within rifle-shot of the National Hotel.
It was a small place — something like a turnpike. But a great deal of land may be got into a dice-box, and why may not a whole territory be bargained for in a shed? It was but a temporary office too; for the Edeners were 'going' to build a superb establishment for the transaction of their business, and had already got so far as to mark out the site. Which is a great way in America. The office-door was wide open, and in the doorway was the agent; no doubt a tremendous fellow to get through his work, for he seemed to have no arrears, but was swinging backwards and forwards in a rocking-chair, with one of his legs planted high up against the door-post, and the other doubled up under him, as if he were hatching his foot.
He was a gaunt man in a huge straw hat, and a coat of green stuff. The weather being hot, he had no cravat, and wore his shirt collar wide open; so that every time he spoke something was seen to twitch and jerk up in his throat, like the little hammers in a harpsichord when the notes are struck. Perhaps it was the Truth feebly endeavouring to leap to his lips. If so, it never reached them.
Two gray eyes lurked deep within this agent's head, but one of them had no sight in it, and stood stock still. With that side of his face he seemed to listen to what the other side was doing. Thus each profile had a distinct expression; and when the movable side was most in action, the rigid one was in its coldest state of watchfulness. It was like turning the man inside out, to pass to that view of his features in his liveliest mood, and see how calculating and intent they were.
Each long black hair upon his head hung down as straight as any plummet line; but rumpled tufts were on the arches of his eyes, as if the crow whose foot was deeply printed in the corners had pecked and torn them in a savage recognition of his kindred nature as a bird of prey.
Such was the man whom they now approached, and whom the General saluted by the name of Scadder.
"Well, Gen'ral," he returned, "and how are you?"
"Ac-tive and spry, sir, in my country's service and the sympathetic cause. Two gentlemen on business, Mr. Scadder."
He shook hands with each of them, — nothing is done in America without shaking hands, — then went on rocking.
"I think I know what bis'ness you have brought these strangers here upon, then, Gen'ral?"
"Well, sir. I expect you may."
"You air a tongue-y person, Gen'ral. For you talk too much, and that's fact," said Scadder. "You speak a-larming well in public, but you didn't ought to go ahead so fast in private. Now!"
"If I can realise your meaning, ride me on a rail!" returned the General, after pausing for consideration.
"You know we didn't wish to sell the lots off right away to any loafer as might bid," said Scadder; "but had con-cluded to reserve 'em for Aristocrats of Natur'. Yes!"
"And they are here, sir!" cried the General with warmth. "They are here, sir!"
"If they air here," returned the agent, in reproachful accents, "that's enough. But you didn't ought to have your dander ris with me, Gen'ral."
The General whispered Martin that Scadder was the honestest fellow in the world, and that he wouldn't have given him offence designedly, for ten thousand dollars.
"I do my duty; and I raise the dander of my feller critters, as I wish to serve," said Scadder in a low voice, looking down the road and rocking still. "They rile up rough, along of my objecting to their selling Eden off too cheap. That's human natur'! Well!" [Chapter 21; Diamond Edition, p. 204-5]
Exactly as in the passage realised, Zaphaniah Scadder, the Eden Company's land-agent, is "swinging backwards and forwards in a rocking-chair, with one of his legs planted high up against the door-post, and the other doubled up under him, as if he were hatching his foot" (204) — Eytinge has even depicted the nails in the sole of his boot, but has not attempted to depict the two very different sides of his face; rather, Eytinge shows him in profile. Despite his casual posture and less formal attire, Scadder is as much a humbug as Colonel Cyrus Coke, U. S. — or Seth Pecksniff, for that matter. The General, like Pecksniff, is merely an American swindler of a higher order: better dressed, more subtle, and more verbally persuasive. Their underlying similarity Eytinge emphasises by equipping each of them with a similar case-knife. In Phiz's celebrated engraving "The Thriving City of Eden as it Appeared on Paper" (September 1843, Chapter 21) the land-agent circumspectly studies the two English "greenhorns," who in turn study the town site plans for Eden with considerable enthusiasm. Sol Eytinge, on the other hand, studies the swindlers without reference to their latest victims. In both illustrations, Scadder wears a less formal straw hat, doubtless to combat the heat. The wonderful textures of their faces and clothing in Eytinge's woodcut make the pair seem outgrowths of nature and extensions of the natural environment, although General Choke's visage more nearly approaches that of a bird of prey than the phlegmatic Scadder's. To Eytinge, they are typical carpet-baggers, and hardly "two of the most remarkable men in the country," or "Aristocrats of Natur'." A telling detail which Eytinge has invented is Scadder's picking his teeth with his case-knife
Bibliography
Bentley, Nicolas, Michael Slater, and Nina Burgis. The Dickens Index. Oxford and New York: Oxford U. P., 1988.
Davis, Paul. Charles Dickens A to Z: The Essential Reference to His Life and Work. New York: Checkmark and Facts On File, 1998.
Dickens, Charles. The Life and Adventures of Martin Chuzzlewit. Il. Sol Eytinge, Jr. Engraved by A. V. S. Anthony. The Diamond Edition. Boston: Ticknor and Fields, 1867.
Dickens, Charles. The Life and Adventures of Martin Chuzzlewit (1842-43). Il. Hablot Knight Browne ("Phiz"). London: Chapman and Hall, 1843.
Hammerton, J. A. The Dickens Picture-Book. London: Educational Book Co., 1910.
Kitton, Frederic G. Dickens and His Illustrators. 1899. Rpt. Honolulu: U. Press of the Pacific, 2004.
Lester, Valerie Browne. Phiz: The Man Who Drew Dickens. London: Chatto and Windus, 2004.
Steig, Michael. Dickens and Phiz. Bloomington & London: Indiana U. P., 1978.
---

Victorian
Web

Illus-
tration

Martin
Chuzzlewit

Sol
Eytinge

Next
Last modified 4 May 2012