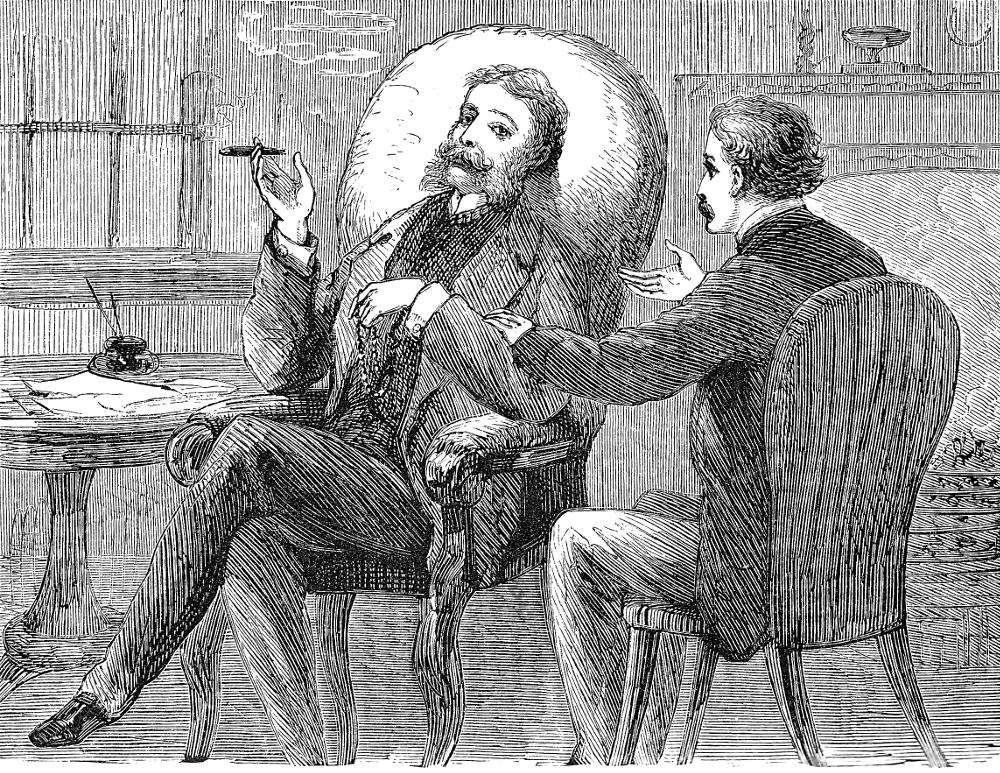 "Wrayburn and Lightwood" by Sol Eytinge, Jr. 1870. 7.5 cm high by 10 cm wide. The fourteenth plate for the Illustrated Household Edition of Dickens's Our Mutual Friend (facing p. 336). Scanned image and text by Philip V. Allingham. [You may use this image without prior permission for any scholarly or educational purpose as long as you (1) credit the person who scanned the image and (2) link your document to this URL in a web document or cite the Victorian Web in a print one.]
Mortimer Lightwood, solicitor, takes an avuncular interest in his friend and colleague, the younger barrister Eugene Wrayburn, even though the latter has barely had a case since being called to the bar. Here the two, meeting at their club, discuss Eugene's romantic interest in Gaffer Hexam's daughter, Lizzie. Eytinge, who imagines the older attorney as mustachioed and larger in frame than the younger, establishes Lightwood as a kind of father-confessor to his younger protegé by their juxtapositions and gestures . In fact, the two are much closer in age than Eytinge implies in this illustration. Lightwood's sole business is his administration of the Harmon interitance; hence, his fascination with John Harmon's murder, a topic which he discussed at some length at the opening of the novel, at the Veneerings' dinner. Although Eytinge depicts Lightwood as the more fashionably dressed, Wrayburn is in fact a dandy. The pair of lawyers conspire to bribe "Mr. Dolls," Jenny Wren's alcoholic father, in order to ascertain Lizzie's whereabouts. Already the indolent attorney, a reiteration perhaps of Sydney Carton in A Tale of Two Cities (1859), seems animated by his interest in something or somebody other than himself.
Eytinge illustrated the following passage set in the attorneys' chambers in Book Three, "A Long Lane," chapter 10, "Scouts Out":
Lightwood was at home when he got to the Chambers, and had dined alone there. Eugene drew a chair to the fire by which he was having his wine and reading the evening paper, and brought a glass, and filled it for good fellowship's sake.
'My dear Mortimer, you are the express picture of contented industry, reposing (on credit) after the virtuous labours of the day.'
'My dear Eugene, you are the express picture of discontented idleness not reposing at all. Where have you been?'
'I have been,' replied Wrayburn, 'about town, I have turned up at the present juncture, with the intention of consulting my intelligent and respected solicitor on the position of my affairs.'
'Your highly intelligent and respected solicitor is of opinion that your affairs are in a bad way, Eugene.'
'Though whether,' said Eugene thoughtfully, 'that can be intelligently said, now, of the affairs of a client who has nothing to lose and who cannot possibly be made to pay, may be open to question.'
'You have fallen into the hands of the Jews, Eugene.'
'My dear boy,' returned the debtor, very composedly taking up his glass, 'having previously fallen into the hands of some of the Christians, I can bear it with philosophy.'
'I have had an interview to-day,Eugene, with a Jew, who seems determined to press us hard. Quite a Shylock, and quite a Patriarch. A picturesque grey-headed and grey-bearded old Jew, in a shovel-hat and gaberdine.'
'Not,' said Eugene, pausing in setting down his glass, 'surely not my worthy friend Mr. Aaron?'
'. . . I hope it may not be my worthy friend Mr. Aron, for, to tell you the truth, Mortimer, I doubt he may have a pre-possession against me. I strongly suspect him of having had a hand in spiriting away Lizzie.'
'Everything,' returned Lightwood impatiently, 'seems, by a fatality, to bring us round to Lizzie. "About town" meant about Lizzie, just now, Eugene.'
'My solicitor, do you know,' observed Eugene, turning round to the furniture, 'is a man of infinite discernment.' [334-335]
Bibliography
Dickens, Charles. Our Mutual Friend, il. Sol Eytinge, Junior. The Illustrated Household Edition. Boston: Lee & Shepard; New York: Charles T. Dillingham, 1870.
---
Last modified 23 November 2010