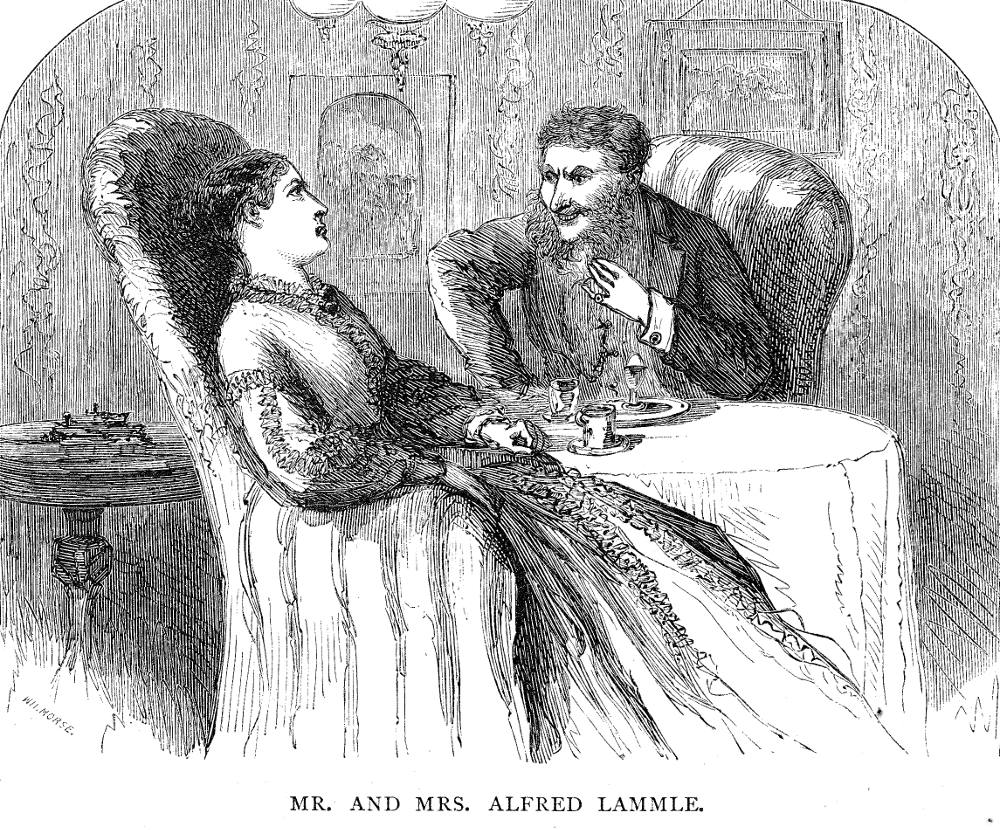 "Mr. and Mrs. Alfred Lammle" by Sol Eytinge, Jr. 1870. 7.5 cm high by 10.1 cm wide. The tenth plate for the Illustrated Household Edition of Dickens's Our Mutual Friend (facing p. 168). Scanned image and text by Philip V. Allingham. [You may use these images without prior permission for any scholarly or educational purpose as long as you (1) credit the photographer and (2) link your document to this URL in a web document or cite the Victorian Web in a print one.]
Dickens's connecting Alfred Lammle and "Fascination" Fledgeby with the fashionable bachelor apartments at The Albany, near Piccadilly Circus, to the modern reader would suggest an intertextual relationship between Oscar Wilde's society farce The Importance of Being Earnest (1895) and Dickens's assault on the mercenary nature of mid-Victorian society in Our Mutual Friend (1864-65). However, Alfred and Sophronia Lammle, depicted by Marcus Stone on the beach on their Isle of Wight honeymoon in "The Happy Pair" (sixth illustration) and by Sol Eytinge in his tenth illustration set some time later in the couple's Piccadilly parlour, are far less benign than the somewhat vacuous ingenues of Wilde's play thirty years later. By the time that we encounter them in the Ticknor Fields 1870 edition of the novel, we are quite aware of the Lammles' plans to gull the discontented heiress and daughter of a marine insurance broker, Georgiana Podsnap, in a scheme involving marrying her to the ridiculous Fledgeby.
Despite the respectability of their Sackville Street parlour and correctness of their breakfast table, through their poses and sharp features illustrator Sol Eytinge reveals the couple's predatory natures. As Dickens's text implies, the pair are hatching a scheme intent upon separating the wealthy Podsnap from some of his fortune by arranging a surreptitious marriage for his daughter. In the illustration for Book 2, Chapter 4, "Cupid Prompted," Eytinge implies the Lammles' being experts at sharp practice by the pointed nose (Dickens specifies he has "too much nose"), sharp fingers, and demonic grin of the husband, and the casual self-assurance of the wife, who even in private demonstrates the acute fashion sense that has rendered her a "consciously 'splendid woman'" (159) in the Veneerings' social set. Eytinge suggests their Piccadilly townhouse's "handsome fittings and furnishings" (160) through the tables and paintings, although he does not include the mirror which reflects Sophronia Lammle's smirking expression as she deprecates Miss Podsnap just after the young lady has left the room.
Nothing more was said between the happy pair. Perhaps conspirators who have once established an understanding, may not be over fond of repeating the terms and objects of their conspiracy. [162]
Eytinge's depiction of the fortune-hunting Lammles is consistent with Marcus Stone's sixth illustration, "The Happy Pair," which shows the couple on their honeymoon at Shanklin on the Isle of Wight, then a fashionable vacation-spot. In Stone's earlier illustration for Book 1, Chapter 10, "A Marriage Contract," however, the husband and wife are in a "moody humour" (76) because each has married the other for "property" and has just realized that the partner has none. At the conclusion of that scene the pair resolve to work together to deceive others in "Any scheme that will bring [them] money." In Stone's illustration, ironically entitled "The Happy Pair," only Alfred Lammle is of a decidedly Mephistophelean character. In contrast, Eytinge more accurately conveys a sense of their devious natures through delineating their facial features while Stone concentrates on showing their listless postures, fashionable dress, and Alfred Lammle's luxuriant, "gingerous whiskers" (76).
Since Eytinge specifically sets his scene at a breakfast table, he is probably conflating the earlier scene, immediately after Miss Podsnap's departure, with a later scene, in which Alfred is "Fascination" Fledgeby's guest at breakfast in his chambers at The Albany in Book 2, Chapter 5, "Mercury Prompting." The scene between the mercenary husband and wife in the previous chapter is probably later in the day; Dickens mentions no meal in connection with the visitor just departed, and the fashionable Lammles would not likely have such a visitor at breakfast. The artist, however, may have conceived of Lammles as sychophantal lay-abouts, and chosen to imply that they rise late as Alfred is an "adventurer" of no particular occupation. At Fledgeby's,
Alfred Lammle pushed his plate away (no great sacrifice under the circumstances of there being so little in it), thrust his hands in his pockets, leaned back in his chair, and contemplated Fledgeby in silence. [168-169]
Lammle in Eytinge's plate is animatedly conversing with his wife, seated in throne-like repose; she regards him and his marital scheme somewhat skeptically, if one may judge by her expression. We can well imagine Alfred's saying that Fledgeby in matters involving money is "a match for the Devil," and Sophronia's riposting, "Is he a match for you?" (167).
Bibliography
Dickens, Charles. Our Mutual Friend, il. Sol Eytinge, Junior. The Illustrated Household Edition. Boston: Lee & Shepard; New York: Charles T. Dillingham, 1870.
Dickens, Charles. Our Mutual Friend, il. Marcus Stone. Intro. Andrew Sanders. Everyman's Library. London and Toronto: Alfred A. Knopf, 1994.
---
Last modified 3 November 2010