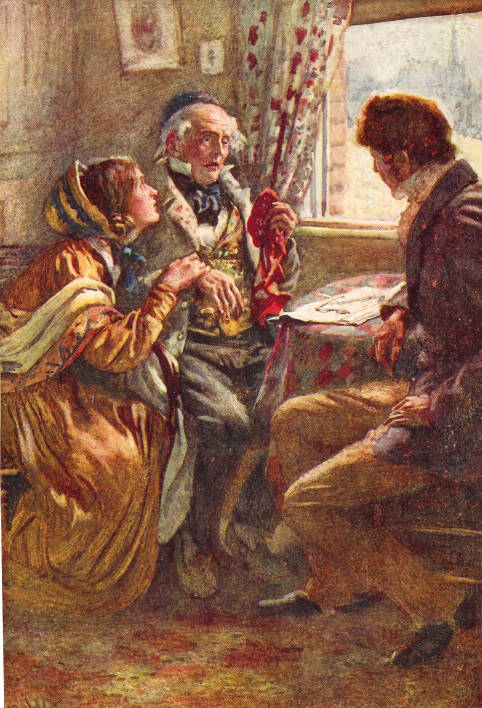 Arthur Clenham Tells the Good News
Harold Copping
1924
Colour lithography
18.1 cm. by 12.1 cm.
From Character Sketches from Dickens, facing p. 110 (illustrating Little Dorrit)
Scanned image, caption, and commentary below by Philip V. Allingham
[You may use this image without prior permission for any scholarly or educational purpose as long as you (1) credit the person who scanned the image and (2) link your document to this URL in a web document or cite the Victorian Web in a print one. ]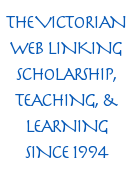 Although Copping seems to have revelled in realizing scenes from Dickens's earlier, comic novels, he contented himself with but a single scene from Dickens's eleventh full-length novel, Little Dorrit (serialized monthly from December 1855 through June 1857) one of longer, darker stories of Dickens's maturity. The novel, which takes place at the end of the mid-Victorian period, exemplifies the novelist's late works filled with his social and political preoccupations. Copping, an early modern illustrator, might have chosen, as Dickens did, to expose hypocrisy and sham, depicting in a series of plates a post-lapsarian world of parasites and prisons. He elected instead to depict just one scene, the climactic moment of the first movement of the story in which the imprisoned debtor, John Dorrit, receives from the attorney Arthur Clennam the startling news of a providential inheritance (instalment 10, September 1856). This dramatic scene, which begins the transformation of Amy Dorrit from poverty-stricken surrogate mother to heiress, occurs at the close of Book One ("Poverty") in chapter 35, "What was behind Mr. Pancks on Little Dorrit's Hand." At the unexpected good news, John Dorrit just shakes in shock while Litle Dorrit's initial response is to faint. In Copping's picture, however, Amy comforts her father, the only character among the trio whose face Copping completely reveals.
Copping follows the text, depicting John Dorrit in his grey gown andblack skull cap exactly like old Martin's in Browne's climactic scene of judgment upon the duplicitous Seth Pecksniff in Martin Chuzzlewit. Amy's father has already placed his glasses upon the table by the window. "He looked steadfastly at Clennam, and, so looking at him, seemed to change into a very old haggard man." Amy is deeply concerned about the effect that the news appears to be having on her father, who has known no life but that of the debtors' prison for so many years that the prospect of freedom has paralyzed him.
Bernard W. Matz's comments Copping's illustration for Little Dorrit
In Little Dorrit Dickens again drew upon his own life for incidents and characters in the same way, although not to the same extent that he did in David Copperfield. The scenes in the Marshalsea Prison are the outcome of the days when his father was there, and it may be said old Dorrit has many characteristics of his parent. Flora Finching was drawn from an old friend, and Clennam moulded a good deal upon Dickens himself.
The story was directed against two systems that wanted reforming: the English debtors' prison, and the red-tape system in government offices. The former has disappeared, but the latter we still have with us. The scene is laid in London and on the Continent.
The one incident Mr. Copping illustrates is that when Arthur Clennam calls at the Marshalsea to communicate the good news of Little Dorrit's father's inheritance of a great estate, which would free him and his family from the prison walls, and henceforth live in luxury.
Bibliography
Matz, B. W., and Kate Perugini; illustrated by Harold Copping. Character Sketches from Dickens. London: Raphael Tuck, 1924. Copy in the Paterson Library, Lakehead University.
---

Victorian
Web

Illus-
tration

Harold
Copping

Next

Charles
Dickens
Last modified 6 March 2009