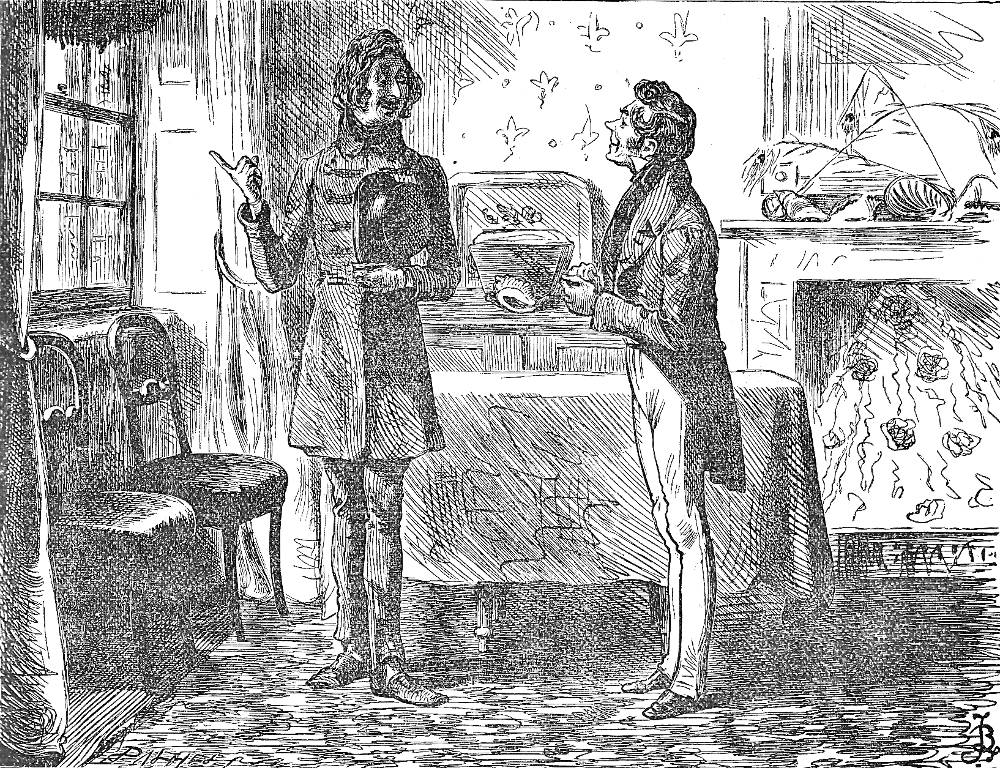 "This pleasantry was received with a general laugh" by Fred Barnard. Household Edition (1878) of Dickens's Christmas Books, p. 28. Engraved by one of the Dalziels, and signed "FB" lower right. [Click on the image to enlarge it.]
Dickens's Christmas Books, A Christmas Carol, "Stave Four: The Last of the Spirits."
Barnard's fourth Christmas Carol Illustration "This pleasantry was received with a general laugh" (p. 28) shows only one of Scrooge's business associates as being grossly overweight.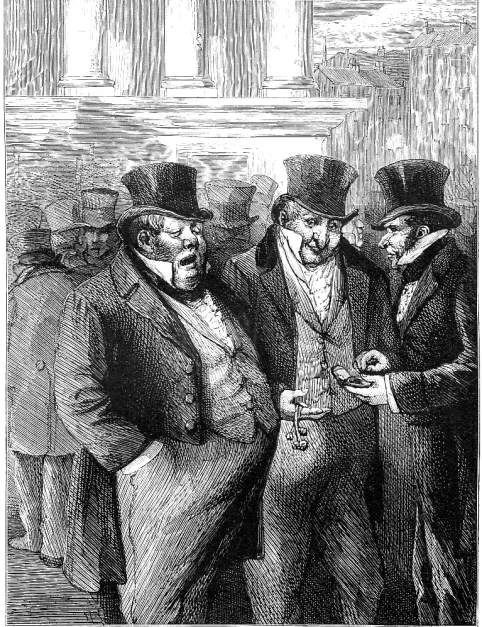 Sol Eytinge, Jr.'s illustration of the scene at the London Exchange: "On 'Change" (1868).
In his original 1843 sequence of eight illustrations, John Leech offers no comparable scene to complement Scrooge's visit to the London Stock Exchange in company with the black-shrouded figure of Christmas Yet to Come; moreover, it is not likely that Fred Barnard would have had Sol Eytinge's "On 'Change" (1868) as a model. The approach of the two Sixties illustrators is quite different. While Eytinge, setting his scene outside the Exchange building, caricatures Scrooge's three fellow capitalists as repulsive, corpulent Daumier-like fashionably-dressed bourgeoisie, yawning as they compare the time told by their watches, Barnard contents himself with a single such figure among a group of five who discuss the fate of one of their number as they debate whether to attend his funeral. The passage which both later illustrators had in mind is this:
They scarcely seemed to enter the city; for the city rather seemed to spring up about them, and encompass them of its own act. But there they were, in the heart of it; on Change, amongst the merchants; who hurried up and down, and chinked the money in their pockets, and conversed in groups, and looked at their watches, and trifled thoughtfully with their great gold seals; and so forth, as Scrooge had seen them often.
The Spirit stopped beside one little knot of business men. Observing that the hand was pointed to them, Scrooge advanced to listen to their talk.
"No," said a great fat man with a monstrous chin," I don't know much about it, either way. I only know he's dead."
"When did he die?" inquired another.
"Last night, I believe."
"Why, what was the matter with him?" asked a third, taking a vast quantity of snuff out of a very large snuff-box. "I thought he'd never die."
"God knows," said the first, with a yawn.
"What has he done with his money?" asked a red-faced gentleman with a pendulous excrescence on the end of his nose, that shook like the gills of a turkey-cock.
"I haven't heard," said the man with the large chin, yawning again. "Left it to his company, perhaps. He hasn't left it to me. That's all I know."
This pleasantry was received with a general laugh.
"It's likely to be a very cheap funeral," said the same speaker; "for upon my life I don't know of anybody to go to it. Suppose we make up a party and volunteer?"
"I don't mind going if a lunch is provided," observed the gentleman with the excrescence on his nose. "But I must be fed, if I make one."
Another laugh.
"Well, I am the most disinterested among you, after all," said the first speaker," for I never wear black gloves, and I never eat lunch. But I'll offer to go, if anybody else will. When I come to think of it, I'm not at all sure that I wasn't his most particular friend; for we used to stop and speak whenever we met. Bye, bye."
Speakers and listeners strolled away, and mixed with other groups. ["Stave Four"; Household Edition, p. 27]
This is the first of two equally detached reactions to the news of Scrooge's death, the second being the meeting of the laundress, the charwoman, and the undertaker's man at Joe's rag-and-bone shop, so vividly depicted in the 1951 film adaptation. To those who occupy either social station Scrooge's passing is coolly regarded as an opportunity for sustenance and profit. Despite their elegant attire and jovial expressions, Barnard's businessmen are merely well-feathered birds of prey, gathering to pick over the carcass in conversation rather than in fact. What Scrooge learns from this scene is the vast difference between being a good businessman and being a fully actualised individual. These men, like Marley, are his doubles: they reflect his attitudes and course in life. Thus, seeing them objectively — as the reader of The Household Edition sees them — contributes to his spiritual and social regeneration. They, like Scrooge, are the complete antithesis of the benevolent capitalist Fezziwig, who is a model of what Scrooge should be to his own clerk. The party thrown by Fezziwig is full of groupings formed by affection and conviviality; food and drink are the natural adjuncts to such a friendly gathering, whereas here they become the sole motivation for attending a gathering of a very different nature, a funeral. Thus, this scene in the Exchange reveals the spiritual poverty of the self-serving capitalist, in contrast to "the wealth, vitality, and warmth of a family" (Patten 179) such as the Cratchits. In the commercial "heart" of the City, where Scrooge has his regular place, he looks in vain for "the shadow of himself" (28), little realising that he himself is the subject of the overheard conversation.
Barnard has inserted a Beadle into the left foreground to suggest the aura of respectability of these "men of business: very wealthy, and of great importance" (28). He is a uniformed officer who maintains order on civic occasions and accompanies aldermen. Since the beadles of London were already becoming anachronistic by the mid-1830s, "their duties being taken over by the new police" (Bentley et al., 16), we must assume that Barnard has added a beadle in cocked-hat, gold-laced great-coat, and ceremonial staff not merely for pictorial interest, but to suggest to the reader of the late 1870s a bygone era, which the stirrup trousers and beaver hats of Scrooge's business associates reinforce. In this world of elegant attire and attractive surfaces the only morality is the dog-eat-dog ethos of capitalism, which Scrooge is about to encounter in a far less attractive guise in the next scene.
Scanned image and text by Philip V. Allingham. Formatting, color correction, and linking by George P. Landow. [You may use these images without prior permission for any scholarly or educational purpose as long as you (1) credit the photographer and (2) link your document to this URL in a web document or cite the Victorian Web in a print one.]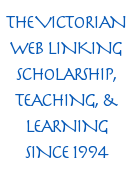 References
Bentley, Nicholas, Michael Slater and Nina Burgis. The Dickens Index Oxford and New York: Oxford U. P., 1990.
Cohen, Jane Rabb. Charles Dickens and His Original Illustrators. Columbus: Ohio State U. P., 1980.
Cook, James. Bibliography of the Writings of Dickens. London: Frank Kerslake, 1879. As given in Publishers' Circular The English Catalogue of Books.
Dickens, Charles. "A Christmas Carol (1843). Il. Hablot Knight Browne. The Christmas Books. Ed. Michael Slater. Harmondsworth, Middlesex: Penguin, 1978. Vol. 1.
Dickens, Charles. Christmas Books. Il. Fred Barnard. The Household Edition. London: Chapman and Hall, 1878.
Hammerton, J. A. The Dickens Picture-Book. London: Educational Book, 1912.
Kitton, Frederic G. Dickens and His Illustrators. 1899. Rpt. Honolulu: U. Press of the Pacific, 2004.
Patten, Robert L. "Dickens Time and Again." Dickens Studies Annual 2 (1972): 163-196.
---
Last modified 18 May 2012