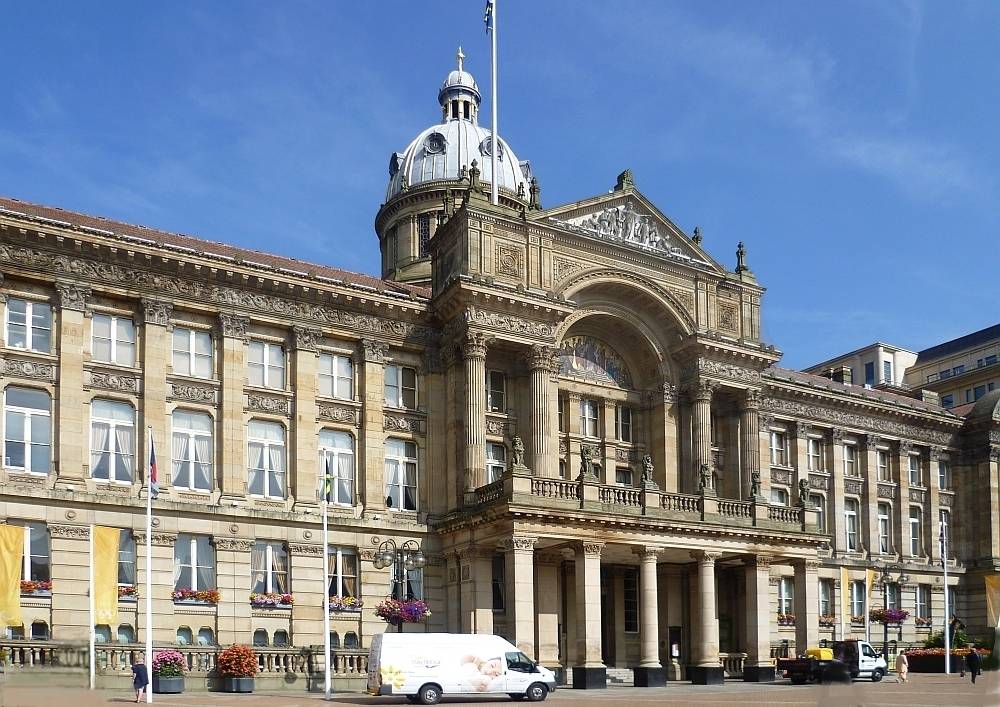 Henry Richard Yeoville Thomason (1826-1901) was born in Edinburgh, but his family's roots were in Birmingham, where his grandfather Sir Edward Thomason was a famous silversmith and manufacturer. The boy was brought up and educated in Birmingham, after which he became a pupil of Charles Edge (c.1801-1867), the leading Birmingham architect of the day. It was Edge who had completed Birmingham's striking neo-classical Town Hall after the original architects, Hanson & Welch, went bankrupt. Thomason set up his own independent practice in c.1853, first at 64 New Street then, in late 1854, close to Edge's office in Bennetts Hill. He was soon managing the architectural department of the borough surveyor's office — "public architecture was well suited to his taste for rather florid Italianate design" ("H. R. Yeoville Thomason"). From 1874 to 1879, he was largely occupied with the design, close supervision and interior decoration of Birmingham's grand civic offices or "Council House," even down to its furniture. He was busy again from 1881 to 1885 with the building's first and most important extension, the Art Gallery and the Gas Department. Ironically, as Trevor Downes says, some of his redevelopment work in the city necessitated the demolition of his grandfather's once thriving manufactory.
Towards the end of his career Thomason became architect to the Birmingham, Dudley & District Banking Co., and so was responsible for a number of banks in the West Midlands area. At some point in the 80s he went into partnership with Cooper Whitwell (c.1834-1915), but their later work, after they moved to Cannon Street, seems to have been undertaken mainly by Whitwell. Thomason died in London in 1901. Thanks to his having had to design his city centre complex "piecemeal," his most important work lacks the kind of coherence that gives (for example) St George's Hall, Liverpool, such an impact. In the words of one critic, this deprived both Thomason himself, and Birmingham, of "a major opportunity for civic grandeur" (Cunningham 85). It might be thought, too, that since he "never upset the establishment, followed fashionable trends and produced few original ideas" (Shackley 138), he never produced any building of more than provincial worth. Certainly, he designed nothing as challenging and iconic as Cuthbert Brodrick's great round Corn Exchange in Leeds. Nevertheless, some of his works, such as the Industrial Gallery in the Museum and Art Gallery, and his Union Club on Colmore Row, are really outstanding, and the very scope and sumptuousness of his civic buildings amply reflect the confidence of England's second most populous city. — Jacqueline Banerjee
Works
Sources
Briggs, Asa. Victorian Cities. Berkely: University of California Press, 1993. Print.
Brodie, Antonia, et al., eds. Directory of British Architects: 1834-1914, Vol. I: 1: A-K. London: RIBA, 2001. Print.
Cunningham, Colin. Victorian and Edwardian Town Halls. London: Routledge, 1981. Print.
Downes, Trevor. Sir Edward Thomason; Silversmith. Inventor and Captain of Industry." Online Encyclopedia of Silver Marks [etc.]." Web. 15 August 2012.
Foster, Andy. Birmingham. Pevsner Architectural Guides. New Haven & London: Yale University Press, 2005. Print.
"H. R. Yeoville Thomason, Architect." The National Archives. Web. 15 August 2012.
Shackley, Barbara. "H. R. Yeoville Thomason." Birmingham's Victorian and Edwardian Architects. Ed. Phillada Ballard. Wetherby: Oblong Creative (for the Victorian Society, Birmingham and West Midlands Group), 2009. 123-152. Print.
---
Last modified 7 September 2012