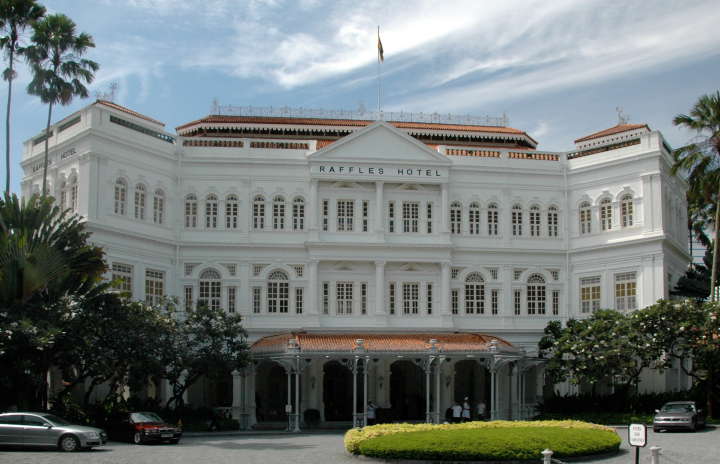 Left: Government Offices (now the Asian Civilizations Museum). Right: Raffles Hotel. [Click on thumbnails for larger images.]
Architecture in colonial Singapore divides largely into four styles: Classical Revival for government buildings, Gothic Revival for churches, the Chinese chophouse, and the bungalow. One expects to find the classical style with its implicit reference to imperial Rome in government offices and buildings associated with the imperial elite, such as Raffles Hotel. Elements of the classical style, particularly pilasters, columns, and capitals, also appear vernacular architecture as well. (I write "vernacular" because, strictly speaking, Singapore has no indigenous architecture, since Sir Stamford Raffles created this thriving entrepot or trans-shipment port from a small island and invited Indians, Chinese, and Malays to settle as a work force for the new settlement, the land for which Raffles purchased from the Sultan of Johor.)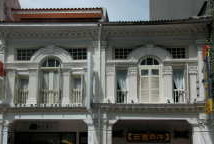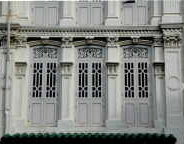 Left two: Two shophouses with pilasters and other classical elements. Right: Corinthian capitals on the Nagore Durga Shrine. [Click on thumbnails for larger images.]
The shophouse, the predominant mercantile building type in colonial days (and by far kind of the largest number of individual buildings), has living quarters above a street-level shop, which is recessed beneath an arcade, thus providing protection from tropical sun and rain. Early shophouses tend to have plain unadorned fronts. These two examples of classical elements on the façades of Chinese Shophouses show how the style associated with the imperial rulers influenced vernacular structures. More surprising, perhaps, classical elements, such as Corinthian capitals also appear on at least one mosque, the Nagore Durga Shrine (1828-1830) on Telok Ayer Street.
Related Material
References
Chua Nemg Huat. The Golden Shoe: Building Singapore's Fionancial District. Singapore: Urban Development Authority, 1989.
de Ledesma, Charles, Mark Lewis, and Pauline Savage. Malaysia, Singapore, and Brunei: the Rough Guide. London, 1997. See also their site.
Lee Kip Lim. The Singapore House, 1849-1942. Singapore: Times, 1988.
---
Last modified 21 October 2008