Unless otherwise indicated, all photos copyright George P. Landow. They may be freely used without prior permission for any scholarly or educational purpose provided the Victorian Web is cited, as may my scans from my personal copy of the Cook and Wedderburn edition, which is out of copyright. Click upon images to produce larger pictures.
There was at this time a movement afoot to provide a museum building and facilities for the teaching of the natural sciences at Oxford, a project headed by Ruskin's friend and one-time fellow undergraduate Henry Acland. A competition for the appointment of an architect was held in October 1854. The winning firm was the Dublin-based company Deane and Woodward, of which Benjamin Woodward was a committed Gothicist profoundly influenced by Ruskin's texts. The remarkable building that came about, standing on Parks Road in Oxford, is eclectic in its parts. The street front is modelled on a Flemish cloth hall, while behind is a quadrangle with a glazed roof supported on cast-iron columns and with sinuous wrought-iron traceries and spandrels above. The internal arcades are supported on colonettes cut from varieties of marble indigenous to the British Isles, and the capitals were carved by the sculptors Woodward had brought with him from Ireland — the brothers John and James O'Shea, of Ballyhooly, and their nephew Edward Whelan. — Christopher Newall, pp. 101-02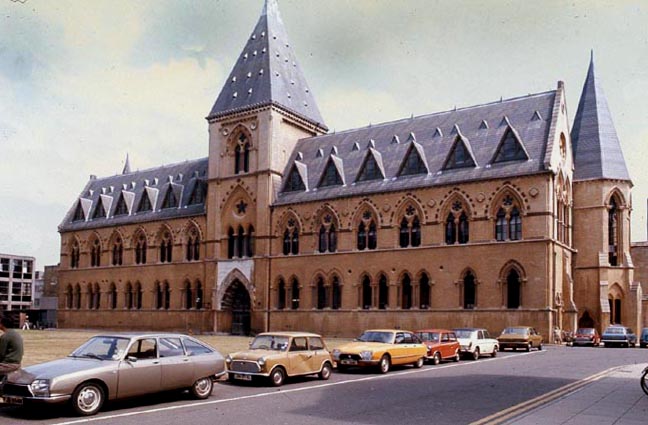 Benjamin Woodward and T. N. Deane. University Museum, Oxford. 1854-60. An example of so-called Ruskinian gothic. Click on image for larger picture. Follow for a contemporary photograph.
As J. Mordaunt Crook points out, "the Oxford Museum became a legend: an attempt by an architect of genius — who died while his genius was unripe — [at] devising 'an iron style'. In 1855 it had been hailed as 'an experiment . . . of the greatest importance to architecture'; an attempt 'to try how Gothic art could deal with those railway materials, iron and glass'" [120].
Unfortunately, as Crook adds, contemporaries generally agreed that Woodward and T. N. Deane, had produced not a successful example of pioneering architecture but "a disappointing pastiche, this time in metal rather than stone. The Building News was correct in its prediction that Skidmore's roof would "not convert the world to a belief in the universal applicability of Crystal Palace architecture Gothicised." "We consider the principle of [Skidmore's iron roofing] to be erroneous," the Ecclesiologist concluded in 1861. After all, this is merely a stone-vaulting system in iron." [120]
Contrast the iron architecture in the photographs at right with the stone capitals in the interior and the stone windows on the exterior. Note the way the architects and stone carvers together produce a kind of Victorian cathedral of knowledge, whose contents and iconography come from the natural sciences — an approach followed quite brilliantly some years later in the interior and exterior of the Natural History Museum, London.
How does the Oxford Museum differ from the use of iron in railway structures, such as London's St. Pancras Railway Station and its attached Great Midland Hotel, or does it differ at all? After all, Scott placed his revival gothic hotel (with bits of Dutch Renaissance thrown in) in front of Barlow's great iron-and-glass train shed, and almost everyone experiences the station by coming in through the gothic entrances. Didn't Woodward and Deane do much the same thing by making the museum vistor pass through gothic stone walls before encountering the iron-and-glass roof? Didn't they simply wrap the iron-and-glass on all four sides, instead of just one, but to the same effect?
Related Materials
References
J. Mordaunt Crook. The Dilemma of Style: Architectural Ideas from the Picturesque to the Post-Modern. Chicago: University of Chicago Press, 1987.
Newall, Christopher (with contributions by Christopher Baker, Conal Shields, and Ian Jeffrey. John Ruskin Artist and Observer. Ottawa: National Gallery of Ottawa; London Paul Holberton Publishing, 2014.
Ruskin, John. Works, "The Library Edition." eds. E. T. Cook and Alexander Wedderburn. 39 vols. London: George Allen, 1903-1912.
---
Last modified 9 February 2007