Except where otherwise noted, photographs and scans by the author. Edited and formatted by Jacqueline Banerjee. [Apart from the architectural drawing, shown here by kind permission of the Surrey History Centre, Woking, you may use these images without prior permission for any scholarly or educational purpose as long as you (1) credit the source and (2) link your document to this URL in a web document or cite it in a print one. Click on the images to enlarge them.]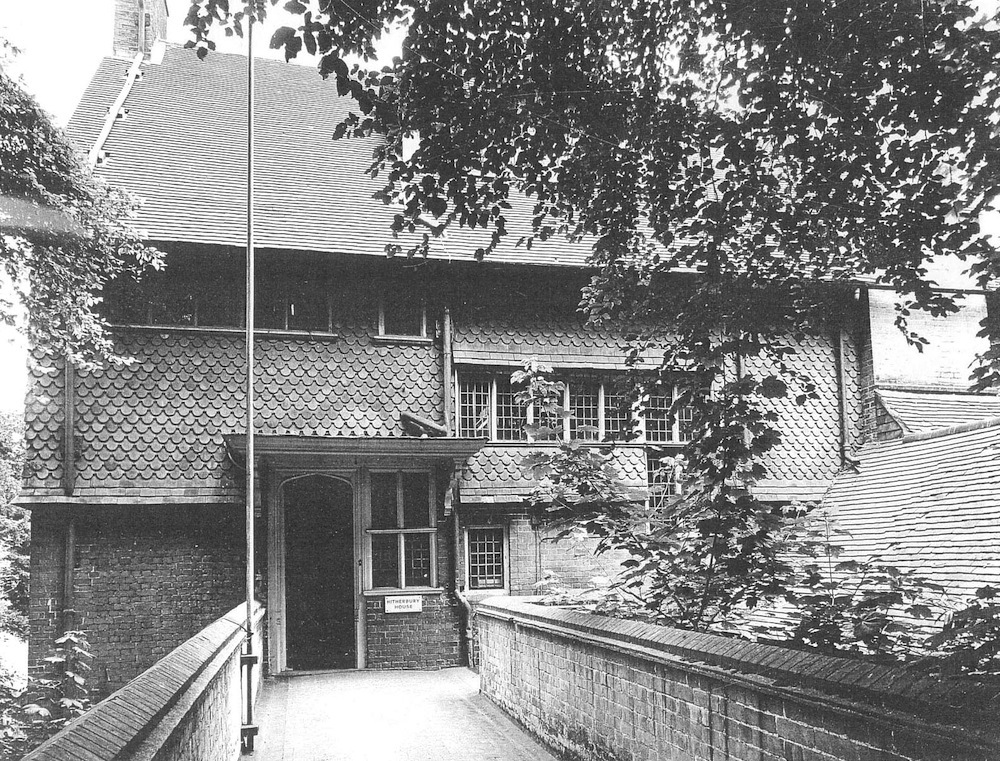 Hitherbury House, front entrance in the 1960s. From a photograph by D. Yelland in 1961.
Hitherbury House. Richard Norman Shaw RA (1831-1912). 1882. Red brick, half-timbering, and terracotta scale tile-hangings. The detached villa with its tall chimneys is listed in the List of Antiquities in the Administrative County Surrey published by Surrey County Council in 1951, which refers to it as it was known at that time, as no. 97 Portsmouth Road (Astra House), No 2392. It looms up from the hillside above Millmead, Guildford, with echoes of a Tudor guildhall. In an open letter, Andrew Saint points out that "Hitherbury belongs to a little group of smaller houses which Shaw appears to have designed around 1880 shortly after his famous work at Bedford Park, when he and his office seem to have been interested in exploring some new models for suburban architecture, so it has interest in a wider context as well as locally." Despite some later and, unfortunately, insensitive changes, it still has some fine features. In particular, Saint picks out its "unusual 'bridge' approach, the use of levels, and the fact that it has good elevations on at least three sides."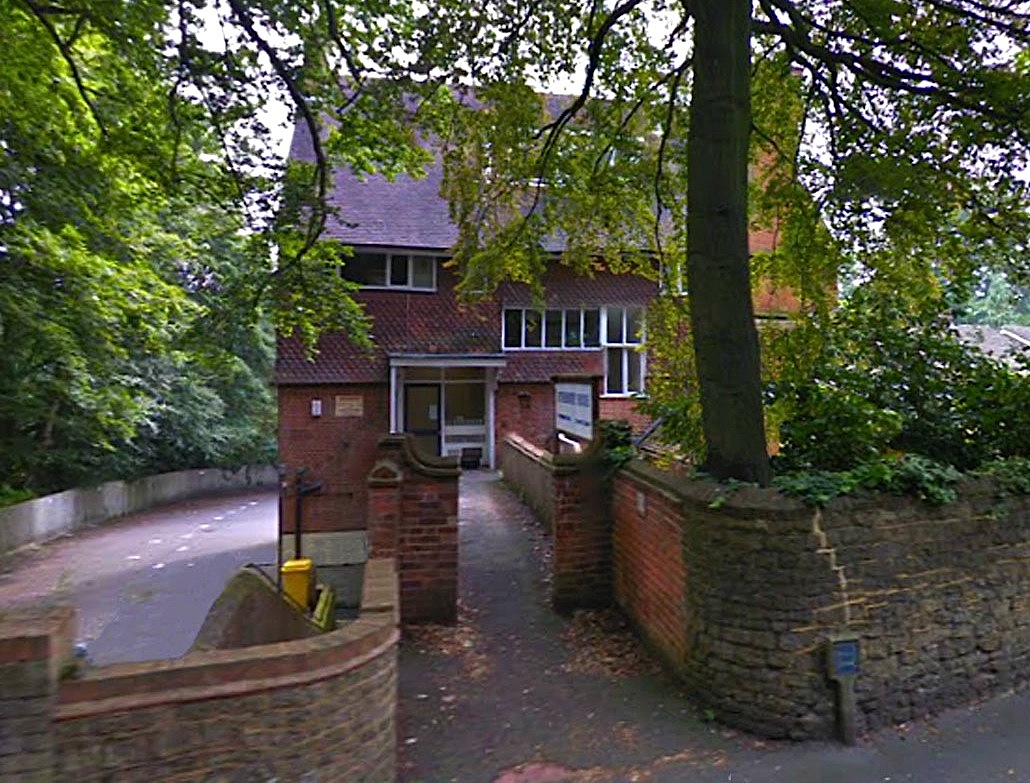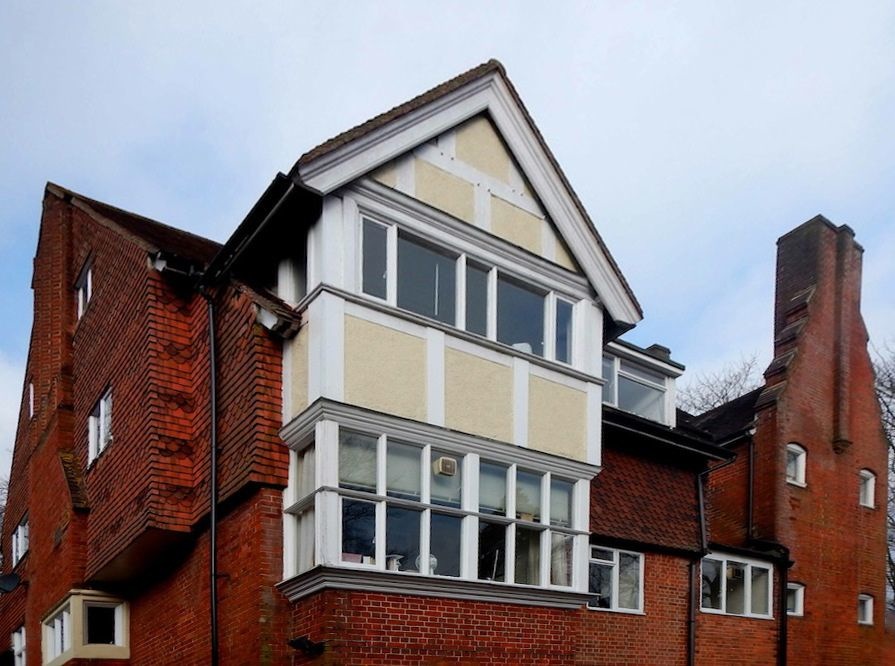 Left: Hitherbury House today, front elevation. Right: Hitherbury House today, side elevation, with bay window, timbering, and stepped chimney stack.
The house was built on its steeply sloping site for the philanthropist Thomas Wilde Powell, who lived nearby at Piccards Rough at St Catherines Guildford which was also designed by Shaw. Powell bought the meadowland either side of his sister's house, known as The Lawn, before it could be sold for speculative building or rows of terrace housing. On this section of the Portsmouth Road, with land reaching down to the River Wey he commissioned Shaw to design the four houses of Rectory Place and this other more experimental house, Hitherbury. The latter house was built for his friend, the London solicitor, Henry Selfe Leonard (see "A Family Memoir," 195).
Shaw's artistic patrons were the audience for Matthew Arnold's Culture and Anarchy. They no longer thought that all was for the best but believed that beauty and discrimination, Arnold's "sweetness and light," might make things better. Hitherbury House was an ideal as much as a fantasy. The tilehanging and half-timbering were for display. The design may seem to have come about by chance, perhaps over time when in fact, as Andrew Saint points out in his book on Shaw, it depends on centrifugal plan with a "cleverly contrived composition" (440): these tilehung gabled elevations brought the old vernacular style full circle in the search for the house beautiful.
Shaw first made his mark in 1870 at the Royal Academy with domestic architecture — to be precise, in drawings for a house called Leyswood at Groomsbridge in Sussex. The impact of Leyswood cannot be underestimated. Far from sitting in the middle of a formal garden, Shaw perched it on the edge of a rocky incline so it appeared to grow out of the earth. Set in the context of its time, as a style for a Victorian country house it looked not to the Classical Italianate or the Gothic Revival. So shocking was it that the Builder magazine stated it was "excessively ugly and indefensible." But Leyswood was much admired in artistic circles. Shaw's Academy exhibits became essential viewing. As possibly with Hitherbury House, he produced dramatic perspectives showing his designs from a bird's eye view or low down to emphasis drama. These images were much published and the style spread.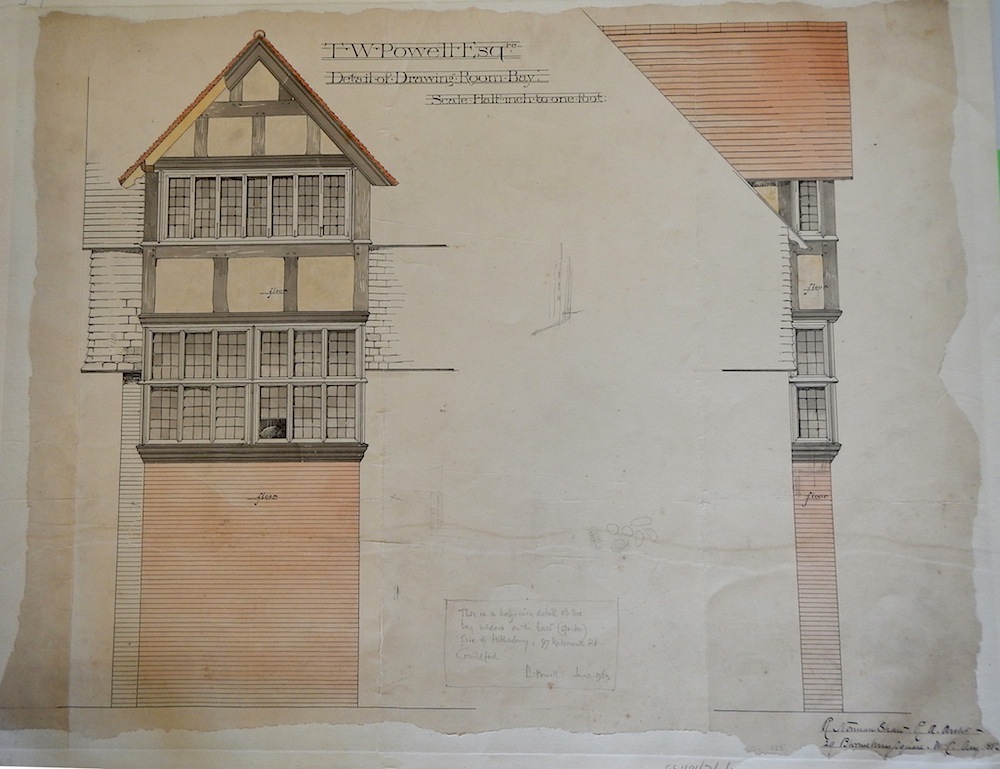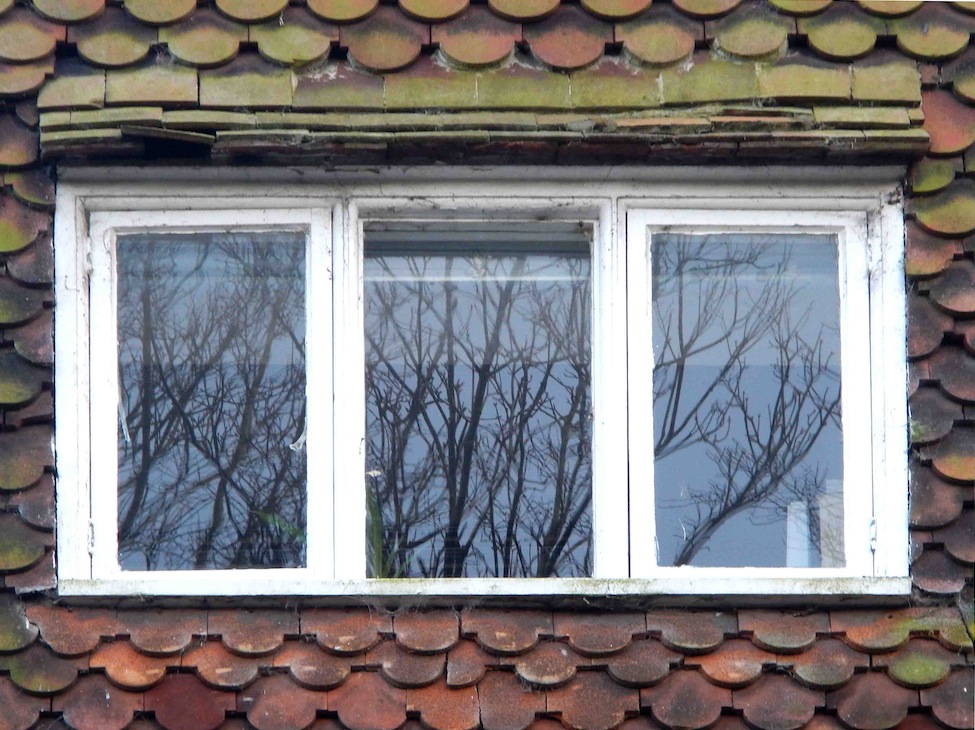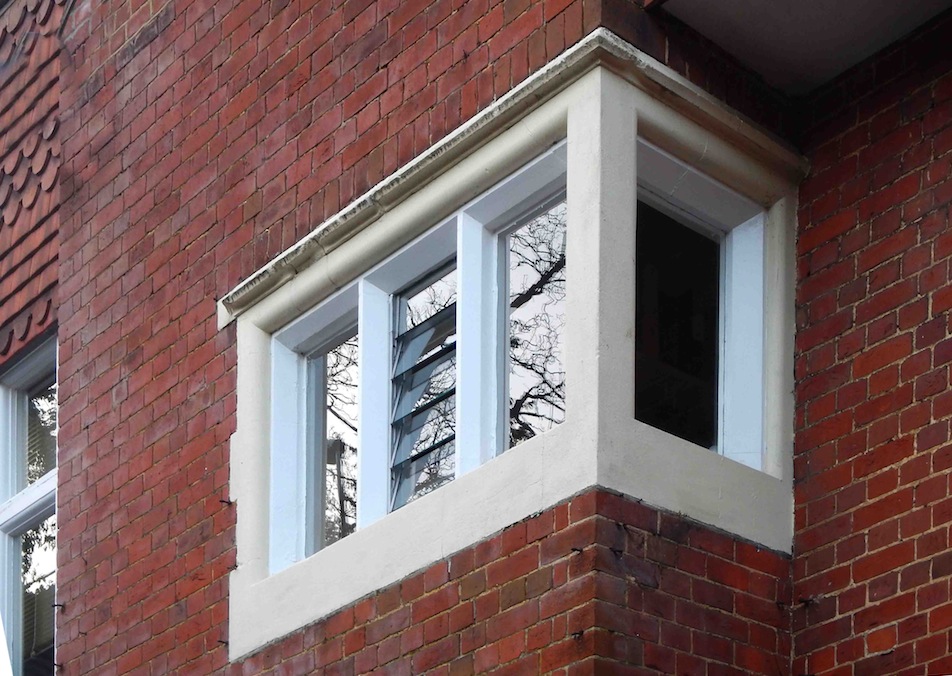 Windows: Left to right: (a) Detail of drawing-room bay: Richard Norman Shaw drawing, dated August 1882. Courtesy of the Surrey History Centre, Woking, which retains reproduction rights. (b) A second storey moulded timber window surrounded with original tile hanging and drip course. The leaded lights have been removed and replaced with plain glass. (c) Corner window set into the southern chimney stack forming an alcove to the Drawing Room.
As with Hitherbury, the homes Shaw was building were not great country estates but those accessible to people using the expanding railway network such as the one that had reached Guildford. He sought to develop plans and layouts of his houses that escaped the hierarchy of the family and guests with the all important "dinner route" as so clearly depicted in such period dramas such as Downton Abbey. Shaw sought comfort away from the high Victorian morality. At Hitherbury House we see clearly how he did away with the need for long corridors by arranging rooms in groups. These rooms lead off his hall, with its echoes of a Great Hall or sitting hall, and the staircase runs up one side, winding up through the structure with large newel posts and turned spindles. Light floods into it through the strip windows. The rooms that lead off the hall are not rectilinear spaces: bays, ingles and chimneypieces make engaging spaces, rooms within rooms, dividing and not separating. The Drawing Room is particularly well sited: it has views looking east over the valley to the other side of Guildford and an area known as Warwicks Bench. If the trees were to be felled in the next-door garden (which once belonged to Hitherbury), one could see the Norman keep of Guildford Castle with its commanding view of the river valley. The view then would have been very Turneresque (indeed, in 1805 Turner painted from a boat moored on the Wey).
Technology and the impact it had on the construction techniques meant that iron girders could be inserted to take the weight of large floor spans. This and the introduction of concrete embraced the new technology whilst maintaining the picturesque outside. Chief clerk in Shaw's office at the time was William Richard Lethaby. His influence can be seen in the carving details to the door casings and brackets that still survive to the entrance porch. Sketches by Lethaby of Guildford Castle are held in the museum archives along with notes relating to other structures in the town such as Trinity Church that show his wider interest in the conservation of historic buildings.
Since Hitherbury House has been designed in the spirit of the local vernacular building traditions rather than the Classical or Gothic architectural styles, it goes beyond the dichotomy of these two styles to pave the way for the Arts and Crafts Movement. It shows that eclecticism can give identity to the fringes of Guildford that lie beyond its town centre. Powell had bought the land between Guildford and St Catherine's to prevent the spread of the carpet of red brick terraces towards his own beloved Piccards Rough, just as he also built new homes such as the Wycliffe Buildings and a working men's club with cottages, known as The Valley, to prevent the poor quality speculative design that so blights and scars our environment. He wanted the area that was originally a meadow to have its character protected and enhanced by respectful development. His feelings were important here. As the most recent retrospective of Norman Shaw's work stated, his work was "not only eminently well-planned for their owners to live and work in but were also buildings to which the man in the street could feel an emotional tie."

View from the Portsmouth Road showing the castle-like causeway entrance..
The house is also of interest because of its owner: Henry Selfe Leonard would soon, in 1900, become Hon Secretary of the Liberal Unionists. Moreover, he was a pioneer in the use of Alpine plants and owned two nurseries in Guildford and Compton, called the Guildford Hardy Plant Nursery. The nursery was involved with The Royal Horticultural Society, and its Great Spring Show held at the Inner Temple between 1888 and 1911. This was to move to Chelsea in 1912, becoming part of the well-known Royal International Flower Show. In 1893, the Guildford Hardy Plant Nursery had staged the first rock garden in the open air; over the next few years his rivals began to follow his example; and the last Temple Show was fairly described as "a huge rock garden." The custom continued at Chelsea, and while formal gardens, tree and shrub gardens, etc., had already been added to the repertoire, rock gardens remained until the 1960s the most prolific form of display garden offered (Elliott 2011).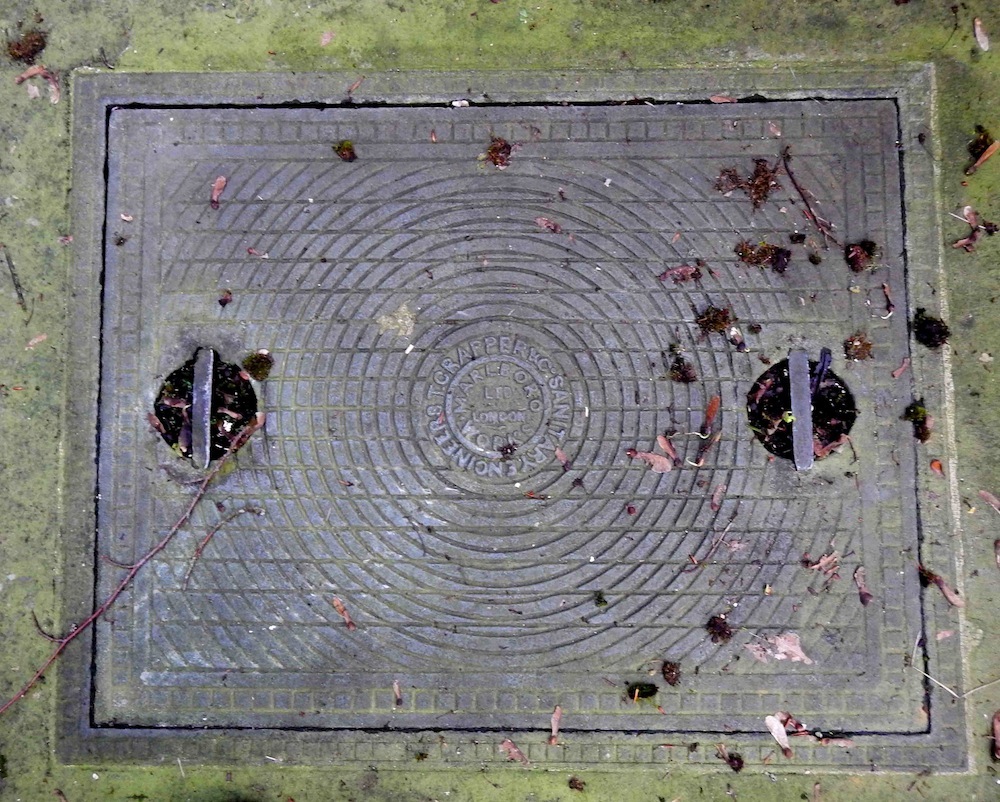 A rare sight: An original "Thomas Crapper & Co. Sanitary Engineers" drain cover in situ.
Sources
"Artful Practice — Architectural Drawings by Richard Norman Shaw R.A." (an exhibition at the Royal Academy in 2008). Focusing on the first half of Shaw's career between 1860 and 1885, this featured works selected from a large group of drawings bequeathed to the Academy by the architect's son, Robert Norman Shaw.
Country Life. 7 September 1901: 297-300.
Elliott, Brent. "Rock Gardens at the Temple and Chelsea Shows." In "The British Rock Garden in the Twentieth Century." Occasional Papers from the RHS Lindley Library: Volume 6 (May 2011): 25-28.
Pevsner, Nikolaus, and Ian Nairn, rev. by Bridget Cherry. The Buildings of England: Surrey. 2nd (rev.) ed. Harmondsworth: Penguin, 1982.
Saint, Andrew. Richard Norman Shaw. New Haven: Yale University Press, 2010.
_____. Open Letter. 14 March 2014 (this now forms part of the planning application objection and is published on the Guildford Borough Council website).
Willis, Rosamund E., and C. W. Powell. A Family Memoir, Being Some Account of T. W. Powell. Published privately, 1903.
---
Last modified 31 March 2014