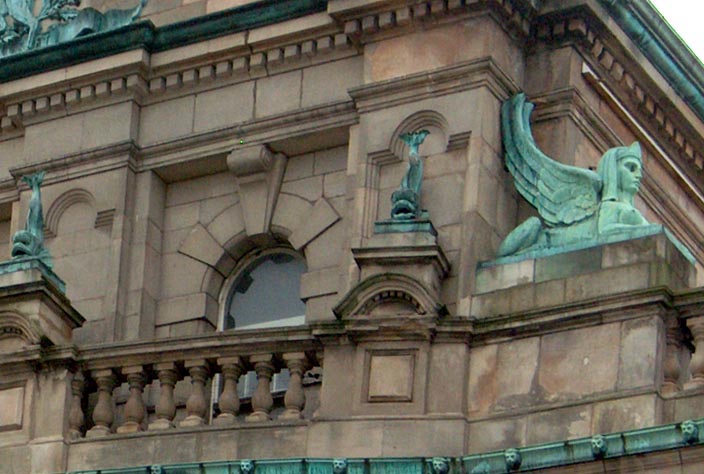 Sphinx and Dolphins, The Scottish Provident Institution by Young and Mackenzie. 1889-1902. Glasgow blonde sandstone. Belfast, Northern Ireland. Text and photograph by Philip V. Allingham 2006. This image may be used without prior permission for any scholarly or educational purpose.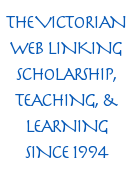 Commentary
Between 1892 and 1902, in other words, during the last decade of Victoria's reign, the Belfast architects Young and Mackenzie designed two enormous officeblocks immediately to the west of Donnegal Place and the new City Hall. The most notable building in the area, the Scottish Provident Institution, a towering Corinthian-inspired block of Giffnoch sandstone, was built in sections from 1899 to 1902:
[It] is faintly reminiscent of the work of Cuthbert Brodrick in Leeds. The central bay is bowed; there are six floors and an an attic storey; heavy engaged Corinthian columns run through the third, fourth and fifth floors. The octagonal domes at the corners, with heavy knops, are not very successful. . . . there are two large sphinxes, four dolphins, sixteen lion's heads, and seventeen queens; four panels showing printing, ropemaking, shipbuilding, and spinning [Belfast's principal industries at the time], all being carried on by amoretti; and at the corner of Wellington Place, a rather nauseating marble group in a pompous aedicule compromising a semi-nude lady doing her hair; a small boy imitating her; and another lady looking on in surprise: apparently modelled on 'the beautiful seal' of the Scottish Provident Institution. All the carvings are by Purdy and Millard. [Brett, pp. 58-59]
[Erl Johnston kindly wrote (January 2009) to let readers of the Victorian Web know that although Brett believed the building had been constructed from Giffnock sandstone, "it is now understood that the building is constructed from Glasgow Blonde sandstone. See the following link."]
References
Brett, Charles Edward Bainbridge. Buildings of Belfast, 1700-1914. London: Weidenfeld & Nicolson, [c1967].
---
Last modified 10 September 2006