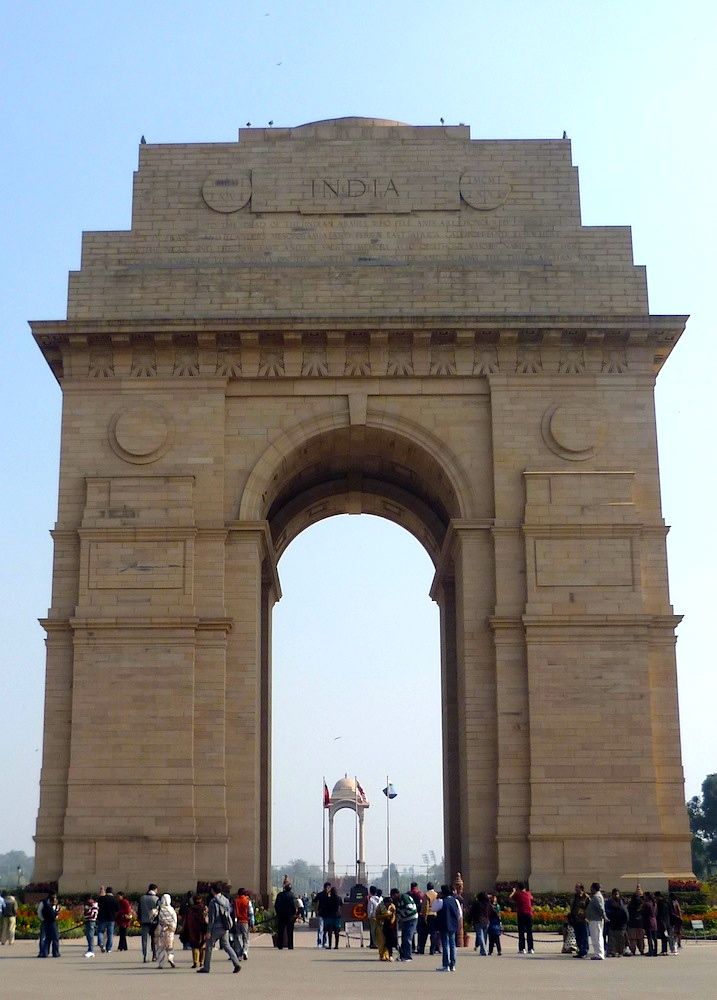 All-India War Memorial Arch (India Gate)
Completed in 1931
Rajpath, New Delhi
Photographs and text by Jacqueline Banerjee. [You may use these images without prior permission for any scholarly or educational purpose as long as you (1) credit the photographer and (2) link your document to this URL or cite it in a text document. Click on the images to enlarge them, and mouse over the text for links.]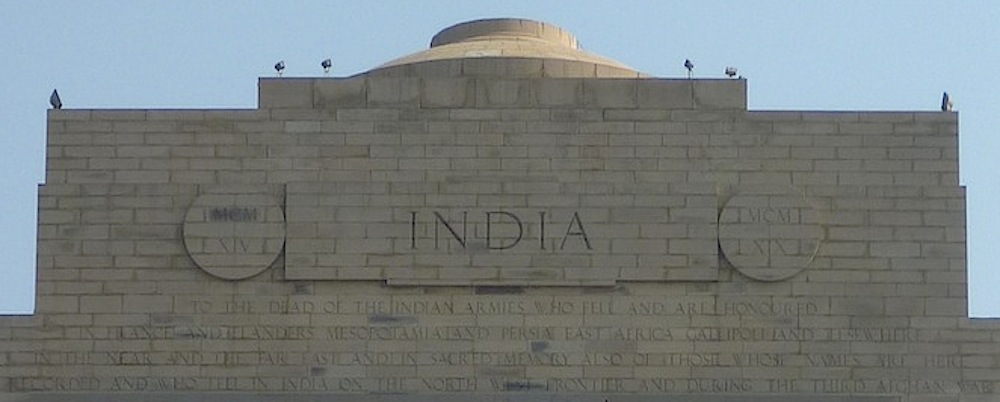 The inscription at the top of the arch, below the two dates (1914 and 1919 in Roman numbers), reads:"TO THE DEAD OF THE ARMIES WHO FELL AND ARE HONOURED / IN FRANCE AND FLANDERS MESOPOTAMIA AND PERSIA EAST AFRICA GALLIPOLI AND ELSEWHERE / IN THE NEAR AND FAR EAST AND IN SACRED MEMORY ALSO OF THOSE WHOSE NAMES ARE HERE/ RECORDED AND WHO FELL IN INDIA OR THE NORTH-WEST FRONTIER AND DURING THE THIRD AFGHAN WAR." The bowl at the top is for the perpetual flame, which only burns on special occasions now.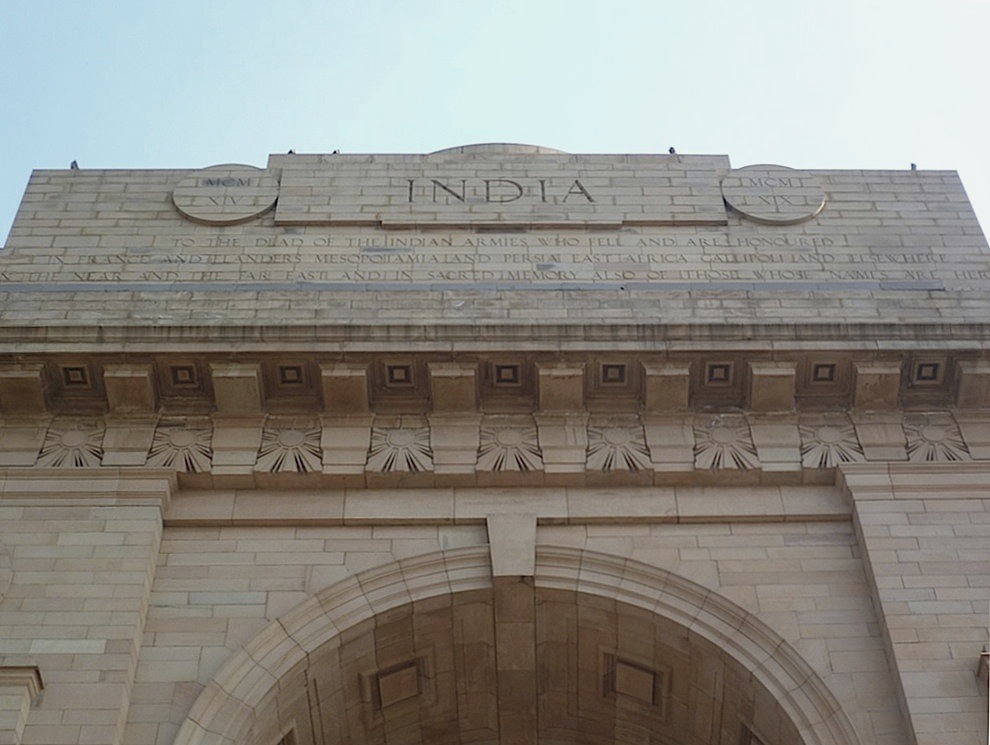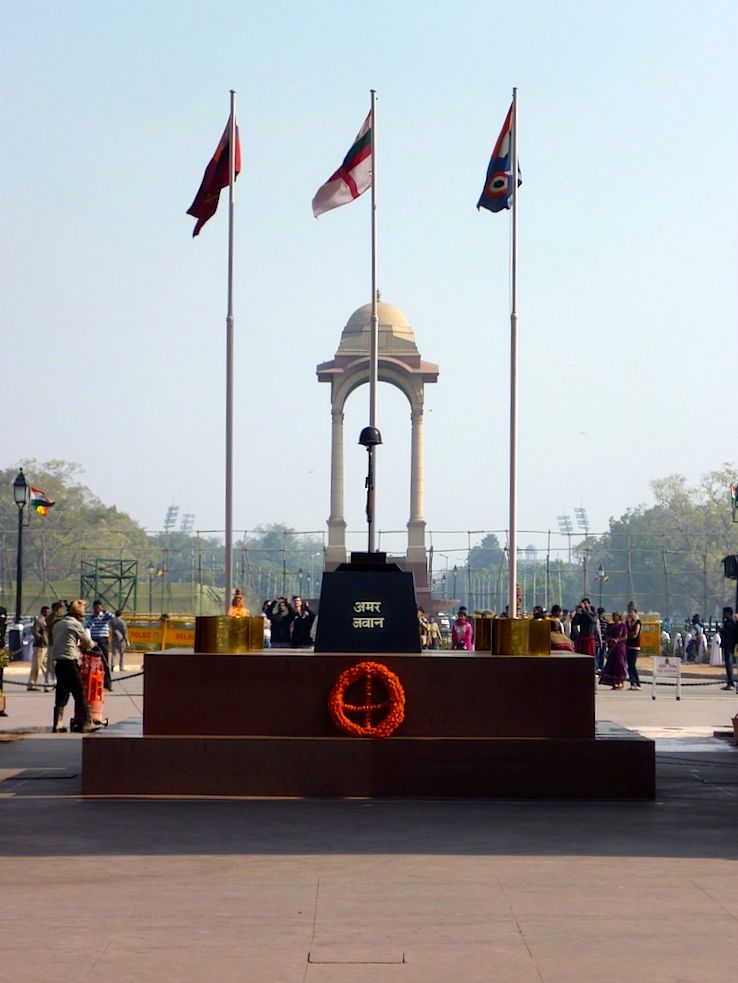 Left: View showing the details at the top of the arch. Right: The "immortal Warrior" cenotaph, with the canopy for the king's statue beyond it.
The tall canopy or chattri seen through the arch used to protect the statue of George V, and accentuate its height. Along with other such relics of the Raj, the statue has since been removed to Coronation Park, to the north of Old Delhi. The obvious choice for a replacement statue was Mahatma Gandhi, but the setting is preposterously grandiose for his unpretentious figure, so it still stands empty. Between the arch and the canopy is a later addition to the area, a black marble cenotaph on a platform, dedicated to the "Immortal Warrior," with a (truly) perpetual flame. Coming between the arch and the empty canopy, this commemorates the dead of the Indo-Pakistani conflicts of later decades, and completes the ensemble at this end of Rajpath.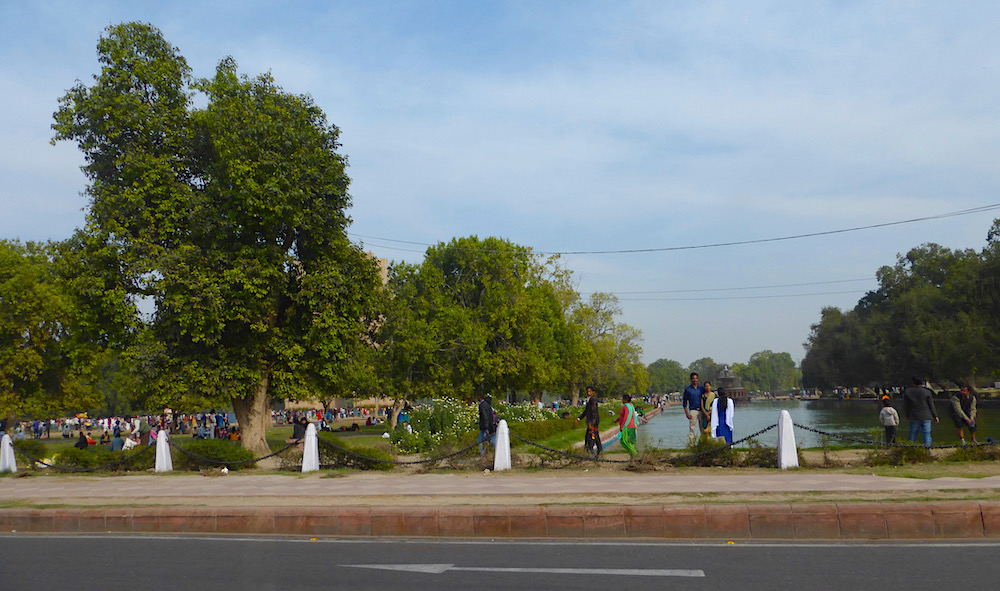 Either side of Rajpath run rectangular lakes with fountains, amid lawns and trees. In this view from the road the Memorial Arch itself is partly hidden on the right.
Delhi Gate itself is not sombre, perhaps because of its typically Lutyenesque four-square simplicity and its warm stone: William Dalrymple calls it "butter-coloured" (81); and Jan Morris considers it "hefty in construction but deliberately unassertive" (193). So despite its weightiness, and the sad thoughts it evokes, it marks a popular destination for strolls, picnics and outdoor games, perhaps not quite what Lutyens had in mind, though he was not without his playful side.
Related Material
Bibliography
Dalrymple, William. City of Djinns: A Year in Delhi. London: Harper Perennial, 2005.
Davies, Philip. Splendours of the Raj: British Architecture in India 1660-1947. London: Penguin, 1987.
Morris, Jan, with Simon Winchester. Stones of Empire: The buildings of the Raj. Oxford: Oxford University Press, 1983.
---

Victorian
Web

Visual
Arts

Archi-
tecture

British
India

Edwin
Lutyens

Next
Last modified 13 June 2021